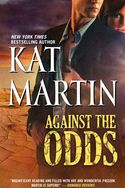 What makes a Holiday tradition? It's what families pass down to their children over the decades, even over the centuries. By necessity, oftentimes in the city, modern families give up some of those valued traditions, things like cutting their own Christmas trees, singing Christmas carols through the neighborhood, big family dinners, impossible in many city-size apartments.
Living out in the country in Montana, we're fortunate to be able to enjoy a lot of old-fashioned traditions. A seven-foot evergreen tree, a fire in the big rock fireplace, snow-covered mountains outside the windows, deer wandering through the fields. We always have a big family supper on Christmas Eve, and everyone opens a few of his gifts. Christmas morning, the grandkids come over to open whatever is left beneath the tree and enjoy a Sunday brunch.
This year, along with the usual celebrations, I'll be doing some Holiday promotions for my new book, AGAINST THE ODDS, the seventh book in my Against Series. It's in bookstores December 18, just in time for Christmas shoppers.
In the novel, Christmas was once the heroine, Sabrina Eckhart's, favorite time of year, a holiday she and her mother always eagerly awaited–until Rina's Uncle Walter died on his way to the house on Christmas Eve.
It's the inheritance Sabrina receives from her uncle–an abandoned silver mine in the West Texas desert–that gives her the courage to ask her long-time nemesis, Alex Justice for help.
G.Q. handsome and indecently rich, Alex is a private investigator and an ex-Navy pilot. Sabrina met him when he was helping with security for her best friend, Sage Dumont. Though Sabrina doesn't like him, she knows he's good at his job and she trusts him to keep her safe.
Alex is just the man she needs to fly her into the desert in search of her late uncle's property. Desperate for money, she's determined to find the mine and make it productive, even if it means putting up with the cocky jet jockey she finds annoyingly attractive.
I loved this couple. I didn't intend to write their story until I saw the sparks flying between them in AGAINST THE SUN. I could tell they would be perfect for each other–though it takes murder and intrigue for them to figure it out.
I hope you'll watch for AGAINST THE ODDS while you're Christmas out shopping. Warmest holiday wishes, Kat
P.S. What Holiday Traditions do you celebrate in your home? One commenter will win a copy of AGAINST THE ODDS
The book was interesting to write, a different kind of story that deals with survival in the harsh, inhospitable desert, family betrayal, and long-buried secrets. The characters had to overcome stereotypes and learn to trust and love.Alex and Rina are two of my favorite characters, so different on the surface, yet oddly suited. Though it takes a life-and-death struggle before they begin to see the truth.
THIS CASE MAY PROVE TO BE TOO HOT TO HANDLE
There's silver out there: Sabrina Eckhart is sure of it. And when she finds the hidden mine on that big piece of West Texas desert, all of her financial problems are solved. That is, if she can find it. The man with the skills she needs is private investigator Alex Justice-a former navy fighter pilot and a current pain in the neck.
When mysterious "accidents" start to plague their search, it seems Rina's multi-acre inheritance might be more of a curse than a blessing. And yet, there's still something sensual about the heat…his arrogance…her stubbornness…being thrust into each other's arms by danger…But the vultures are circling, and if they don't watch their backs, the relentless desert sun could be the last thing they ever see.
RTBook Reviews
"Martin just keeps getting better and better! Her characters have more depth, and her plots are more sinister, as the Against series continues. Set in the sizzling desert of Texas and rife with mystery, intrigue and twisted family secrets, this entry is sure to earn a spot on any fan's keeper shelf."
To comment on Kat Martin's blog please click here.