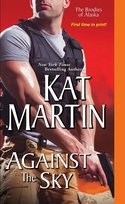 Having written more than sixty books, including AGAINST THE SKY, my latest Romantic Suspense release, I'm always looking for new story ideas.  Which is why, when the opportunity arose to travel for a month to Alaska, staying in the back of a tiny pickup camper–I said yes!
With a contract for three new novels, I needed ideas.  A trip to Alaska seemed the perfect opportunity to find new plots and develop interesting characters.
AGAINST THE WILD, Dylan Brodie's story, became the first of my Brodies of Alaska Trilogy, a ghost story that morphs into a tale of love, murder, and redemption.
In AGAINST THE SKY, the second book in the trilogy,  Nick Brodie, a former Anchorage homicide detective, has a serious case of burnout.  Nick wants a new life, something that doesn't include violence and death.
Unfortunately when his neighbor, twelve-year-old Jimmy Evans, comes to him beaten and battered, claiming his father was murdered, Nick has no choice but to help him.
To make matters worse, Nick has a lady friend visiting from San Francisco.  Samantha Hollis, owner of the Perfect Pup pet grooming parlor, isn't cut out for the harsh life in Alaska.  Unwillingly swept into Jimmy's problems, she finds herself on a wild ride with Nick that leads them into passion and incredible danger.
With the idea in mind for AGAINST THE SKY, we traveled from Anchorage to Valdez, which became the setting for Nick's brother, Rafe's, story, AGAINST THE TIDE, out the end of May.  It's the story of a woman with dark secrets and the man determined to discover them–even if it means risking his life.
I love road trips, just heading out with no particular destination, encountering whatever fate throws your way.  Dealing with flat tires and engine trouble can be exasperating, but there is the also the reward of meeting new people from all different walks of life.
If you love history, you might wind up in a place like Dawson City, the Yukon, way off the grid, the original destination for Klondike gold miners at the end of the nineteen century.  It's a town right out of the Wild West that still has dirt streets, a place that attracted authors like Robert Service and Jack London.
A result of my first month-long Alaskan adventure, Dawson City became the setting for Midnight Sun.  The story of adventurous city-girl, Charity Sinclair, and her clash with billionaire recluse, Call Hawkins.  It's a wild ride filled with dangerous secrets and past intrigues.
People often ask where I get the ideas for my stories and I can tell you that a five-thousand mile driving trip on a two-lane road, encountering everything from gale force winds, to grizzly bears and angry moose, is a journey stuffed with fodder for books.
Whether you're an author or a reader, it's wonderful to open yourself up to new adventures, new places, and new people.  While you're at it, I hope you enjoy Nick Brodie and Samantha Hollis in AGAINST THE SKY, and that you'll watch for Rafe and Liz in AGAINST THE TIDE.
'Til then, very best wishes and happy reading, Kat
About AGAINST THE SKY
Alaska: In America's last wilderness there are no limits to what a man can do.
For detective Nick Brodie, that means keeping the perps off the streets of Anchorage 24/7. Nick has never backed down from danger, but after the horrors he's seen, he's definitely in need of a break.
Samantha Hollis never thought she'd meet anyone like Nick, especially in a place like Las Vegas. But after one reckless, passionate night, she discovers the charismatic stranger is everything she wants in a man. But can he ever be anything more than a one-night stand?
When Nick invites her to Alaska, Samantha decides to find out, never guessing the depths she'll discover in him or the tangle of murder, kidnapping, and danger about to engulf them both. . .
About Kat Martin
For New York Times bestselling author Kat Martin, a career in real estate led her down the road to romance.
Through real estate, Kat found her own perfect match–her husband, Western author Larry Jay Martin.
"We were on opposing sides of a transaction–I represented the seller and he represented the buyer," Kat recalls.
A short time after the two became acquainted, Larry asked her to read an unpublished manuscript of an historical western he'd written. Kat fell in love with both the book and the author!
"It was quite a romantic story," she admits. "I'd still like to see it get published." Then, after doing some editing for her future husband, she thought she'd try her own hand at writing.
Kat moved on to become the bestselling author of over fifty historical and contemporary romance novels. To date, 15 million copies of her books are in print, and she's been published around the globe, including Germany, Norway, Sweden, China, Korea, Bulgaria, Russia, England, Estonia, Lithuania, South Africa, Italy, Poland, Thailand, Portugal, Turkey, The Slovak Republic, Spain, Argentina, Estonia, Czech Republic and Greece.
When she's not writing, Kat also enjoys skiing and traveling, particularly to Europe. Currently, she's busy writing her next book.