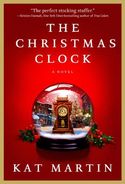 Some stories just won't get out of your head until you write them down. That's what happened to me with THE CHRISTMAS CLOCK. Earlier in my career, I had written a spicy civil war Christmas romance set around Sherman's occupation of Savannah on Christmas Eve. It was great fun to write.
This was different, much more difficult, a story concept that began with an old woman stricken with Alzheimer's and her grandson, soon to be orphaned unless she can find him a home.
I felt compelled to write this book. My husband's mother, beloved to us both, died of this terrible disease. Which is where the first inkling for THE CHRISTMAS CLOCK began.
It was an interesting concept, but every time I tried to write the book, it seemed to sputter and die. Something was missing and it didn't take long to realize that something was romance, the once-in-a-lifetime, forever kind of love that can bring a story together.
And so Syl Winters and Joe Dixon came to life, two lost souls whose once-unshakable love had been destroyed. With Syl and Joe, I had finally found the key to telling Lottie and little Teddy's tale. Still, being a different sort of book for me, it took more than two years to write and it's not a long novel.
But as I said, it's a story I needed to tell. A story that wouldn't leave me in peace until I got it down on paper. It's a heartwarming, emotional tale, the kind of Christmas miracle we all hope for in our lives.
After Christmas is over, I hope you'll look for my new Raines Brothers trilogy, starting with AGAINST THE WIND, out January 1st. You can find an excerpt on my webpage
Till then, have a happy Holiday Season.
All best wishes, Kat
To comment on Kat's blog for a chance to win please click here.