The first book in my Bibliophile Mystery series was HARDCOVER IN HOMICIDE, which, ironically, debuted in mass market paperback (and ebook, of course). In 2009, I was a new writer, so it made perfect sense to bring me out first in paperback, but the title caused a little confusion.
Fast forward four years and seven books later. Enough readers had fallen in love with the Bibliophile Mysteries that A COOKBOOK CONSPIRACY was first released in hardcover, a real milestone in my career. BOOKS OF A FEATHER, in stores now, is the fourth of my books to debut in hardcover.
They come out in paperback about a year later. RIPPED FROM THE PAGES came out in paperback last month. Here are the hardcover and paperback versions of RIPPED FROM THE PAGES. Does it give you the same thrill to see my name at the top as it does me? (Perhaps not!)
My heroine, Brooklyn Wainwright, is a world-renowned bookbinder, and—in addition to a classic murder mystery—my readers love learning about the fascinating details about rare books. We are all, my readers and I, bibliophiles, who love not just the stories, but books themselves.
Perhaps my audience is skewed toward appreciating the longevity and substantial nature of hardcovers. They look beautiful on bookshelves, and they withstand wear and tear of rereading much better, which is why libraries love them. Lots of my readers like to reread my mysteries, to look for clues they missed the first time around and laugh at the things Brooklyn and her quirky friends and family say and do.
(The pressure's on me to get the details right!)
Paperbacks have a charm of their own. Lightweight, compact, inexpensive, they're easy to impulse-buy and easy to carry. I don't feel as bad when a paperback is damaged because there's an impermanence about them.
I'm proud that my books are available in hardcover, paperback, ebook, and audio. Next step, leather bound collectors' editions… and then, world domination! 😉
Which do you prefer, hardcovers, paperbacks, or ebooks? What do you love about them?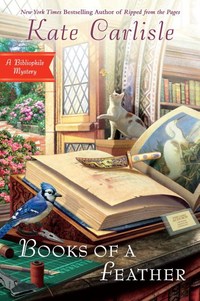 Brooklyn's friend Ian runs the Covington Library, which is hosting an exhibit featuring John James Audubon's massive masterpiece, Birds of America, currently on loan from an Arab sheik. During the gala celebrating the book, she is approached by Jared Mulrooney, the president of the National Birdwatchers Society, who urgently needs Brooklyn's skilled hands to repair a less high-profile book of Audubon drawings that's fallen victim to spilled wine.
At the same party, Brooklyn is flying high after she's asked to refurbish and appraise a rare copy of Poor Richard's Almanac. But everything runs afoul later that evening when Mulrooney's body is discovered in the library. Rumors fly about a motive for murder. Perhaps Mulrooney wanted to sink his claws into the pricey Audubon book, but Brooklyn believes the man died fighting off a daring thief.
Soon more troubles ruffle Brooklyn's feathers. Her parents pop in for a visit with an unsavory friend in tow, and there's a strange man on her tail. With danger beginning to circle Brooklyn's every move, it's clear she must find answers before things really go south . . .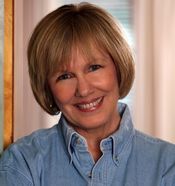 New York Times bestselling author Kate Carlisle is a native Californian who worked in television production for many years before turning to writing. It was a lifelong fascination with the art and craft of bookbinding that led her to write the Bibliophile Mysteries, featuring Brooklyn Wainwright, whose bookbinding and restoration skills invariably uncover old secrets, treachery and murder. Visit Kate online at www.KateCarlisle.com.