While ÉCLAIR AND PRESENT DANGER is the debut book in my new Emergency Dessert Squad Mysteries, it's also my 24th traditionally published book to date.
I bring that up to illustrate just how many characters (mains and sides) I've written over the last ten years or so. All have touched me in one way or the other, and quite a few of them have claimed a lasting place in my heart.
But Winnie Johnson, the main character in this new series, is, perhaps my favorite of all. She's fun, she's resourceful, she's loyal, she's creative, and she has incredible passion.
There's a quote by Ralph Waldo Emerson that always comes to mind when I sit down to write Winnie.
"Don't be pushed by your problems. Be led by your dreams."
When we meet Winnie in the opening chapter of ÉCLAIR AND PRESENT DANGER, we find her struggling with the end to her lifelong dream of owning a bakery. She doesn't want it to end, but her landlord has raised her rent to a level she can't possibly pay.
Sure, she could move and open a bakery somewhere else, but the passion she has for her elderly neighbors is not something she can turn her back on, either. So by all indications, it's time to hang up her measuring cups and aprons once and for all.
Or is it?
Well, for someone like Winnie, who believes in herself…no. Not even close. She's far too driven and scrappy for that.
But that doesn't mean things come easy. In fact, in the story's first twenty-four hours, Winnie is named in a will (that nets her a vintage ambulance and a not-so-nice cat rather than the money she needs most), is forced to close her bakery for good, and finds her neighbor smothered to death on his kitchen floor.
Crazy, right?
You have no idea.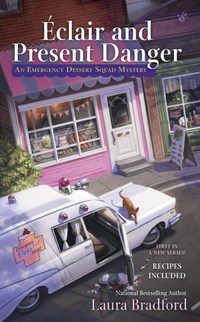 The first book in the delicious new Emergency Dessert Squad Mystery series from national bestselling author Laura Bradford.
With her rent rising faster than her pie crust, bakery owner Winnie Johnson had hoped to be rescued by an inheritance from her wealthy friend and neighbor Gertrude Redenbacher. Instead all she inherits is the widow's hostile hissing tabby, Lovey, and a vintage ambulance, restored by Gertrude's late husband. As her dream crumbles, Winnie makes her final delivery—a peach pie to an elderly widower. But she finds Bart Wagner lying on his kitchen floor, smothered by a pillow.
To comfort her frightened and grieving neighbors, Winnie comes to the rescue with her baked goods—and an idea is born: dessert delivery via her ambulance and a new business called the Emergency Dessert Squad. When she's not speeding to the scenes of dessert emergencies, Winnie is also racing to track down Bart's killer—before she needs to call a real ambulance for the next victim…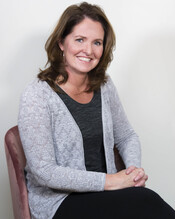 As a child, Laura Bradford fell in love with writing over a stack of blank paper, a box of crayons, and a freshly sharpened number two pencil. From that moment forward, she never wanted to do or be anything else. Today, Laura is the national bestselling author of several mystery series, including the Emergency Dessert Squad Mysteries, the Amish Mysteries, the Jenkins & Burns Mysteries, the Southern Sewing Circle Mysteries written as Elizabeth Lynn Casey, and the upcoming Tobi Tobias Mystery Series. She is a former Agatha Award nominee, and the recipient of an RT Reviewer's Choice Award in romance. A graduate of Xavier University in Cincinnati, Ohio, Laura enjoys making memories with her family, baking, and being an advocate for those living with Multiple Sclerosis.
For more information, visit: laurabradford.com or, for day to day stuff, you can find Laura on Facebook and occasionally on Twitter @bradfordauthor