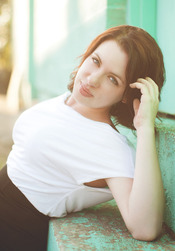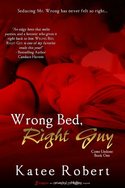 As soon as I heard that Entangled Publishing was coming out with a steamier category romance line, I knew I wanted to be part of it. After all, who doesn't love the smexy? Brazen has been described as Indulgence's naughty little sister, and the description fits! It takes the best of category romance and spices it up, all without losing the core story between two people.
This is how WRONG BED, RIGHT GUY came into being. While the book is a story of opposites attract, the whole reason they're thrown together in the first place is the heroine crawls into the wrong bed. That night rocks both their worlds and sets the rest of the book's events into motion. Elle bolts, because good girls aren't supposed to get all hot and steamy with bad boys. She learned that the hard way and has no intention of going through it again. Gabe, on the other hand, sees something in Elle that calls to him on a level he's never felt before. He pursues her in an effort to see if it's real, or just part of his imagination. Much hilarity and many smexy times ensue.
I'm really, really excited to be writing for Brazen. I love everything about the line, and being able to call my editor and say stuff like "How do you feel about cabana sex?" pretty much makes my life. I tend to write to the sexier side of things, so having more freedom to do so is fantastic. Being able to stretch my limits on that level, while still telling a love story, is something I am totally thrilled to be doing.
Prim and proper art gallery coordinator Elle Walser is no good at seducing men. Heck, she's been throwing hints at her boss for months, but he's completely clueless. Desperate to escape her mother's matchmaking efforts, she comes up with a plan—buy some lingerie and climb into her boss's bed. The plan goes brilliantly…until she accidentally seduces a sexy stranger instead.
Bad boy nightclub mogul Gabe Schultz just had the best almost-sex of his life. Too bad the smoking hot blonde thought he was his brother and bolted before he could finish what they started. Though her holier-than-thou attitude puts a serious damper on his mood, Gabe's never been one to give up on something he wants. And he wants Elle. But does a man who lives on the dark side really have a chance with a proper lady?
Abou Katee Robert
Katee Robert learned to tell stories at her grandpa's knee. Her favorites then were the rather epic adventures of The Three Bears, but at age twelve she discovered romance novels and never looked back.
Though she dabbled in writing, life got in the way—as it often does—and she spent a few years traveling, living in both Philadelphia and Germany. In between traveling and raising her two wee ones, she had the crazy idea that she'd like to write a book and try to get published.
Her first novel was an epic fantasy that, God willing, will never see the light of day. From there, she dabbled in YA and horror, before finally finding speculative romance. Because, really, who wouldn't want to write entire books about the smoking-hot relationships between two people?
She now spends her time—when not lost in Far Reach worlds—playing imaginary games with her wee ones, writing, ogling men, and planning for the inevitable zombie apocalypse.
To comment on Katee Robert's blog please click here.