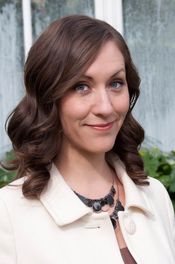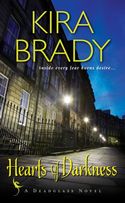 A story is a living thing. It starts as a germ, not even an idea really, that turns into a bug gnawing in the recesses of a writer's brain. As the bug grows, eating bits of fluff and the words of stranger's conversations, it becomes less easy to ignore, until finally it wakes us in the dark hours of the morning, fat and bloated with untapped energy, this thing we must write down or go mad. And that is simply the original idea. The pressure lets off as the words hit the page, but the story still grows. Edit after edit. Draft after draft. Until the finished book only passingly resembles the first bloody words that affixed themselves to the page.
HEARTS OF DARKNESS was an organic, struggle of a story to write. I started it during National Novel Writing Month in 2008 and now, almost four years later, have the finished book in my hand. There are crumbs that resemble my first rough sketches of scenes and characters, and there are gems that didn't make the final cut. I'd like to share with you the earliest scrawls of my debut. Desi's character changed in the final book, but the strength of Kayla and her love for her sister shine through.
The day her sister died, Kayla packed all her belongings in a battered blue suitcase and two cardboard boxes, loaded them into her ancient yellow Subaru, and headed back west. Grey storm clouds gathered in her wake, an ominous shower to water the flowers and turn the grave dirt to mud. Every hour put another eighty miles between her and Philly, with its abandoned row homes and broken cyclone fences, unwashed children playing in trash-strewn empty lots, bitterly cold winds that ripped through chinks in the duck-taped window, crack pipes and doped-up whores. Desiree had left Philly, but Philly never left her.
Now Desi was dead, her dreams of escaping her past laying cold and dead beside her. With only a one-way ticket to heaven or hell, if you believed in that sort of thing. But Desi knew hell: she lived in Philly. She'd slept with the Devil and he owned her soul. He'd welcome her in with open arms, a needle in one hand and a pipe in the other. Heaven had given up on Desi a long time ago.
Kayla hadn't. She had scrimped and saved to send Desi out west. A new city. A new start. Kayla had prayed Desi would stay out of trouble. But the ghosts of the past had followed Desi to Seattle and finished the job they started back on those streets brotherly love.
Kayla had lived with the fear clenching in her gut for too long not to know, every time the phone rang, that this one could be it. So she didn't cry when the police officer called. She quit her job, put in notice to her landlord, and drove four days across the country. She didn't cry as the plains and prairies through South Dakota gave way to thick evergreen forests of Montana, the mountain passes still open before the first snow, then desert in eastern Washington, with tumbling tumbleweeds. She didn't cry when the horizon finally gave out to the dark blue water of Puget Sound and the Pacific Ocean. Grey snow capped mountains ringed the city on either side, an encampment in this lone outpost of loggers and tech geeks. Seattle.
She didn't cry in the coroner's office when she went to id the body. She walked into the small dark room, metal on the walls and metal on the floors, metal tables and metal chairs, dead like the inhabitants it kept, and pulled back the sheet to see her sister.
No, not her sister. Her sister was young and carefree with a wild spark and a bubbling laugh. She'd say, "Kayla! Let's go!" grab Kayla's hand and run down the sidewalk, jumping over cracks and weeds like a gazelle, singing Down down baby, Down by the rollercoaster, Sweet sweet baby, I'll never let you go, Shimmy shimmy coco puff shimmy shimmy wow…
Her sister had beautiful chestnut skin and chocolate eyes that turned up at the corner in laughter. Her sister didn't have blue lips and mottled skin, skinny arms and cheekbones that stuck out, gaunt and malnourished. This person, this body lying on the cold metal table was someone else, someone who had slowly taken over her sister's body, like the alien infesting Sigourney Weaver's stomach.
Kayla didn't cry until she left the office and suddenly the fear and pain came back like a tsunami, flooding her heart and her head until it flowed out her eyes in big salty tears. She raced to a nearby alley, where she dry heaved behind a trash bin. There was nothing in her stomach to spit out.
Do you keep every version of your writing? Or do you prefer to remember it only as it was in the end: pretty, perfect, and polished to within an inch of its life? I'd like to giveaway a copy of the final version of HEARTS OF DARKNESS.
About the Author
A native Seattleitte, Kira spent her childhood hiking the rainy forests of the Pacific Northwest and drying out by the fire with a good book and a mug of something hot. She graduated with honors from the University of Pennsylvania, where she met her real life Prince Charming and promptly dragged him back to sunless Seattle. She fell in love with historic, haunted cities in graduate school. Now she writes about the twisted cities of her imagination, where wraiths and shape-shifters stalk the night and love redeems even the darkest heart. When not writing, she can be found drinking inordinately large mugs of Assam tea, knitting wool socks, and raising a wee heroine-in-training. Her website is http://kirabrady.com
In the first of a dazzling new romantic trilogy, one woman's courageous search plunges her into a millennia-old supernatural war—and an irresistible passion…
Nurse Kayla Friday has dedicated her life to science and reason. But for her, Seattle is a place of eerie loss and fragmented, frightening memories. And now the only clue to her sister's murder reveals a secret battle between two ancient mythologies…and puts Kayla in the sights of lethally-sexy werewolf mercenary Hart. He'll do whatever it takes to obtain the key to the Gate of the Land of the Dead and free what's left of his soul. But seducing the determined Kayla is putting them at the mercy of powerful desires neither can control. And as the clock ticks down to hellish catastrophe, the untested bond between Kayla and Hart may lead to the ultimate sacrifice.
To comment on Kira Brady's blog please click here.