Happy New Year, Fresh Fiction!
Box sets are the new craze in the publishing world because bundled books offer literary treasure at a quality price and introduce readers to new authors. The ONCE UPON A TRUE LOVE'S KISS box set by USA Today Best-selling author, Julie Johnstone, and best-selling authors, Katherine Bone, Collette Cameron, Jillian Chantal, Samantha Grace, Alanna Lucas, Lauren Smith, and Victoria Vane, delivers what readers really want—eight tantalizing kiss-and-tell stories featuring dashing, wildly charming rogues, spies, pirates, rakes, and their extraordinary, intrepid heroines.
What better way to usher in the New Year on a cold winter's night than to be whisked away on sweet to sizzling romantic romps in wickedly entertaining historical romances, eh?
But who are the authors of After Forever, The Pirate's Duchess, Her Scandalous Wish, Milady and Her Spy, Kissed by a Scottish Rogue, Stolen Kisses from the Viscount, Tempted by a Rogue, and The Redemption of Julian Price?
Here's a short Q&A with the ONCE UPON A TRUE LOVE'S KISS authors for your reading pleasure:
Julie Johnstone, do you have any favorite TV shows?
Julie: The Affair, Shameless, Outlander, Game of Thrones.
Katherine Bone, if you could have one superpower, what would it be and why?
Katherine: I've always said that if I could be a superhero I'd have the power of healing. I'm all about bringing on the positive. What bigger bang can you get for your buck if you are the catalyst for healing someone and helping someone live a better life. That's what I hope my stories bring to those who read them: escape, adventure, and happiness.
Collette Cameron, do you have any particular talents? Anything outside of the norm? Any other artistic skills besides writing?
Collette: I'm a certified interior decorator, and I sing. I'm a contralto, which is the lowest female voice. I've actually sung tenor.
And I bet you thought I was a soprano.
Jillian Chantal, what is your fashion or accessory weakness?
Jillian: Boots. I am a slave to boots. I love, love, love them. They make me happy.
Samantha Grace, do you have a favorite place you have traveled to? Or perhaps a place you long to visit?
Samantha: Anyplace new is great! I love exploring different cities. Probably my favorite trips have been to San Francisco and New Orleans. I really want to take a trip to the UK. I've never been except through Google Maps, and it's just not quite the same as actually being there. I'd like to visit Europe too, but I think either a very long trip or two separate ones would be best.
Alanna Lucas, do you have a favorite quote or inspirational saying?
Alanna: The world is a book and those who do not travel read only one page. – Saint Augustine
Lauren Smith, you are forced to live on a desert island for six months. Food and bare survival equipment will be provided but that is all. You can take one person and five items to relieve the boredom and enhance the experience. Who is the person and what are the items? Why?
Lauren: I'm going to treat this like fantasy island and say that I get to bring along Chris Evans and a year's supply of condoms. I shouldn't have to explain that decision *wink. My other four items would be a kindle fire tablet with all the twilight movies uploaded onto them, a huge battery pack to power the tablet and a pair of towels for me and Chris after our sexy times in the ocean.
Victoria Vane, do you have a favorite character or two amongst the many you have created?
Victoria: I always fall in love with all of my heroes, but my all time favorite character will always be Ludovic DeVere from my award-winning Devil DeVere series. He's wicked and naughty and funny and sexy and sometimes vulgar and crude, but he's also incredibly loyal and protective of those he cares about. I adore him!
Now that Fresh Fiction readers know us better, we hope you'll want to cozy up with a furry blanket and some hot chocolate and give Once Upon a True Love's Kiss a try.
Happy Reading!
Katherine Bone
Aka Cap'n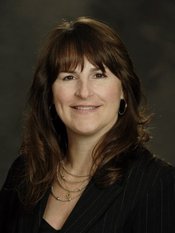 Katherine Bone has been passionate about all things historical since she was an Army brat traveling all over the world. Initially, she dreamed of being an artist, but when she met and fell in love with Prince Charming, her own dashing Lieutenant vowing duty, honor, and country, she found herself saying, "I do." Not long afterward, she was whisked away to Army bases, castles, battlegrounds and cathedrals, where tales of swashbuckling characters and unforgettable adventure filled the lonely gaps when the Army called Charming away.
No longer nomadic, Katherine has set down roots in the south where she and Charming raised four children and live with their fluffy Maine Coon, Christine Daae.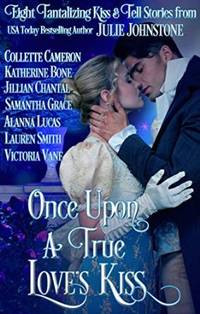 AFTER FOREVER by JULIE JOHNSTONE, USA Today bestselling author. Lady Julia is hired to turn a rogue into a gentleman and receives lessons in love and desire. After Forever is the fourth book in Julie Johnstone's Whisper of Scandal Series. Love truly does have the power to mend a shattered heart.
THE PIRATE'S DUCHESS by KATHERINE BONE, National bestselling author. A duke masquerading as a pirate to "rob from the rich and give to the poor" sheds his darkest-kept secrets to keep from losing the duchess his wife has become. The Pirate's Duchess is the first book in Katherine Bone's new Regent's Revenge Series.
HER SCANDALOUS WISH by COLLETTE CAMERON, National bestselling and Award-winning author. A marriage offer obligated by duty . . . an acceptance compelled by desperation. Her Scandalous Wish is the third novella in Collette Cameron's A Waltz with a Rogue Novella series. Love always deserves a second chance!
MILADY AND HER SPY by JILLIAN CHANTAL, 2015 RONE Finalist. A lady, a spy, a traitor… a battle of wills. Milady and Her Spy is Jillian Chantal's first novella in the Milady Series. Set off on adventure with Lady Augusta Covington.
KISSED BY A SCOTTISH ROGUE by SAMANTHA GRACE, Acclaimed, RITA-nominated author. Scottish land steward Fergus McTaggert calls a temporary truce with his employer's companion only to discover their passionate battles have been masking their hidden desires. Kissed by a Scottish Rogue is the fourth story in Samantha Grace's Rival Rogues series. An enemies to lovers tale with heart and humor.
STOLEN KISSES FROM THE VISCOUNT by ALANNA LUCAS, National bestselling author. A rake, an heiress, and stolen kisses…this seduction could be his last. Stolen Kisses from the Viscount is the first novella in Alanna Lucas's Stolen Kisses series. Let the seduction begin.
TEMPTED BY A ROGUE by LAUREN SMITH, National bestselling, Award-winning author. Gemma never planned on falling in love with her childhood sweetheart's best friend, Jasper, when he returns home, but she can't resist the naval officer's brooding charm. Tempted By A Rogue is a standalone novella by Lauren Smith. A sensual regency tale of first loves, mistaken identities and the temptation of two hearts meant to be together.
THE REDEMPTION OF JULIAN PRICE by VICTORIA VANE, National bestselling and award-winning author. She gave him a chance to bury his past…but the price would be his heart. In The Redemption Of Julian Price, a spinster proposes a marriage of convenience to her secret love in this funny, flirty, poignant, and passionate Regency set romance.
Buy ONCE UPON A TRUE LOVE'S KISS: Kindle
| BN.com
| iTunes/iBooks | Kobo | Indigo