Readers often ask me how I go about creating a fictional world that keeps them turning the pages. Agatha Christie said she never knew "who done it" until the person actually committed the crime. That's me, I never plot. Neither does Stephen King.
Finding the seed of a story and getting it to germinate comes about when I get out of my own way. I might take long walks while focusing on nature or the incredible architecture here in Budapest. Or I might go to one of the famous thermal baths, and just lie back in the warm, soothing waters, and stare at the intricately painted ceilings until my characters come alive. Then I let them tell me their story.
My current release, PORTRAIT OF A FORBIDDEN LADY, is book two in the series Those Magnificent Malverns (it also works as a stand-alone). The hero in this story is Sir Robert Garreck, knighted by the queen for bravery during the Crimean War. Cousin to the wild Malvern family, he first appeared in book one, THE SEDUCTION OF SARAH MARKS, when the heroine in that story went walking in the English countryside, and accidentally trespassed onto Rob's property. I could feel the startling effect this handsome but churlish man had on women. I knew immediately that he would be my hero in book two, whenever that story was meant to be.
Near the end of book one, two people enter Rob's home without invitation. In this clandestine scene, a half-finished portrait of a hauntingly beautiful woman is revealed. When one of the intruders, Rob's quirky grandmother, starts to reveal the scandal surrounding the painting, she is interrupted by Rob's return, and we are left to wonder. That was the moment the seed for PORTRAIT OF A FORBIDDEN LADY was planted.
Since I do not plot, but instead allow the story to unfold of its own accord, the scene with the mysterious portrait surprised me when it came out of nowhere. I was as eager as my readers to learn about the lady in the painting, and discover why Rob, an artist in his own right, had never completed the work.
I've tried plotting and I simply cannot. I end up frustrated, depressed, not having any fun, and my characters feel like cardboard cutouts. But when I write by the seat of my pants, when I let each person in the story appear when they choose to do so, I cannot tell you how gratifying it feels to place my hands on the keyboard and let the story unfold through their telling.
I hope you enjoy reading PORTRAIT OF A FORBIDDEN LADY as much as I enjoyed having Sir Robert Garreck and Lady Georgiana Cressington share their tale with me.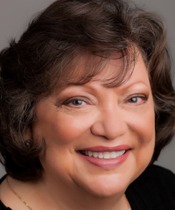 Kathleen Bittner Roth creates passionate stories featuring characters faced with difficult choices, and who are forced to draw on their strength of spirit to overcome adversity and find unending love.
Her own fairy tale wedding in a Scottish castle led her to her current residence in Budapest, Hungary, considered one of Europe's most romantic cities. However, she still keeps one boot firmly in Texas and the other in her home state of Minnesota.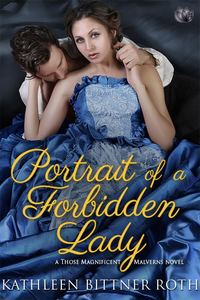 England, 1859.
Lady Georgiana Cressington is living a nightmare. Coerced by her father into returning to her childhood home, the young widow becomes a pawn in another of his heartless games. Her return to Summerfield Hall reunites her with the man she once loved before their hearts were shattered by a devastating betrayal.
Sir Robert Garreck, an artist knighted by the queen, lives in a mansion near the family estate Georgiana's father won in a crooked card game. Rob sets out to regain Summerfield Hall to keep Georgiana's son from inheriting Rob's rightful home. However, when he and Georgiana are thrown together, he craves the forbidden lady he never stopped loving. Facing danger and a long-hidden truth, Georgiana and Rob try to claim the powerful love they once had.