How does a poet become a fantasy author? It's an interesting question and one of the few our reviewer Katherine Petersen asked fantasy author Helen Lowe. Maybe it's the New Zealand landscape? Or her childhood around the Pacific Rim cities? Why not join us as we find out.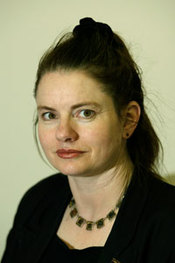 You started off as a poet, and it really reflects in your writing. How do you see your poetry background affects your storytelling?
Helen: Your question is a really interesting one, because it's made me realise that poetry does always come first for me. By which I mean that my very first scribblings as a child were poetry and every time I have a sabbatical from writing, it is always poetry that I start writing again first. Possibly this is simply because I find it so much easier to complete a poem within the initial creative burst, whereas most short fiction (with the probable exception of flash) and certainly novels, have to be sustained beyond that – well beyond in the case of novels!
Poetry and prose are not separate worlds, though, but neighbouring countries, where border crossings are made by way of the rhythm and flow and richness of language, and the shape the story being told assumes (because even poems tell some sort of tale). For example, I have written a poem called Penelope Dreaming, which is a riff on Penelope of Ithaca's story. I have also written a short story called Ithaca, which offers another interpretation of Penelope's journey.
Many people have a very set idea of what New Zealand must be like, do you find a lot of inspiration from your home?
Helen: New Zealand is probably most famous now as "Middle Earth" in The Lord of the Rings (LoTR) films and the landscapes of New Zealand certainly inform Haarth, The Wall of Night series' world. For example, the description of Jaransor in Book One, The Heir of Night, reflects Central Otago (which also features as the Westfold of Rohan in LoTR) with its rock tors, wild thyme growing underfoot, and hillsides characterized by sweetbriar and matagouri thorn. The landscape around Caer Argent, in The Gathering of the Lost (Book Two), is strongly based on the Nelson region of NZ, although not in every particular. I can't point to a strong influence in Daughter of Blood, however, since most of the action takes place on the Wall of Night itself – and that is entirely imaginary.
I've always wondered where the original idea for THE WALL OF NIGHT came from. It's such an intricate world and rich plotline, and yet every piece fits together so nicely.
Helen: Ah, that fitting together so nicely comes from a LOT of hard work. 🙂 As for the original idea, I suspect it started awa' back in the mists of "Helen Lowe-time" when as a child I first discovered the Norse myths, closely followed by the Celtic, at the same time as I was living in tropical Singapore – how's that for a juxtaposition? The Norse myths are full of the stark, the dark, and the deeply brooding, as well as heroes, quests, and a sense of the high and far off… And magic – did I mention the magic? Celtic folklore is also infused with magic – and their stories are vivid, passionate and colorful… It would be fair to say that both traditions colonised my imagination to the extent that I began weaving my own stories within them. Plus that in Singapore the equatorial nights fell so swiftly that it is probably not surprising that a sense of darkness – and the whole idea of "If Night falls, all fall" – soon wove itself into my first imaginings of a stark heroic world and the powerful, passionate people who inhabit it.
You have some amazing character names. How do you pick the perfect names for your characters?
Helen: I keep working on them until I get them right for the character! One of the main players in DAUGHTER OF BLOOD is Myr, whose full name is Myrathis, but who is also known as "Lady Mouse." The "Mouse" part was a constant from my first creative glimpse of the character – but I had to do a great deal of writing and rewriting of the opening scene to get her full name and diminutive "just exactly right". Yet because Myr is a leading protagonist who appears throughout the book, as well as being a nuanced personality, I knew I had to get her name – and its character 'flavor' – spot on from the outset.
Sometimes, too, a name will contain a "key" to the character. For example, the nickname of "mouse" is important to the development of Myr's character through the DAUGHTER OF BLOOD arc. And the name of the Wall series' main character, Malian, is based on a Greek root: "mal", meaning "dark" – and it is not chance that Malian is also the Heir of Night. As for Raven, whom another character calls "the Raven of Battle", I hope his name speaks for itself … In short, a great deal of thought does go into the character names, not least because I find it helps the story to "flow."
You've mentioned before that you often do not know what is going to happen next for your characters, that you wait for the muses to talk to you. Can you talk about that?
Helen: Of course! In fact I do sometimes know, absolutely, what lies ahead for some characters – but in others (in exactly the same way prophecy works in the books), there are many, or at least several potential paths depending on the way the story evolves. I think of the story arc as being like a journey with its beginning and final destination clearly marked, and with several equally clear way stations along the route – but the best path between them can sometimes be extremely hard to find. So for example, if we're talking characters, I had always envisaged two of the protagonists in DAUGHTER OF BLOOD falling in love – but they absolutely refused to do so: there was just no chemistry between them, no matter how I wrote and rewrote their scenes. Yet in the end, as soon as I accepted that the romance was not going to happen, I realised that what was happening instead was a much better outcome for the story. As the great Ursula Le Guin has said, "…the story boat is a magic one. It knows its course. The job of the person at the helm is to help it to find its own way to wherever it's going." I just had to learn to listen to the story, or the muses, so I could chart the right course for the book.
You are a very busy writer, but do you make time to read? Who are some of your favorite authors?
Helen: How much time do you have? J I have so many favorite authors that a list would probably be longer than the rest of this interview put together. However, a few favorite reads from the past few years include Emily St John Mandel's Station Eleven, Nicola Griffiths' Hild, and An Officer and A Spy by Robert Harris. In terms of Fantasy-specific titles, I've also read and enjoyed Laini Taylor's Daughter of Smoke and Bone, Maggie Stiefvater's The Raven Boys, and The Way Of Kings by Brandon Sanderson. So yes, I am a reader, although when I'm very busy the reading can tend to slip a bit. I haven't had time to read a lot recently, for example.
Do you like to read in your genre, or do you branch out?
Helen: As I believe the above shows, I both read widely within the genre (STATION ELEVEN is future dystopia for example; DAUGHTER OF SMOKE AND BONE and THE RAVEN BOYS are paranormal urban fantasy) and also branch out, e.g. both HILD and AN OFFICER AND A SPY are historical fiction. I also like a little horror, like WORLD WAR Z, some crime – I love Henning Mankell's Wallender novels – and also more contemporary stories, like Ann Patchett's BEL CANTO. I also enjoy reading historical non-fiction, such as Sun Tzu's THE ART OF WAR, or Douglas Woodruff's THE LIFE AND TIMES OF ALFRED THE GREAT.
What would you like new readers to know about your books?
Helen: It's probably best to start at the beginning with THE HEIR OF NIGHT, since The Wall of Night series is definitely one story, despite being told in four distinct parts. I deliberately started with a "classic epic fantasy" premise, i.e. quest-journeys, worlds to be saved, prophecies and portents, and a heroine with a destiny. But overall the story is character driven – although with an action emphasis on magic, adventure, and the swashbuckling romance of tournaments, duels to the death, and rooftop chases, as well as both friendships and love that defy the odds.
The double tweet-length summary of the Wall story is:
"A people who consider themselves champions of good and yet are divided by prejudice, suspicion and fear; a young, untried champion & a promise that has endured down centuries – that she should not have to stand alone."
And the tweet-length synopsis for DAUGHTER OF BLOOD (the latest book out) is:
"Intrigue, war, & friendship in the face of darkness as two heroes race against time to find a shield of power & solve a 400 year-old mystery."
In terms of similar types of stories, if you have enjoyed JRR Tolkien's The Lord of the Rings, or George RR Martin's A Game of Thrones, Lois McMaster Bujold's The Curse of Chalion or Kate Elliott's Crossroads trilogy, or Brandon Sanderson's The Way of Kings, you may well enjoy The Wall of Night series as well.
Thank you for the fun, Fresh Fiction questions and the opportunity to do the interview. 🙂
Helen Lowe is a novelist, poet, and sometime interviewer whose first novel, Thornspell (Knopf), was published to critical praise in 2008. Her second, The Heir of Night (The Wall Of Night Series, Book One) won the Gemmell Morningstar Award 2012. The sequel, The Gathering Of The Lost, was shortlisted for the Gemmell Legend Award in 2013. Daughter Of Blood, (The Wall Of Night Series, Book Three), is recently published. Helen posts regularly on her "…on Anything, Really" blog, occasionally on SF Signal, and is also on Twitter: @helenl0we.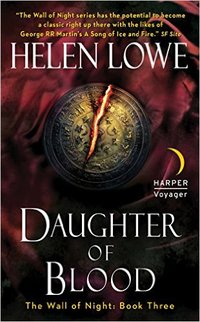 Malian of Night and Kalan, her trusted ally, are returning to the Wall of Night—but already it may be too late. The Wall is dangerously weakened, the Nine Houses of the Derai fractured by rivalry and hate. And now, the Darkswarm is rising . . .
Among Grayharbor backstreets, an orphan boy falls foul of dark forces. On the Wall, a Daughter of Blood must be married off to the Earl of Night, a pawn in the web of her family's ambition. On the Field of Blood, Kalan fights for a place in the bride's honor guard, while Malian dodges deadly pursuers in a hunt against time for the fabled Shield of Heaven. But the Darkswarm is gaining strength, and time is running out—for Malian, for Kalan, and for all of Haarth . . .