Welcome to Fresh Fiction, Kathryne! Please tell us about yourself and a little bit about your new book, HIGHLAND GLADIATOR.
Thank you so much for having me! I'm a 19-time USA Today Bestselling author in Medieval Historical Romance. Think knights in shining (or dented) armor, and that's me. This book was both a blast and a challenge to write for a couple of reasons – first, this is Highlander and I normally write everything set in Medieval England. I swear I know Medieval England better than I know my home state of California, so working in Scotland was an interesting challenge. Second – this isn't Medieval, but Tudor, so it was a little more advanced time-wise than my usual 13th century domain. During this period in time, there was still the usual Scotland vs. England stuff going on, but there were some external politics going on as well when it came to Scotland and how it dealt with England. It made for interesting reading.
This is the start of a new Highlander series, called Scots and Swords, and has been described as "Gladiator meets Fight Club." Can you tell us about the inspiration behind this new series? What do you love most about bringing readers into a new world you created?
I'm a huge fan of old Hollywood movies, and in particular, a fan of what they used to all the 'swords and sandals' sagas – i.e., Spartacus, Quo Vadis, etc. There was something so visual and emotional about those movies. The most recent addition to that is, of course, Gladiator with Russell Crowe.  When I first came up with this series idea, I envisioned Gladiator in Scotland, essentially, but with an underground twist – a fight club that taught men to fight, but not to the death. At the Ludus Caledonia, it's all for profit – and it's run like a business. Men learn to fight, but nobles go there to gamble on their chosen fighters and they may even 'purchase' a fighter for their armies. They don't buy them like a slave, but they rather buy their fealty for a certain length of time, like a contract. It's an ancient fight club with a modern twist.
But this fight club has two things going for it – the warriors are all friends. They bond, like brothers, even though they do fight against each other. The competition isn't cutthroat, but it is competitive. When outside warriors are brought in to fight, the warriors of the Ludus Caledonia have each other's backs. They protect one another from those who would see them come to harm, so the bonds between them are really strong. The second thing is that the Ludus Caledonia is kind of a United Nations – there are warriors from all over the known world, not just Scotland, so it's a diverse collection of men. I love that readers are going to see this wide-scope of warriors, heroes and heroines, people from all walks of life who live, and love, and respect one another for who they are.
I enjoyed that the hero, Lor Careston, has to learn to fight because he's a blacksmith and not well studied in combat. What sort of research did you do into combat styles of the time, and what did you find most surprising?
Writing about combat is one of my specialties. After 112 novels (Highland Gladiator was my 100th, but I finished it last year and have written several since), and all but 14 of those novels set in Medieval England, it's safe to say that I've written my share of battle scenes. What makes Highland Gladiator different is that I had to research the Roman gladiatorial games since the Ludus Caledonia is modeled after the Roman gladiatorial schools. Their methods of fighting were much different – hand to hand combat and no armies/multiple enemies to deal with, so it was much more of a focused, mental type of combat. Also – at the Ludus Caledonia, they don't fight to the death, so they're not permitted to use things that a normal warrior would use in battle – i.e., sharp swords, flails, maces, pikes, etc. Our warriors at the Ludus Caledonia use clubs and shields and the bow staff, meant to disable a man but not kill him. I didn't come across anything in my research that was surprising, simply 'different' than what an English knight (my usual tool and trade) would do.
Isabail Keith is a feisty, capable Highland woman who is not the proper lady so many expect her to be. What do you think readers will love about Isabail?
Isabail is one of a kind. She's strong without being annoying, and I think that's the main thing readers will love about her. She's a tough lady, and savvy, and she's not afraid to stand up for herself. She was raised with warriors, as a warrior, so when she meets Lor and their attraction blossoms, she's really not adept in the art of flirting or seduction, which makes for some funny moments.
HIGHLAND GLADIATOR is your 100th book—Congratulations! What have been the biggest changes from the start of your career to now? What advice do you have for aspiring authors?  
Thank you so much! I started writing serious in the late 1980's. I practiced my craft over and over, with many stories, making sure I understood how to write a book before I actually submitted to an agent. The biggest change from that time is, of course, how women in stories are portrayed. There used to be a time when you could write about a damsel in distress, who didn't fight for herself, and that was perfectly fine, but readers tastes have changed over the years and they really like a spitfire, so heroines must be very strong these days without losing their femininity. Personally, I like a heroine who needs a little saving from a big, strong man – and all of my heroes are definitely big, strong men, larger than life. Men that are easy to dream of!
My advice to new authors would be the same advice I would give myself if I was starting out these days – know your audience. Know your genre – that is, understand the nuances. Practice your craft and don't be too hasty about publishing something that hasn't been perfected. Learn how to market and how to operate your writing like a business, because it is. There are many great courses out there to help you learn. My biggest advice would be to do your homework and understand this business before jumping into it. Rome wasn't built in a day – and neither is your writing career.
Who are some of your all-time favorite authors?
Virginia Henley is my #1 all-time favorite Historical Romance author. She's the one who inspired me to write Medieval Historical. Clive Cussler is where I got my love of a good adventure because no one writes adventure better than he does. Ray Bradbury was the one who taught me how sometimes the simplest of stories can make the biggest impact as long as the writing is solid.
What can readers expect from you next?
More Medieval, more Scottish, and quite possibly some Historical Fiction coming in 2022. As I mentioned, one of my greatest loves is old Hollywood and I'm working on a Historical Romantic Suspense series, so I hope to roll that out in 2022. Inspiration is taken from the 1920's and 1930's old Hollywood and I think it's going to be a lot of fun!
Rapid Fire Random Questions
Cats or dogs:  I love both, but I'm a crazy cat lady at heart – I have five!
Book you recommend the most: Anything by Ray Bradbury, Pauline Gedge, Virginia Henley, Tanya Anne Crosby, Clive Cussler. Those are my go-to authors.
Favorite smell: Flowers – roses!
Ketchup or mustard: Ketchup
You've been invited to a costume party – what do you dress up as?: I've got so many Medieval costumes that it would be a Medieval lady for sure.
What fictional city/location would you visit?: The planet Vulcan – or Castle Questing, the seat of my greatest family, the House of de Wolfe.
Favorite childhood movie: The Wizard of Oz – hands down
How do you practice self-care?: Good question – I'm still learning on this one because I get so consumed with work, but every night, I soak in a hot bath with essential oils and bath salts. I really try to unwind before I sleep.
Breakfast or dinner?: Dinner
You have a totally free afternoon – no deadlines, no obligations, no Twitter notifications!  What do you do?:  Hahahahaha – is such a thing really possible?? I'd either take a nice, long nap or go float around in my pool. Endless possibilities!
Scots and Swords #1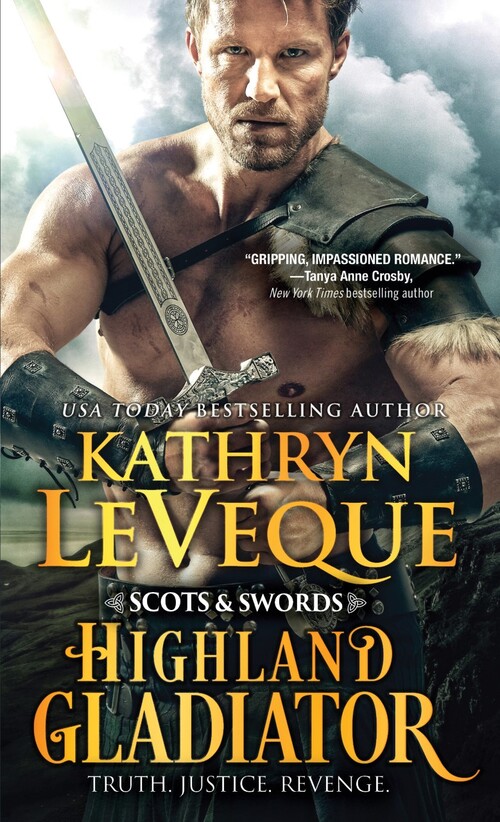 Gladiator meets Fight Club in the Scottish Highlands in a new romance from USA Today bestselling author Kathryn Le Veque
When Lor Careston's quiet Highland village was attacked and burned, he felt helpless against the raiders who destroyed his home. Seeking revenge, but lacking the fighting skills needed to execute his mission, he sets out to find the Ludus Caledonia–a mysterious fight guild that turns men into warriors.
Lor trains hard, proves himself in the ring, and earns a place within the very clan that decimated his home. He knows he can set his plan for revenge in motion from the inside. But his plan didn't include Isabail Keith, a beautiful warrior lass who prefers broadswords to embroidery. Lor thought the Keiths were his enemies, but when Isabail is threatened, he'll have to decide what he's willing to risk for the woman who has captured his heart and the clan that has become his home.
Truth. Justice. Revenge. Behind these stands the Scotsman's sword.
Romance Historical [Sourcebooks Casablanca, On Sale: August 25, 2020, Mass Market Paperback / e-Book, ISBN: 9781728210100 / eISBN: 9781728210117]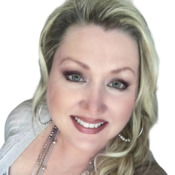 KATHRYN LE VEQUE is a critically acclaimed 18-time USA TODAY Bestselling author, a charter Amazon All-Star author, and a #1 bestselling, award-winning, multi-published author in Medieval Historical Romance with over 100 published novels.
Kathryn is a multiple award nominee and winner, including the winner of Uncaged Book Reviews Magazine 2017 and 2018 "Raven Award" for Favorite Medieval Romance. Kathryn is also a multiple RONE nominee (InD'Tale Magazine), holding a record for the number of nominations. In 2018, her novel WARWOLFE was the winner in the Romance category of the Book Excellence Award and in 2019, her novel A WOLFE AMONG DRAGONS won the prestigious RONE award for best pre-16th century romance.
Kathryn is considered one of the top Indie authors in the world with over 2M copies in circulation, and her novels have been translated into several languages. Kathryn recently signed with Sourcebooks Casablanca for a Medieval Fight Club series coming in 2020.
In addition to her own published works, Kathryn is also the President/CEO of Dragonblade Publishing, a boutique publishing house specializing in Historical Romance, and the President/CEO of DragonMedia Publishing, a publishing house that publishes the Pirates of Britannia Connected World series. In July 2018, Kathryn launched yet another publishing house, WolfeBane Publishing, which publishes the World of de Wolfe Pack Connected series (formerly Kindle Worlds).