HOTEL CALIFORNIA (aka Mission Inn) in Riverside, CA
How many of you know the cover of the Eagle's album Hotel California? That's actually a picture of the Mission Inn located in Riverside, California. It's a fabulous hotel with lots of interesting nooks and crannies. I went there for the Historical Romance Retreat and joined in the scavenger hunt. The organizer (Renee Bernard) did a great job, and the hotel staff members were wonderful as they directed us around the hotel, former abbey, and former mission. I don't have room here for all the pictures I took, but I'll give you an idea.
First off, here's the scavenger hunt list.
Here's items 2 and 3—the oldest bell and the biggest bell. You can't read the plaque, but it says this bell of Spanish origin dates from 1247 AD and is considered the oldest bell in Christendom.
Item 4 – Napoleon and Josephine were the two birds.
We searched a long time for Item 8 – the smallest door still in use. The tiniest one pictured isn't still in use, but the other two were.
Item 11 the Glockenspiel was huge. It's hard to see here, but there are two figures inside, a day laborer and a night watchman (I think that's what he was). It's daytime, so the day laborer is out.
Item 12 was a gargoyle. I didn't think these guys adorning a central fountain looked like gargoyles, but I am assured that this is what they are called.
Item 14 was a gryphon. I had all sorts of ideas on that, but it was on the gated entrance to the bar. Guarding it from illicit late night drinking, I suppose.
We looked and looked for President Taft's chair, but who knows if we found it. (If you look close, the chair is labeled as President Taft's Chair. Yes, you do get to sit in it.)
Anne Rice was hard to find, but here she is thanks to the directions of a friendly maintenance man.
And then there was item 15. Find the LEG. We were desperate here, as you can see. But eventually we found it! It was painted on the wall. We have no idea what LEG stands for, but I'm sure it's cool!
Now what, you ask, does any of this have to do with my baseball series, The Locker Room Dairies by Kathy Lyons? Nothing. Except that being an author means I get to go to conferences that are sometimes located in amazing places. Tell me what amazing place you've visited recently and one lucky commenter will win an ecopy of my entire baseball romance series: Hitting It, Sliding Home, and Hard and Fast! And just in case you think I never travel to do baseball things, here's a picture of my favorite park from the last time my family was there!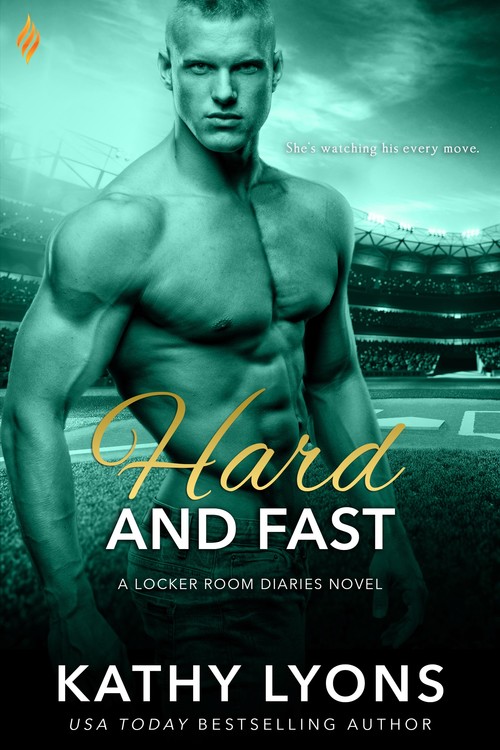 Pro veteran catcher Connor Hart has his hands full keeping the hot-blooded rookies on his team focused on the ultimate prize—the World Series. Too bad he can't seem to concentrate on the game himself. Because every time publicist Gia Kubic walks out on the field, his attention goes AWOL, and all he can think about is a New Years' Eve kiss that should have gone much further…
As the team publicist, it's Gia's job to make heartthrobs out of every member of the team, but even she can't figure out how to make America's hottest catcher—and her not-so-secret fantasy—smile for the cameras. She's fighting him, and her libido, at every turn.
Neither of them seems capable of saying no forever. But Connor has a secret, and he knows if he lets the sexy publicist get too close, his whole world could come crashing down…
Romance Sports | Romance Contemporary [Entangled Brazen, On Sale: October 8, 2018, e-Book, ISBN: 9781640636842 / eISBN: 9781640636842]

It all started with a kiss and a wink but where does it end up?
Click here to join me for a weekend of fun at READERS & 'RITAS, Nov. 9-11, 2018 in Allen, TX.
Kathy Lyons is the wild, adventurous half of USA TODAY bestselling author Jade Lee. A lover of all things fantastical, Kathy spent much of her childhood in Narnia, Middle Earth, Amber, and Earthsea, just to name a few.  There is nothing she adores more than turning an ordinary day into something magical, which is what happens all the time in her books. Winner of several industry awards including the Prism—Best of the Best, Romantic Times Reviewer's Choice, and Fresh Fiction's Steamiest Read, Kathy has published over 50 romance novels, and she's just getting started.