Welcome back to Fresh Fiction, Katie! Can you tell us a little bit about yourself and your latest novel, RISK IT ALL?
It's great to be back–thank you for having me! I write romantic suspense with funny bits (at least I hope they're funny) set in the Colorado Rockies. In my latest book, RISK IT ALL (Rocky Mountain Bounty Hunters #2), we're back with the bounty hunting Pax sisters and their felonious mom. All Cara Pax wants is to be a kindergarten teacher, but she somehow finds herself chasing after bail jumper and accused killer Henry Kavenski. As she gets swept up in the danger that surrounds Henry, she realizes that things are even more complicated than first appears, and she begins to wonder–is he innocent, or is she just a sucker for a gorgeous, protective skip?      
RISK IT ALL is the second book in your Rocky Mountain Bounty Hunters series. What keeps you coming back to writing romantic suspense, and specifically set in this party of the country?
The rugged, remote, and oftentimes dangerous mountains are the perfect setting for romantic suspense! While I lived there, I fell in love with the Colorado Rockies, as well as the interesting mix of people who make the mountains their home. Also, I'm just not happy unless I'm blowing things up.         
Bounty hunting literally runs in Cara Pax's family – her sisters are also bounty hunters, too. But Cara is a reluctant participant in the "family business." How does Cara's drive to do something aside from bounty hunting change her character over the course of the novel?
I love to write about characters discovering their hidden inner bravery. Although Cara's reluctance to take part in chasing down skips at first makes her seem timid, each reach out of her comfort zone–such as breaking into Henry's motel room–takes a huge amount of courage on her part. Also, holding onto that dream of being a kindergarten teacher is actually the difficult road in her family. Without her iron will, Cara would have taken the path of least resistance and resigned herself to working in the family business.           
Henry Kavenski is a man with a storied past, but he's doing his best to make things right. What does Henry's troubled past tell readers about the man he's working to become? How does Cara throw a wrench into his new plans (or maybe help him out)?
I think Cara's presence ups the stakes dramatically for Henry. He's fine with putting himself in danger, but when his actions–both past and present–put Cara at risk, keeping her safe becomes his most urgent priority.               
This is an action-packed story! Do you find it difficult to balance the suspense with the romance? Which do you find easier to write about?
Thank you! It's always a tricky balancing act when there are explosions and gunfire and car chases, and the main characters need to find some quiet bonding time. I don't really find either easier, but I think my favorite part to write is that first tentative connection between characters. In that moment everything's so fragile and filled with possibilities, and when I manage to get it right, it's just. . . perfect.        
In just a few days, it'll be 2020! Are you the type of person who makes New Year's Resolutions? Any fun plans to ring in the new year?
Rather than making New Year's resolutions, I tend to set goals year-round (although sticking to them is another matter). I don't have any wild and crazy plans for New Year's Eve, but I think that 2020 is going to be an amazing year.          
We love to ask authors about what they are reading! What have you read recently that you absolutely love and recommend?
WR Gingell has absolutely sucked me into her The City Between series. I highly recommend her books to urban fantasy fans.     
What can readers expect from you next?
The last two bounty hunter books will take us to interesting places, so expect to see some familiar Search & Rescue characters pop up again.          
Rapid Fire Random Questions
Favorite animal: Bees. They're so useful.
Coffee or tea: Tea, most definitely.
Favorite book to re-read: This question is too hard. How can I chose just one from my trove of comfort books??
Beach or mountains: LOL! You can probably predict my answer to this one–mountains.
When you were younger, what did you want to be when you grew up?: Veterinarian, ballet dancer, lawyer (this was a short phase), forest ranger, horse trainer, author.
Dream vacation: Riding horses in Ireland.
Aside from reading and writing, what are your hobbies?: Riding horses, traveling, training my dogs, scuba diving in warm places.
Five people you'd invite to your book club (dead, alive, fictional, etc.!): My five sisters.
Favorite movie: Again. . . how do I choose?
You have a totally free afternoon – no deadlines, no obligations, no Twitter notifications! What do you do? Go horseback riding!
—
COMMENT TO WIN! Tell us if you'd rather take a vacation to the beach or the mountains in the comments below to enter for a chance to win a print copy of RISK IT ALL by Katie Ruggle! US & CANADA only. 
—
Rocky Mountain Bounty Hunters #2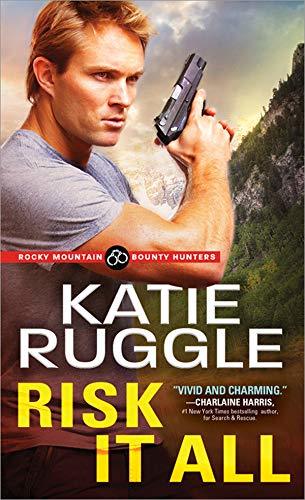 Five bounty-hunting sisters
Deep in the heart of the Rockies
Fighting to save each other
…and the men who steal their hearts
Cara Pax never wanted to be a bounty hunter. She's happy to leave chasing criminals and tackling skips to her sisters. But if she wants her dreams of escaping the family business to come true, she's got one last job to finish… Only problem is, she doesn't think her bounty is guilty.
Henry Kavenski is a man with innocence to prove. When he realizes that Cara believes him, he'll do anything to keep her out of harm's way. Escaping criminals and dodging cops might not be the best time to fall in love, but Henry and Cara won't give up, not when there's a chance at a new life ahead—if they can survive the fall.
Romance Suspense [Sourcebooks, On Sale: December 31, 2019, Mass Market Paperback / e-Book, ISBN: 9781492662525 / ]
A fan of the old adage "write what you know", Katie Ruggle lived in an off-grid, solar- and wind-powered house in the Rocky Mountains until her family lured her back to Minnesota. When she's not writing, Katie rides horses, shoots guns (not while riding, although that would be awesome), cross-country skis (badly) and travels to warm places where she can scuba dive. A graduate of the Police Academy, Katie received her ice-rescue certification and can attest that the reservoirs in the Colorado mountains really are that cold. A fan of anything that makes her feel like a bad-ass, she has trained in Krav Maga, boxing and gymnastics.