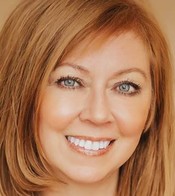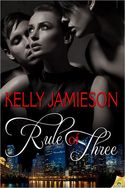 With my last two books being ménage à trois romances  (RULE OF THREE and  ONE WICKED NIGHT), I've been writing a lot of blog posts about ménage and the fantasy of it and how wonderful it is. I've talked about the benefits of having two (hot) guys around – if one of them doesn't know how to change a flat tire, the other one hopefully does. If one guy doesn't give great massages, hopefully the other one does. If one's afraid of spiders, hopefully the other will kill any big arachnid that come crawling into the house. My husband's okay with home repairs, but he's really busy so it would be great to have another guy to fix that crack in the drywall or repair the broken hinge on the gate.
But there has to be a downside right? I love my husband, but living with a guy does have its challenges. Like socks and underwear always left ON the hamper instead of IN the hamper. Like every morning when I come downstairs, the jar of peanut butter is sitting open on the counter, surrounded by toast crumbs.  Like, the television is always on in every room that he has walked through. What if all this was DOUBLED?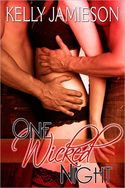 With two men, you'd NEVER be in charge of the remote control. Would you ever get to watch Glee or Dancing with the Stars or figure skating, or would it always be CSI, and Law and Order and Criminal Minds?  Or football, golf and curling for hours on end? The *ahem* noisy bodily functions would also be multiplied times two. My guy doesn't seem to have the concept of "clean up after yourself" down, so there'd be twice as many sticky things spilled in the fridge and double the muddy footprints across the clean kitchen floor. Twice as many beers in the beer fridge and twice as many empties! Also double the amount of whiskers dumped into the toilet from the shaver (geez I hate that!). AND living with two guys would mean you'd go through toilet paper twice as fast and since guys never replace the roll, you'd be constantly picking up the roll from the floor and putting it onto the holder.
But then again…when one guy's not in the mood for sex, the other probably is…which hopefully would mean double the orgasms…maybe that would make it all worth while…what do you think?
Kelly Jamieson is a best-selling author of over twenty romance novels and novellas.  Her writing has been described as "emotionally complex", "sweet and satisfying" and "blisteringly sexy". Where you can find Kelly:
Website
Twitter
Facebook
Goodreads
Kelly's Yahoo Newsletter group
Nine Naughty Novelists
To comment on Kelly Jamieson's blog please click here.