How Beloved Pets Inspire My Cozy Mystery Characters
I never use names of any specific real people in my stories, However, I do use the names of some "real" animals and beloved pets from my life.
People who know me understand that – for better or worse – I'm a bit of a pet "magnet." At one time, I owned more than 40 horses and ponies! Although the horse-count has gone down, today, my son, husband and I still care for a smaller number of horses, as well as goats, chickens, parrots, ducks, dogs, and cats. Moreover, during my lifetime there have been sheep, gerbils, hamsters, mice, koi, goldfish, box turtles, and even an 18-year-old newt.
We've purchased pets. We've adopted pets. We've found pets. Pets have found us. Some of these animals were born into the family. Some came to us as orphans or babies. Others, like many of the feral cats we've taken in (and had spayed and neutered), have been full-grown and even quite aged. Regardless, throughout the years we've forged many unique and emotionally rewarding relationships with these endearing creatures.
It seems fitting that one day a few years ago, after the loss of one of my most precious and cherished pets, I decided to honor him by lending his name to a character in one of my books.
In cozy mystery ONE FOOT IN THE GROVE, Eva's Scottish mystery man, Greatwoods Plantation owner, Ian Collier, is named after my real-life beloved Border collie, Ian. Ian the Border collie was suave, smart and loyal. He went nearly everywhere with me and was a superb companion – although he hated thunder and lightening, and drove us crazy herding cats around the house! Still, I miss him every day.
Ian the dog and Ian the fictional man are similar in many ways, not the least of which is their handsome looks, fierce loyalty and trustworthiness, and the fact that always, each is on-hand for the women they adore.
And Ian is not the only pet memorialized in ONE FOOT IN THE GROVE. Fictional Ian Collier's horse, Valkyrie, looks like, and is named in memory of, my real-life chestnut Oldenburg mare, Walkyrie. Like the name, Walkyrie was big, strong and brave. And gorgeous to boot! I still have Walkyrie's daughter, her granddaughter and her great-granddaughter here on the farm.
Also named after a beloved pet, character Daphne Bouvier Knox's namesake was a sweet, stray mutt – some kind of beagle cross – that my son and I found lost on a bridge down the road one evening.
And although Ian, Walkyrie and Daphne have all left this world, many pets still with us have inspired ONE FOOT IN THE GROVE characters. For example, Bambi, Angel and Winnie – all named in the book – are real-life horses in the field outside.
Still, the biggest "star" in the book from our home menagerie is one of real-life Daphne's eight "surprise" puppies. Now several years old, her daughter, Dolly, a beagle-something and malti-poo cross, is everyway – in name, looks and persona – the inspiration for Eva Knox's pup, Dolly. In fact, the Dolly illustrated on the cover of ONE FOOT IN THE GROVE is the spitting image of her real-life namesake.
The whimsical, fun image of Dolly on the cover of ONE FOOT IN THE GROVE embodies my hats-off to all my beloved animals, both from my past and my present. I hope readers will love and enjoy them as much as I do.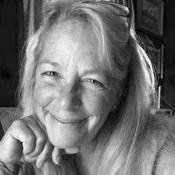 Kelly Lane is an author living on a farm near Charlottesville, Virginia. In addition to her work as editor and "slush-pile reader" for a prominent literary agent, she has penned as a copywriter, journalist and worked as a business writer, editor and public relations consultant for Fortune 500 companies. Set on an olive plantation in Southern Georgia, ONE FOOT IN THE GROVE is the first book in Kelly Lane's new Olive Grove Mystery series published by Berkley Prime Crime. Each book includes original recipes inspired by dishes in the story. Visit Kelly Lane at kellylanewrites.com.
First in a delicious new mystery series about Eva Knox and her family's Georgia olive plantation.
In the sweet Southern town of Abundance, Georgia, home of the Knox family's olive farm, gossip isn't the only thing that can kill you…
After leaving a man at the altar for the second time in her life, Eva Knox decides to head home to her family's plantation to regroup and soak in some Southern charm. But hiding from her woes is a slipperier proposition than Eva imagined. For one thing, most people in town still haven't forgiven her for leaving local boy Buck Tanner at the altar and hightailing it up north eighteen years ago. For another, a death on her family's farm soon makes her the lead suspect in a murder case—and the sheriff investigating is none other than Eva's old flame Buck.
With the police putting the squeeze on her, it's up to Eva and her sisters, Pep and Daphne, to figure out who could have possibly left a dead body in their olive grove. And they'll have to catch the greasy killer quickly—because it looks like Eva has been picked as the murderer's next victim…