Fresh Pick for Sunday, January 24th, 2016 is PREJUDICE & PRIDE by Lynn Messina
#WithATwist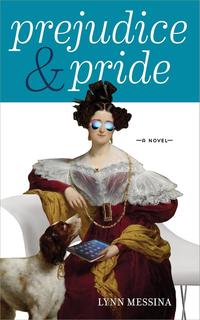 You know Darcy: rich, proud, standoffish, disapproving, one of the greatest romantic heroes of all time. But you don't know this Darcy because THIS Darcy is a woman.
In Prejudice & Pride, Lynn Messina's modern retelling with a gender-bendy twist, everything is vaguely familiar and yet wholly new. Bingley is here, in the form of Charlotte "Bingley" Bingston, an heiress staying at the Netherfield hotel on Central Park, as is Longbourn, transformed from an ancestral home into a perennially cash-strapped art museum on the edge of the city. Naturally, it employs an audacious fundraiser with an amused glint in his eye called Bennet.
All the favorite characters are present and cleverly updated: Providing the cringe-worthy bon mots is Mr. Meryton, the nerve-wracked executive director of the Longbourn who's always on the lookout for heiresses to join his museum's very important committees. (Universally acknowledged truth: Any woman in possession of a good fortune must be in want of a social committee to chair.) Collin Parsons is still in obsequious, if ironic, awe of his patroness, Lady Catherine de Bourgh. The wicked Georgia Wickham toils as a graphic designer at Redcoat Design by day and schemes against Darcy by night.
With her trademark wit and style, Lynn Messina takes the genres she does best—chick lit, mashups, and Regency romance—and weaves them into one delightfully entertaining tale that doubles as a fun guessing game.
Lynn Messina was born and raised on Long Island. She studied English at Washington University in St. Louis and King's College, London. Her first job was as an editorial assistant at the Museum of Television & Radio. She lives in New York City and mourns the loss of print journalism.
The Fresh Pick is chosen by a group of readers and is never a purchased advertisement or promotion. We've picked this book because it appeals to us and we like to share our diverse tastes in reading and hope you'll give it a try.