Mari is a mermaid who wants to have her independence. She runs a small touristy beach souvenir shop (located in the building the hero owns) and she plans to prove her mother and family wrong. She can make it on her own. She is betrothed to a merman from another tribe, but she has no intention of marrying him. She's trying to figure out how to best break the news to everyone. She cares about her mom's feelings, but there's no way she's marrying the guy someone else picked out for her.
I'd hope that readers would be drawn to Mari's independent spirit. She faces obstacles with a pretty good attitude, usually by whistling and taking a swim to think about things. Overall, she has a pretty balanced mood—maybe leaning more toward the glass half full personality.
She also has saved her man from death. So, she's strong! Not just physically, but emotionally. She's had to live with the knowledge that she saved him without telling him—so it's been difficult for her to love him from afar. But she keeps a good mindset and enjoys her fantasy life about him. She's really good at pretending he's a pirate.
When he tells her he's selling the bar and moving inland, she is upset but she immediately starts trying to come up with a plan to keep him on the island. Bondage is out, though she does consider it briefly. I hope readers will like Mari's quirkiness and problem-solving skills.
She isn't afraid of a hard day's work doing manual labor. She may not love it, but she does what is needed. She isn't a fragile flower that needs tending. She is able to get in there and help out. I think that is important.
Oh, and Mari loves pink. She wears it a lot and seems to prefer it everywhere. I think it's a happy color and something she can latch onto as a sign of light-hearted happiness.
Even when she and Chase are faced with a strong hurricane and the threat of losing everything, she stays pretty calm under all the pressure. I think readers will find her believable, but not stupid. She knows about hurricanes, and the eye of a hurricane and barometric pressure and the changes in wind direction. She may be a freedom seeker, but she isn't stupid. She really tries to get Chase to see a different perspective and I hope readers like that in her. It's always good to at least try to see things from another person's viewpoint.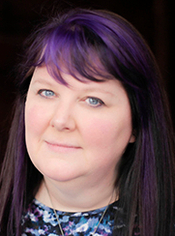 Kerry Adrienne loves history and spends large amounts of time wondering about people who lived and walked on Earth in the past. She's a mom to three daughters, six cats, and various small animals, including a panther chameleon. Her shoe horde will attest to her fine shopping skills.
In addition to writing, she's a college instructor, artist, costumer, and editor. Her new love is her Mini Cooper Convertible, Sheldon, and they have already gone on many adventures.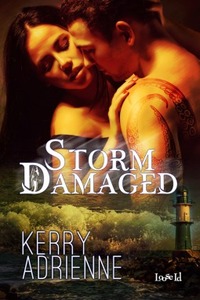 In a world where humans don't know mermaids exist, Mari leaves her home in the ocean to escape her mother, her betrothed, and her tribe's expectations in order to make a go of independence on land. Chase, former Navy diver and self­ appointed curmudgeon­ who ­isn't ­worthy­ of ­love, lost his brother in a freak diving accident and now fears the ocean he once loved.
When a hurricane threatens, they have to work together to save everything they've worked so hard to build. With Mari's betrothed on the rampage over a centuries ­old vendetta, the storm isn't the worst thing they'll have to face.