It's that time of the year when our moods drop. The holidays are over and for many, the cold, winter months make the everyday seem like an impossible task. It's also a month for change. People are trying to reorganize their priorities, hoping to take better care of themselves or start new endeavors. It's easy to get lost in the process and overstress yourself. Thankfully there's something I can rely out to get me out of those foul moods.
Books are my medicine. If I've had a particularly long and grueling day, there's comfort in knowing that I can slide into bed, curl up under the covers with a cup of hot tea and escape to a new world just by opening a book. I know that just reading a few pages can make me forget the day's events and I can simply let my mind drift.
Whether it's the relaxing routine of settling down or the type of book you are reading, stories are a welcome distraction and it's not hard to find a book that will fit the current mood you are in. There are so many that it took me a while to narrow it down this week but I think I've found something to please everyone when you're in need of something to give you that boost.
For when you're too exhausted to move but still was to revisit old friends. This series follows the same group of characters over the course of several books so it's easy to pop in and out when you need a little pick-me-up.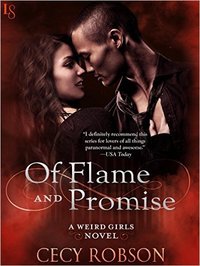 Cursed by a spell meant to destroy them, Taran Wird and her sisters instead developed unique magical talents. With the power of fire and lightning literally at her fingertips, Taran doesn't fear much. Demons, vamps, whatever—bring 'em on! Only one thing terrifies her: commitment.
Taran is crazy about her boyfriend, Gemini, a sexy were with the incredible ability to split into two separate wolves. But after watching her sister go through heartbreak with the pack's Alpha, Taran knows not to count on happily ever after—despite Gemini's desire to claim her as his mate. Reluctantly, she agrees to meet his very traditional and conservative parents. Taran's a badass with a mouth to match, and Gemini loves her for it. She's just not positive these attributes will please Mom and Dad.
Unsurprisingly, every attempt by Taran to bond with Gemini's folks proves disastrous. But in the end, Taran finds that winning them over means unleashing her powers . . . and proving that this foul-mouthed fire-starter is a force to be reckoned with.
For when you're buzzing with anxiety. Brimming with adrenaline, this book has an interesting twist that that will give you a break from your own worries.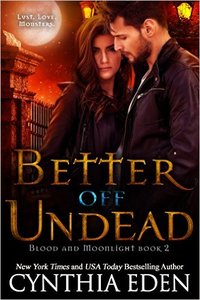 Detective Jane Hart is just getting used to paranormal life in New Orleans. Monsters are real, and she's the lucky cop who has to deal with them on a daily basis. Werewolves, vampires, witches, and demons—she has to face them all and keep their paranormal madness in check.
When a killer targets human men—and leaves their bodies scattered in local cemeteries–Jane suspects she may be looking at the crimes of a werewolf gone rogue. In order to hunt down the beast, Jane once again teams up with her werewolf lover, alpha Aidan Locke. But Aidan has been keeping secrets from Jane, dark secrets that will destroy her world.
Because Jane isn't the hunter on her latest investigation. She's the prey. And when a vampire attack leaves her helpless, the woman that Jane was before will vanish. She'll become the one thing she fears most and Aidan
Her fierce lover may have to become her executioner.
For when you're feeling under the weather. In this Erotic Paranormal novel, Sinclair turns up the heat! And what better way to get rid of a fever than to steam it out with this red hot read!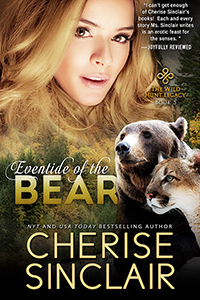 She risked her life to save a human child. Pain was her reward.
All her life, Emma longed for someone to love. Instead, disaster sees the brand-new bard banished from her people for long lonely years. Injured saving a child, the werebear has to steal food from humans, breaking shifter Law. The territory's Cosantir and his lethal grizzly warrior catch her in the act. To her surprise, she's healed and welcomed. Obviously, they don't know her past. But oh, she can't resist being around other shifters–especially the captivatingly powerful warrior. Maybe she can stay…just a little while.
As a grizzly warrior, Ben is ordered to house the pretty werebear until she heals. His littermate abandoned him, his home is empty, and he's been alone for a long time. Intelligent and sweet and lushly curved, Emma is a delight…even if she is oddly reticent about her past. Although having sworn off females, he's sorely tempted by this one. Damned if he doesn't want to keep her, secrets or not.
Females were trouble. Years past, one split Ryder from his littermate. Now the panther shifter is returning to Ben, bringing his cub with him, a four-year- old he stole from the abusive female. To Ryder's annoyance, his brother is sheltering a wounded bear. A female. Even worse, she's beautiful and gentle and loving–damned if he's going to fall for that act again. But when the dark of the moon arrives and death reigns supreme, he'll discover that not all females are alike.
In a world filled with hellhounds and pixies, can three lonely shifters and one silent cub create a new family together?