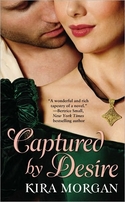 If you enjoy historical romances where a spun-sugar princess has servants at her beck and call to dress her in a sumptuous gown for a lazy afternoon of flower-gathering, you may be disappointed in my books. I like hard-working, goal-driven, salt-of-the-earth heroes and heroines, people who aren't afraid to get their hands dirty. In CAPTURED BY DESIRE, heroine Florie Gilder is a goldsmith's apprentice who's had to learn to fend for herself, and Rane MacAllister is a huntsman who provides food for starving villagers.
Why this preference for commoners? Basically, there are three reasons:
I get bored with do-nothing characters. (In fact, I tend to make them the villains!) Characters that spend all day fretting over their attire for the ball or learning how to flirt with a fan or going on leisurely flower-gathering expeditions are dull, dull, dull. I'd much rather write about hard-working people with dreams and motivations.
Renaissance jobs are cool. Sure, Lady Winifred and Lord Rupert can indulge in certain proper occupations—sewing, dancing, hawking, hunting, attending feasts, going a-Maying. But can they be waxchandlers (candle-makers)? Chapmen (traveling salesmen)? Thimbleriggers (scam artists)? Broom-dashers, beekeepers, or beerbrewers? Who wouldn't want to write about a hero who's a vaginarius? (Yes, I know it sounds dirty, but that's a scabbard-maker.)
I have a soft spot for underdogs. Heroes and heroines who aren't born into privilege—who sometimes have to struggle for survival, who have tough journeys rife with obstacles and challenges—tug at my heartstrings. I can relate to them. I wasn't born into wealth or privilege either, so when I see my characters rise to achievement and success despite their humble beginnings, through passion, persistence, and never giving up on a dream, it's personally inspiring. I hope it inspires you, too!
Kira Morgan
…stories to keep you up all night!
CAPTURED BY DESIRE
Coming March 2011…
SEDUCED BY DESTINY
www.glynnis.net/kiramorgan
www.facebook.com/kiramorganauthor
www.twitter.com/kira_morgan