Instead of trying to find your perfect match in a dating app, we bring you the "Author-Reader Match" where we introduce you to authors as a reader you may fall in love with. It's our great pleasure to present Kirsten Weiss! 
Writes: I write cozy mystery in its various forms, including paranormal. My latest release is the cozy mystery CHOCOLATE A LA MURDER, book four in my Perfectly Proper Paranormal Museum series. I call this series "paranormal light." There may be something supernatural happening at the San Benedetto Paranormal Museum (it is, after all, a paranormal museum), but that's up to the reader to decide. The real defining elements of my books are love and humor. The main characters love and care about each other, and the quirky humor reflects that.
About my heroine: Maddie Kosloski returned to California after a decade overseas and discovered she had a lot of rebuilding to do. CHOCOLATE A LA MURDER is the fourth book in the cozy mystery series, and at this stage, Maddie's finally ready to settle into her new life with her new love, police detective Jason Slate. But the universe has some zany curveballs (and murder) in store. Plus chocolate. Lots and lots of chocolate.
What I'm looking for in my ideal reader match:
– My ideal reader is looking for a light and breezy cozy mystery puzzle.
– She wants to laugh with someone, not at someone.
– She enjoys page-turning suspense, quirky characters, and witty banter.
– Her perfect evening in involves a riveting mystery novel, a box of chocolates, and a glass of wine or diet soda.
– She enjoys wine tasting or at least the idea of wine tasting. This mystery is set in central California wine country, after all.
What to expect if we're compatible: If we're compatible, you'll be staying up half the night reading to see what happens next, and laughing out loud as you flip the pages. You can expect a wide library of mystery novels and novellas coming your way. I have a large backlist of titles, including my "Wits' End" funny cozy mystery series and "The Witches of Doyle" witch mysteries.
Perfectly Proper Paranormal Museum Mystery Series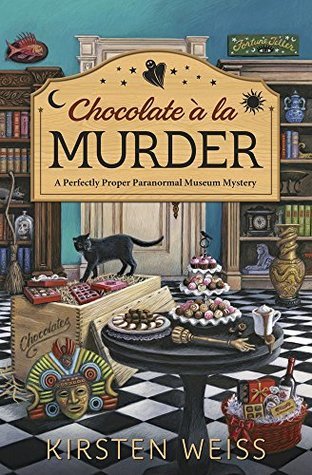 Maddie gets rattled by a candy-coated murder
It's Wine and Chocolate Days in San Benedetto, and paranormal
museum owner Maddie Kosloski has sweet dreams about her new
Magic of Chocolate exhibit. Her latest attraction is a haunted Mexican
whisk called a molinillo that rattles if someone lies. When Maddie visits
the town's new boutique chocolate shop, she finds one of the owners
dead and covered in melted cocoa.
Maddie's determined to catch the killer, and she soon uncovers deadly
dealings in the world of artisan chocolate. But the deception
surrounding those dealings are enough to make the molinillo rattle all
night. Will Maddie have to temper her passion for sleuthing before a
killer makes her fate a bittersweet one?
Mystery Cozy | Mystery Paranormal [Midnight Ink, On Sale: March 8, 2019, Paperback / e-Book, ISBN: 9780738757131 / ]
Kirsten Weiss grew up in San Mateo, California. After getting her MBA, she joined the Peace Corps, starting an international career that took her around the fringes of the defunct USSR and into the Afghan war zone. Her experiences abroad not only gave her glimpses into the darker side of human nature, but also sparked an interest in the effects of mysticism and mythology, and how both are woven into our daily lives.
She writes paranormal mystery and suspense, blending her experiences and imagination to create vivid worlds of magic and mayhem.
Kirsten has never met a dessert she didn't like, and her guilty pleasures are watching ghost Whisperer re-runs and drinking good wine.