1–What is the title of your latest release?
2–What is it about?
Two grumpy frenemies accidentally falling in love!
3–What do you love about the setting of your book? 
I love inventing new towns in my beloved East Bay in California! It's the best of both worlds: it's broadly a real-life location I know very, but specifically a setting I completely made up!
4–How did Oscar surprise you? 
Oscar is both more funny and more emotional than I thought he'd be when I sat down to start this book. His voice came quite easily, but each time I turned a corner he surprised me, which is a great combination!
5–Why will readers love Jack? 
Jack is that classic guy who acts like he doesn't need anyone, but in fact totally does. I don't know if that's why readers will love him, but it's definitely why I do!
6–What was one of your biggest challenges while writing this book (spoiler-free, of course!)? 
This book was a pleasure to write because I enjoy the hell out of dialogue, and Oscar and Jack like talking to each other (even if they don't want to admit it). The biggest challenge was probably getting them to quit bickering for five minutes and talk about their feelings!
7–Do you look forward to or do you dread the revision process? 
I *love* the revision process. Revising is my opportunity to turn what I've written into what I want other people to read. Which isn't to say that it's not intimidating at times—it really is—but ultimately all of my books are better after rigorous revisions!
8–What's your favorite snack to have on hand while writing? 
Tea (not technically a snack but the refreshment I have on hand) for drafting, and M&Ms for revisions!
9–Where would you go for an ideal writer's retreat? 
A cottage way out on an isolated beach! Fully stocked with food, ocean in view, no one talking to me.
10–What's the best piece of writing advice you've received? 
Oh gosh, I feel like so much writing advice is terrible. I think the best thing to keep in mind about any creative process is that what works for one person won't work for another, and one's process changes over time so what worked for you two years (or two books) ago won't necessarily work for you two years (or two books) from now. Sorry, I guess that's me giving advice, not talking about advice I've been given, but I can't think of any advice I've heard that I'd want to repeat!
1–Who is the fictional character you want to hang out with the most? (anyone in literature!)
Cordelia Naismith Vorkosigan from the fantastic Lois McMaster Bujold's Vorkosigan saga. I want to BE Cordelia when I grow up, except I don't see jumping through random wormholes just to see what's on the other side. So maybe I don't want to be her when I grow up, but I definitely want to have a cup of coffee with her.
12–What's one of your earliest book memories? 
When I was growing up we had this collection of abridged classics—Heidi and Treasure Island and stuff like that. They were super abridged (I was the opposite of an advanced reader lol). I got to Little Women and (spoiler alert!) one of the chapters ends with, "In the morning, Beth was gone." And I had NO IDEA what that meant. I checked the page numbers to see if some didn't get printed, I re-read the chapter, I finished the book then read it again to see if it made more sense the second time, and I persisted in thinking something was left out until I got old enough to get the unabridged version out of the library and realized that, y'know, the book is just a bit gentle about death (and I am more than a bit literal!). I spent years wondering where on earth Beth had gone and why she didn't come back!
13–If you had to write in a different genre, what would it be and why? 
Oh, I don't *have* to write in any genre. I'm pretty much always writing across genres—I love mystery and fantasy in particular—but romance is the genre that I am most likely to publish for really practical reasons like availability of cover designers who are familiar with it and sheer number of editors/publishers buying romance novels.
14–What song will automatically put you in a good mood? 
There are two that immediately spring to mind: "Shine" by Years and Years and "Congratulations" by Dessa off the Hamilton Mix Tape.
15–What is your favorite way to practice self-care?
Self-care is so hard. I recently bought myself some Holo Taco nail polish and it has really inspired me to do my nails more often, which is one of my favorite things! (If you're going to spend hours of your life typing, you might as well have fancy nails!)
16–What can you eat and never get sick of? 
Peanut butter! Skippy Natural Creamy (though I love crunchy, it's just not cost effective at this volume of consumption).
17–Will you share a favorite, recent-ish book you recommend? 
I just listened to A Bollywood Affair by Sonali Dev and LOVED IT. Sucked me in immediately, would totally recommend!
18–Do you have any hobbies? 
I'm trying to learn how to art. I've been saying "I can't do art" all my life and I'm trying to change that!
19–Are you an early bird or a night owl?
Neither. I change my sleep schedule with some frequency just depending on what's getting me the highest quality of sleep.
20–What can readers expect from you next? 
The third Love Study book, THE LIFE REVAMP, which follows Mason on his search for love!
The Love Study #2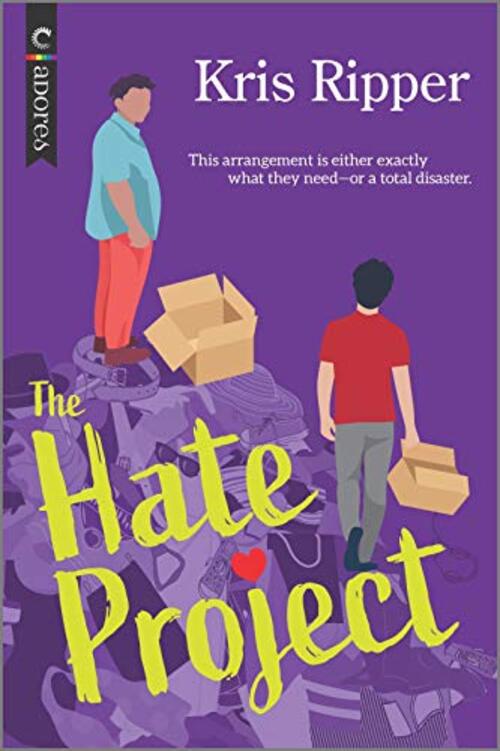 This arrangement is either exactly what they need–or a total disaster
Oscar is a grouch.
That's a well-established fact among his tight-knit friend group, and they love him anyway.
Jack is an ass.
Jack, who's always ready with a sly insult, who can't have a conversation without arguing, and who Oscar may or may not have hooked up with on a strict no-commitment, one-time-only basis. Even if it was extremely hot.
Together, they're a bickering, combative mess.
When Oscar is fired (answering phones is not for the anxiety-ridden), he somehow ends up working for Jack. Maybe while cleaning out Jack's grandmother's house they can stop fighting long enough to turn a one-night stand into a frenemies-with-benefits situation.
The house is an archaeological dig of love and dysfunction, and while Oscar thought he was prepared, he wasn't. It's impossible to delve so deeply into someone's past without coming to understand them at least a little, but Oscar has boundaries for a reason—even if sometimes Jack makes him want to break them all down.
After all, hating Jack is less of a risk than loving him…
The Love Study
Book 1: The Love Study
Book 2: The Hate Project
Book 3: The Life Revamp
Carina Adores is home to highly romantic contemporary love stories where LGBTQ+ characters find their happily-ever-afters.
A new Carina Adores title is available each month:
The Hideaway Inn by Philip William Stover
The Girl Next Door by Chelsea M. Cameron
Just Like That by Cole McCade
Hairpin Curves by Elia Winters
Better Than People by Roan Parrish
The Love Study by Kris Ripper
The Secret Ingredient by KD Fisher
Just Like This by Cole McCade
Teddy Spenser Isn't Looking for Love by Kim Fielding
The Beautiful Things Shoppe by Philip William Stover
Best Laid Plans by Roan Parrish
Knit, Purl, a Baby and a Girl by Hettie Bell
The Hate Project by Kris Ripper
Hard Sell by Hudson Lin
For the Love of April French by Penny Aimes
Sailor Proof by Annabeth Albert
Meet Me in Madrid by Verity Lowell
The Life Revamp by Kris Ripper
Romance Comedy [Carina Press, On Sale: April 27, 2021, Paperback / e-Book, ISBN: 9781335509178 / eISBN: 9781488076954]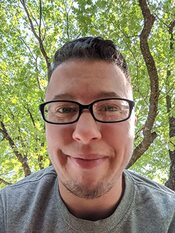 Kris Ripper lives in the great state of California and zir pronouns are ze/zir. Kris shares a converted garage with a kid, can do two pull-ups in a row, and can write backwards. (No, really.) Ze has been writing fiction since ze learned how to write, and boring zir stuffed animals with stories long before that.