More than meets the eye in A Wolf in Duke's Clothing, Susanna Allen's new Regency era Shapeshifter mash up.
When I had the idea to combine the Regency Era and Shapeshifter genres, I was looking forward to playing with the clash between the two very different worlds: the manners and mores of the former and the sensuality and instinct of the latter. What I hadn't bargained for was how much fun I would have coming up with names for my characters.
Naming is important and it can be hard. It's a big commitment and it informs the character's whole fictional life. When writing contemporary romance, it's a little easier as, say, the last name of a character would reflect their ethnic background—are they of Irish or Italian descent—and that in turn helped with deciding on the first name, and vice versa. I remember being totally stumped about what to call a secondary male in a work in progress and started scrolling through Nameberry for inspiration, which worked insofar as it planted a bunch of names in my subconscious and three days later my brain offered up the one that fit best. 
Authors make great use of the baby-naming sites available online, and I'm no exception, but I had no idea there were so many names that have to do with animals! That's where the fun with A Wolf in Duke's Clothing really began. When I started looking for a surname for my hero Alfred, the Duke of the title and a lupine versipellis, or shapeshifter, I came upon many first and last names that mean 'wolf' and it immediately sent me down a rabbit* hole (ha,ha) of discovery.
As a result, the denizens of Lowell Hall have names that are clues to the identities of their essential selves: that is, the animals become when they Shift. While remaining true to species that would have been found in early 19th century England—so, no leopards… at the moment, anyway—I found entire websites devoted to the compilation of surnames meaning all sorts of creatures. Stott may not feel like it's much of a surprise, but Coburn was a real find, as was Brock. (That's stoat, rooster and badger, respectively.)
 Naming is also something that can be instinctive and carries through an author's body of work. In retrospect, most of my heroines and heroes have lyrical, 'bouncy' names, like Wolf heroine Felicity Templeton and hero Alfred Blakesley, Duke of Lowell. By contrast, in book three of The Shapeshifters of the Beau Monde series I have given a bad guy a name comprised of single syllables, like a one-two punch.
Having said that, an even more dastardly character in that book has an extremely mellifluous name… which is a great way of hiding them in plain sight.
Finally, not only did I trawl those 21st-century baby-naming sites, but I also have taken more than one spin through those devoted to Regency Era approved monikers. As lyrical and 'bouncy' as Tiffany or Madison are, woe unto me if I had chosen to bequeath one of those modern names upon even a secondary character. Annes and Georges and Charlottes and Williams can start to feel a bit limiting, so having the requirement of hinting at their versipellian nature added some lovely nuance.
And don't get me started on the endless supply of animal idioms that crop up in our language: I could go on and on about that 'til the cows come home…
*Speaking of rabbits, the surname Arledge is of English origin and means 'dweller at the rabbit lake'.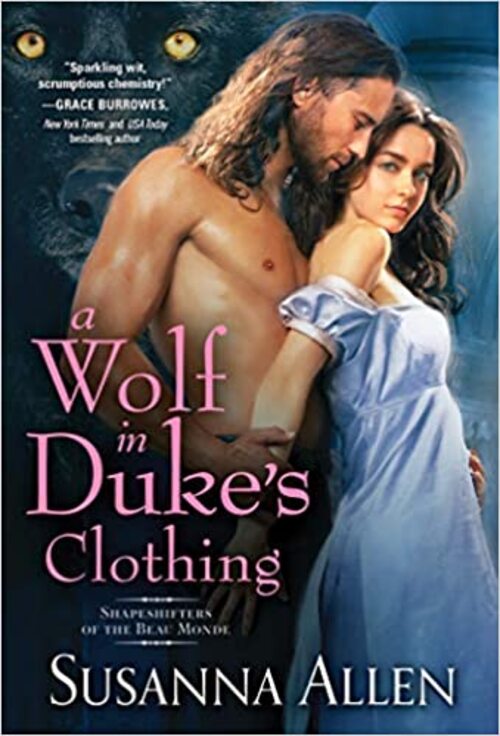 A Duke in want of a wife…
Alfred Blakesley, Duke of Lowell, has long been an enigma. No one dares to give a man of his status the cut direct, but there's simply something not quite right about him. What would the society ladies say if they learned the truth – that the Duke of Lowell is a wolf shifter and the leader of a pack facing extinction if he doesn't find his true love? So now he's on the hunt…for a wife.
Felicity Templeton has a goal of her own: to remain unwed until her twenty-fifth birthday, when she will inherit a significant fortune. But that all changes when she meets Alfred, the dashing duke who's determined to have her for his very own…
Romance Historical | Romance Paranormal [Sourcebooks Casablanca, On Sale: April 27, 2021, Mass Market Paperback / e-Book, ISBN: 9781728230368 / ]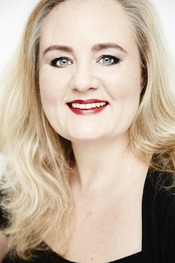 Born in New Jersey, Susanna Allen moved to Ireland for twelve months — in 1998. Susan is living her life by the three Rs: reading, writing, and horseback riding, and can generally be found on her sofa with her e-reader; gazing out a window and thinking about made-up people; or cantering around in circles. She loves every minute of it!