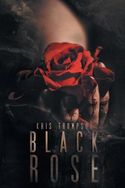 BLACK ROSE is a romance/thriller/crime novel. This is a very hard genre to write in, what do you like about this genre? Are there other genres you like to write in?
Suspense/thriller is hard, but I think any author would say their genre is difficult. LOL! For me, what I loved the most, was that this genre allows the author to really get into the reader's head. It forces the reader to think on a different level and use their imagination in a way they normally don't. For example, in scenes where Lillian hears what the others are going through, but obviously she doesn't fully know what's happening to them, you find yourself thinking the worse. In all honesty, you're probably imagining something 100 times worse than what I was. And as "messed up" as that might be, that's what I wanted. I wanted you to become as attached to these people as much as possible, and to do that I need that connection between the characters and the reader.
As for genres I'd like to try, I would say paranormal. Either as a young adult novel or adult. I think a part of that is just wanting to write a book my kids could read because I'm not going to let them read BLACK ROSE for at least 10 years. LOL! My kids complain that I wrote a book they can't read, so I promised them I'd write one for them.