A friend of mine once had a date show up with a pillowcase. It contained his snake. No kidding. If that had been me, the relationship would have ended on the spot. Now, if he had shown up with his dog, that would have been a different matter entirely.
There's a matchmaking event going on in my new book, MISSION IMPAWSIBLE. The town of Wagtail caters to people and their fur friends, so they are encouraged to bring their pets with them. The cats and dogs will help break the ice and might even make some matches.
Animals remove the pressure of coming up with something clever to say to a stranger. Even the shyest person is usually happy to talk about Fido, especially if Fido is present and wagging that tail. Think this is silly? Kloof, an app that connects people through their dogs, did a survey. Now before you peek at their survey results, guess which breeds are most likely to attract women to the guy holding the leash.
German Shepherds or Poodles?
Chihuahuas or French Bulldogs?
Bernese Mountain Dogs or Labrador Retrievers?
Shih Tzus or Golden Retrievers?
Siberian Huskies or Pomeranians?
Ready for the answers?
In order of preference, women like men with:
German Shepherds
Golden Retrievers
Labrador Retrievers
Siberian Huskies
French Bulldogs
And, by the way, if you're a woman looking for a relationship with a man, take your Golden Retriever for a walk. They scored number one with men.
MISSION IMPAWSIBLE was in bookstores on February 7th. With a professional matchmaker and meddling mothers, you know there's bound to be trouble!
Krista Davis is the New York Times bestselling author of the Domestic Diva Mysteries and the Paws and Claws Mysteries set on fictional Wagtail Mountain, a resort where people vacation with their pets. . Like her characters, Krista has a soft spot for cats, dogs, and sweets. She lives in the Blue Ridge Mountains of Virginia with three dogs and two cats.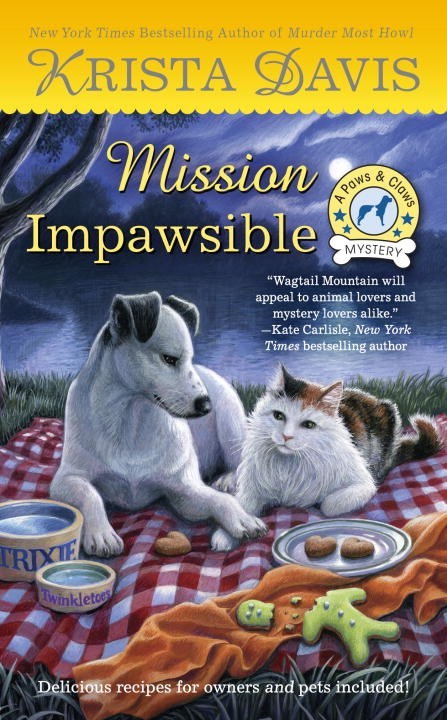 MISSION IMPAWSIBLE
" width="300″ rel="share" >
From the New York Times bestselling author of Murder Most Howl comes the fourth Paws & Claws mystery…
In the pet-friendly town of Wagtail, Virginia, there's no love lost when Holly Miller meets her match in a murderer…
Holly and her grandmother, Oma, are working their tails off to prepare the Sugar Maple Inn for an upcoming matchmaking event for pet owners. While Holly has no interest in pairing up, Oma plans on playing Cupid and finding someone to warm her reluctant granddaughter's heart.
Unfortunately, one man Holly does meet is cold—dead cold—and he has a personal letter from Oma in his pocket. As suspicion is cast over the inn's guests, Holly—with the help of her furry friends, Trixie the Jack Russell and Twinkletoes the cat—must fetch the real killer, or she may soon have a date in court.
Delicious recipes for owners and pets included!
Mystery Cozy [Berkley Prime Crime, On Sale: February 7, 2017, Mass Market Paperback / e-Book, ISBN: 9781101988565 / eISBN: 9781101988572]