MY OXFORD YEAR, by JULIE WHELAN
If you're a poetry fan
Why I loved it: The novel starts off going right down the old troupe: young student, Ella, sleeps with handsome professor, Jamie, both want to keep it casual since Ella is going back to the united states at the end of one year to pursue her life-long dream of working in politics. But as the novel progresses, Ella starts falling for Jamie and things are revealed that takes the novel in a new direction. It's smart, fun, romantic, and poetry and humor are sprinkled throughout the novel.
Fun fact: Ella, just like Megan in Love, Across the Divide, is faced with a seemingly impossible decision: turn her back on the man she's falling in love with to follow her political dreams or choose love.
What if your knight-in-shining-armor was a geek in a BMW?
Why I loved it: This contemporary opposite attract story is the perfect trifecta of hilarious, sad and sweet. I loved the messy lives of the main characters, Jesse is a single mom struggling financially to survive and raise her two children, Ed is a wealthy tech geek who's life is falling apart. Fate, or a broken- down car, has them all ending up in Ed's fancy car for a very long car ride, kids and dog in tow, to a math Olympiad. A journey that changes everyone's life.
Fun fact: Jesse, just like Megan in Love, Across the Divide, is no stranger to poverty. Without a doubt lack of money shapes a person's character. In Megan's case it made her hyper focused, hardworking, and dedicated to her cause.
If you're a fan of Pretty Woman, you'll love this twist.
Why I loved it: A wealthy intelligent woman with Aspergers thinks she's bad at sex so she hires a hot male escort to teach her. This book was heartwarming, steamy, fun, and I loved Stella's character. I wanted so badly for her to get her happy ending.
THE LIGHT WE LOST, by JILL SANTOPOLO
Do your prefer a hearth fire or bonfire?
Why I loved it: The writing is beautiful. We get a glimpse at the power of first love and the choices we make. In the story there's a passage describing how every romance could be thought of in terms of fire. Some relationships feel like a wildfire-they're powerful and compelling and majestic and dangerous and some relationships feel like a hearth fire- they're solid and stable and cozy and nourishing. All through out the novel we see Lucy, the main character, struggling with the two loves in her life, the hearth fire and the bonfire. It made me realize, I like reading about bonfire romances but I much prefer the comfort of a hearth fire in real life.
HOW TO WALK AWAY, by KATHERINE CENTER
Get your box of tissues ready.
Why I loved it: Warning, you can definitely read this on a beach, but I highly recommend having a box of tissues next to you. This story follows the ups and downs of Margaret's recovery from a tragic plane accident (she gets engaged and then paralyzed!) and her selfish dunce of a fiancé. The story didn't serve up the happily ever after fairy tale ending, and I actually prefer it that way, but it is hopeful, wise, sweet, and romantic.
Fun fact: Margaret, like Megan, doesn't get everything she wants, but she has enough to be happy. That's all we can ever ask for.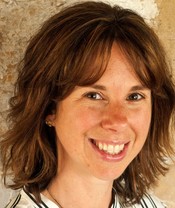 Originally from Montreal, Krystal Ford has fallen in love with the Hudson Valley, New York, where she calls home with her husband and two children. She has a Master of Arts from New York University and, when she's not writing, works as a community organizer around environmental issues. Her favorite pastimes are reading books and gardening.
On the eve of the 2016 elections, young Republican Megan Thompson faces a once-in-a lifetime opportunity when her boss decides to groom her to run for his congressional seat in 2018. Ambitious and pragmatic, Megan is missing just one thing: a wealthy, well-connected trophy husband.
So, when Megan moves from Florida to DC and lets the congressman broker a power match, she's looking to get down to work, not fall in love. And she's definitely not looking to make nice with her new roommate, Andrew Croswell, a liberal environmentalist determined to make her life hell.
After a series of unpleasant blind dates, Megan begins to lose hope of finding her shiny white Republican knight in time to boost her appeal to donors and voters. At last she hits it off with Brock, a dashing, Don Draperesque spokesman for the NRA, and even love-shy Megan thinks he could be "the one." But as the year progresses, she and Andrew start getting along a little too well, and Megan finds herself second-guessing all her well-laid plans.
Things start spinning out of control when a special election pushes everything up by a year. As Megan races against the clock, she'll do anything to win—almost. Now she must choose: career over love, or love over politics?
Across the Divide follows genuine, familiar characters from both sides of the aisle, smashing stereotypes and striving to make sense of our not-so-brave new world. Most of all, it asks a crucial question: Can love bridge the great American divide?
Romance Contemporary [Author Self-Published, On Sale: July 28, 2018, e-Book, ISBN: 9780692136713 / eISBN: 9780692136713]