There are those people in life who amaze you with how many hats they wear on any given day, and then they put another one on like it's no big deal. Like an additional hat doesn't put any pressure on their brain or weigh their head down and make it feel like it's going to fall off their shoulders. On top of that, they do it with style and grace—ease—that makes you wish you could complete just one of their tasks and make it look that effortless. 
Abby L. Vandiver, aka Abby Collette, is one of those people, and of course, she took on this interview while juggling two releases in November! Whew, I don't know about you, but I find her energy exciting. (And exhausting if I think about it too much!) She's also generous with her time and her expertise—how can you not fall in love with a talent like that!
Kym: Welcome to the Cozy Corner, Abby!
Abby: Thank you for inviting me. Happy to be here.
I want to congratulate you on your new Ice Cream Parlor Mystery series! What made this series special for you as an author?
Thank you! This series was special because it was my first book series with a Big Five publisher. The first books I got after getting an agent. So it really was my start as a traditionally published author. I learned so much getting and writing this series.
Are there any childhood memories you have with an ice cream shop, or maybe memories you shared with your kids or grandkids that kick-started your creativity for this series?
No. This series was suggested to me. Took me a little while to wrap my head around it. But then I took my grandchildren to Chagrin Falls (yes it's a real place!) and we got ice cream and talked to some of the residents and I knew I was ready to tell my story.
Now we all need to visit Chagrin Falls! Many authors make the jump from historical fiction to cozy mysteries or romance to cozy mysteries, but I can't say as I've ever interviewed a sci-fi author who made the leap. What drives your writing and will we ever see a sci-fi cozy from you? (Is that a thing, if not maybe it should be!)
Ha! Yes, my first books were sci-fi-ish mysteries. It was a Dan Brown-esque kind of book. Only there wasn't peril around every corner. No blood and guts, swearing or such. But readers wanted to see that in those kinds of books and I wasn't one to write that. So I switched to cozies. I have always been a fan of mysteries so it was an easy transition.
You have worn many hats in your personal life and in your professional life as well. You obviously work well under pressure. You've been a mom, a grandmother, a lawyer, a college professor, an author and now you've taken on the huge task of editing the anthology, MIDNIGHT HOUR: A Chilling Anthology of Crime Fiction From 20 Authors of Color. What drove you to put on this new hat for this project and how did it come about?
Well, it really isn't a new hat for me. As a self-published author, I did a number of boxed sets with other cozy authors. It is a good marketing tool to help increase your fan base. And it was how I became a Wall Street Journal best-selling author. Then I joined Crime Writers of Color, a group of crime fiction writers in all stages of their careers. I thought this was a good way to bring focus on the writers in the group.
Brilliant! The mystery genre varies greatly in what is seen on the page and the type of readers it draws. What guidelines did you put in place for  yourself as an editor and the authors in the anthology to showcase their talents in the best light but also appeal across the board to the different types of mystery fans?
The group of authors are all crime writers, so I wanted to be sure that the anthology showed that. I decided on the content and then, as a group, we voted on a central theme. 
I can't wait to get this anthology! I won't ask you which was your favorite (lol, even if I'm dying to know) but what surprised you about the different stories?
Yes. I do have a favorite or two, and I'm sure our readers will too. But I wasn't really surprised. I knew that we had top-notch authors who had come on board and I didn't expect anything other than great stories. I wasn't disappointed.
What was the most difficult part about editing this anthology, and will you do it again? Midnight Hour II? Or is this a hat you'll pass on to the next author?
Oh, I'll certainly do it again. I love showcasing the work of my fellow authors. I think the most difficult thing is rounding up the authors. There are authors all over the world and the US in this anthology, people on different time zones and working on manuscripts, including myself. Busy and distant authors made it difficult lots of time to get things done on a schedule. But we managed to get it done and I am so excited for the book to come out next month.
Kym: Yay! Where can our readers find you online? 
Abby: Find me here:
Twitter: www.twitter.com/abbyvandiver
Instagram: www.instagram.com/abbylvandiver
Facebook: www.facebook.com/authorabbyl.vandiver
Website: www.abbyvandiver.com
Amazon: bit.ly/myamzpg
Thank you for joining us at the Cozy Corner on Fresh Fiction!
Thank you for having me!
Kym: Want another deeply satisfying mystery by Abby? Check out her upcoming Books & Biscuits Mystery release, BODY AND SOUL FOOD, under her pseudonym Abby Collette on 11/2/21.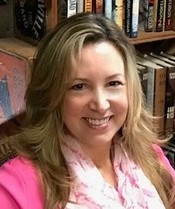 Kym Roberts writes by day and is a pro-surfer in her dreams by night. Her humor is often raunchy, her jokes are often bad, but her hunger for a story keeps the adventures coming fast. Experience the thrill & catch the wave of passion, mystery, and suspense with her at kymroberts.com, on Facebook @KymRobertsAuthor911, and on Twitter @kymroberts911.
***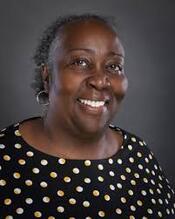 Wall Street Journal bestselling author Abby Collette loves a good mystery. She was born and raised in Cleveland, and it's a mystery even to her why she hasn't yet moved to a warmer place. Along with the Ice Cream Parlor mysteries, she is the author of the Logan Dickerson Mysteries, the southern cozy mystery series featuring a second-generation archaeologist and a nonagenarian who is always digging up trouble. She is also the author of the Romaine Wilder Mysteries, set in East Texas, which pairs a medical examiner and her feisty auntie who owns a funeral home and is always ready to solve a whodunit. Abby spends her time writing, facilitating writing workshops at local libraries and spending time with her grandchildren, each of whom are her favorite.
Abby is a member of Crime Writers of Color, and the Sisters in Crime national, regional and guppy chapters.
(Photo Credit: Duke Morse)