I've known bestselling author Callie Hutton for several years, but with the internet age, we actually just met face to face a few years back. She's a wonderful writer, a fabulous person and an inspiration to anyone who's wanting to mix things up a bit in their lives. She's proof that you can take your career in a different direction and continue to produce a great product. Everyone could use a bit of inspiration from people like Callie right now!
Kym: Welcome to the Cozy Corner, Callie!
Callie: Thank you for having me, Kym. I'm excited to be here.
You're a bestselling historical romance writer, what made you decide to switch genres into historical cozy mysteries?
Several of my historical romances had mysteries in them. I enjoy adding that to a romance. Then I wrote one that was true to the cozy mystery genre as well as romance that was part of one of my self published Victorian series. I sent it to my agent and she immediately asked me to give her a proposal for a cozy mystery series. I did that and Crooked Lane contracted the series. 
What did you find to be the hardest part about switching to mysteries?
They are harder work, lol. They require a lot of pre-writing planning and plotting. Since I had already written a few romance mysteries I was a bit familiar with the genre, but a cozy mystery was a different thing. However, I do have an overall romantic arc for this series. 
Awesome! I was hoping there was a romantic arc! I love your heroine, Lady Amy Lovell, in your new release, A Study in Murder. She's an author set in a time period when female authors are considered scandalous creatures—who doesn't adore a scandal 😉 Can you tell our readers how else Lady Amy is ahead of her time?
Amy has eschewed marriage, much to the annoyance of her father who was never successful in marrying off his half-sister who lives with Amy. She also believes in rights for women and one could almost say she is a suffragette. 
She is a woman after my heart! If ever an ex (fictional, of course) deserved to be found with a knife in his chest, I think Mr. Ronald St. Vincent did;) I always wonder why an author chooses the manner of death they do. What made you decide to use a knife when the killer, (not giving it away!) is so proficient with guns?
Mostly because there is more stealth and silence with a knife. Also, it's quick and if done in the correct place on the body, very effective.
Oooh, anyone else experiencing a little shiver? Everyone always asks who you would cast as your hero or heroine, but in this case, I must ask who you would place in the role of Ronald St. Vincent? After all, Lady Amy was going to marry the man, even if it was arranged.
Cillian Murphy, without a doubt. Ever since I watched Red Eye he struck me as a villain type.
OMG, he's perfect! I love your choice;) If you don't know Cillian, you must Google him—he played Scarecrow in the Batman movies from 2005-20012. Moving on to the wonderful Lord William Wethington—he's a member of Lady Amy's book club, and he's her enticing partner in solving St. Vincent's murder. Have you found any evidence of book clubs from the Victorian era that included men and women, or was this creative license?
No, I didn't research that, but I'm sure such things did exist. Women were starting to demand equal rights and there were a few female authors who wrote un-womanly things (Mary Shelley Wollstonecraft) 
She was brilliant! Your descriptions of Bath, England bring the town to life and they beautifully weave the characters into the setting. Have you ever visited Bath? If so, how did that help your descriptions; did you bring any particular places to life on your pages?
Yes, I've been to Bath twice. I love that city and took a lot of pictures and made notes of the location of various things so I could make it seem real. I was enthralled with Sally Lunn's Buns and used that in my story. It was nice that I had actually been there. Also, since I personally viewed the Roman Baths and the Pump Room, and the Abbey right next to it, I was comfortable writing about that area, as to where things were in relation to each other.
I've never been to Bath, even though I hope to someday! If I don't make it, I can at least disappear into your stories for a few hours;) Maybe a Sally Lunn's Bun is a possibility though;) Lady Amy's Aunt Margaret is a great secondary character who keeps Lady Amy's secrets and adds to the charm of the story. Is she modeled after anyone in your life?
To some degree, she is like one of my aunts. Not in looks, but certainly in character.
What a great tribute! Lady Amy doesn't know how to shoot a gun; few women of the Victorian era did. Will she be taking on that task in her next adventure?
Heavens, no! William is adamant that she stay far away from guns. But then, with two more books coming, who knows?
LOL, tease! Lady Amy is caught off guard by the killer. Did you do this to shock the reader, to leave all possibilities on the table until the very end, or did you not know who the killer was until the killer revealed him/herself to you? In other words, did you plot the murders from the very beginning?—Pleading the fifth is not an option even if the English system of law allows one to remain silent;)
I had planned on one murderer almost to the end and then switched it because it seemed to work better. I then had to go through the book to make it fit.
I love when a killer reveals him/herself to the author at the very end! (I hate when it's me and I have to go back and put in more clues.) I wouldn't call your ending in A Study in Murder a cliffhanger since you ended the story-line of this particular mystery perfectly. I view the ending more as a prologue for book two or a taste of what's to come—and what an enticing start to book two it is! Can you tell us what's next for Lady Amy and Lord William?
Yes. I am working on that book right now. William's man of business, James Harding is found floating in the River Avon. This happens just as William is beginning to think there is something funny going on with how Harding is handling his business affairs. Of course, Amy and William must find who they believe killed Harding since in the beginning, the police think the drowning was an accident. There is a couple of little sub-plots in there when William's mother moves in with him and Amy's publisher is pushing her to reveal herself in order to do a book signing at the very bookstore where she belongs to the book club. She writes under a pseudonym due to her father's request.
I can't wait to read it! In the meantime, where can our readers find you on the web to follow along with this exciting journey?
www.calliehutton.com also on Facebook @CallieHuttonBooks. I do have a twitter account, @CallieHutton, but don't use it often. Also my books are on Book Bub and Goodreads.
Kym: Thank you for joining us on the Cozy Corner!
Callie: Thank you so much for having me. I love talking about this book. It was hard work, but such fun to write.
Until next month when I have a list of new mysteries you must read, stay healthy, stay safe and of course, get cozy and read on!
Victorian Book Club Mystery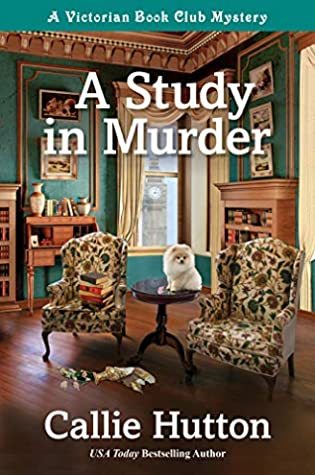 A mystery author is charged with murder–and the plot thickens faster than anyone can turn the pages–in USA Today bestselling author Callie Hutton's new series debut, perfect for fans of Rhys Bowen and Ellery Adams.
Bath, England, 1890. Mystery author Lady Amy Lovell receives an anonymous letter containing shocking news: her fiancé, Mr. Ronald St. Vincent, has been dabbling in something illegal, which causes her to promptly break their engagement.
Two evenings later, as Lady Lovell awaits a visit from Lord William Wethington, fellow member of the Bath Mystery Book Club, her former fiancé makes an unexpected and most unwelcome appearance at her house. She promptly sends him to the library to cool his heels but later discovers the room seemingly empty–until she stumbles upon a dead Mr. St. Vincent with a knife in his chest.
Lord Wethington arrives to find Lady Amy screaming and sends for the police, but the Bobbies immediately assume that she is the killer. Desperate to clear her name, Lady Amy and Lord Wethington launch their own investigation–and stir up a hornet's nest of suspects, from the gardener who served time in prison for murder to a vengeful woman who was spurned by St. Vincent before he proposed to Lady Amy.
Can they close the book on the case before the real killer gets away with murder?
Mystery Cozy | Mystery Historical [Crooked Lane Books, On Sale: May 12, 2020, Hardcover / e-Book, ISBN: 9781643853024 / eISBN: 9781643853024]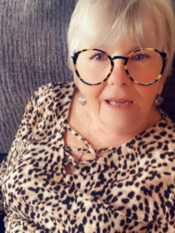 USA Today best selling author of THE ELUSIVE WIFE, Callie Hutton writes both Western Historical and Regency romance, with "historic elements and sensory details" (The Romance Reviews). She also pens an occasional contemporary or two. Callie lives in Oklahoma with several rescue dogs, two adult children, and daughter-in-law (thankfully all not in the same house), and her top cheerleader husband. She also recently welcomed twin grandsons to her ever expanding family. Callie loves to hear from readers, and would welcome you as a "friend" on Facebook. You can contact her through her website.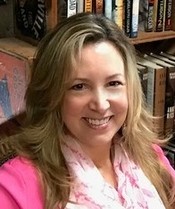 Passion. Mystery. Suspense. Catch the Wave! Because a little PMS can change your world!
Kym Roberts is a retired detective sergeant who looks for passion, mystery, and suspense in every book she reads and writes. She can be found on the web at kymroberts.com, on Facebook @KymRobertsAuthor911 and on Twitter @kymroberts911. You can also listen to her podcast Romance Book Chat with Kym and Misty on iTunes & Stitcher. Her Amazon bestselling Book Barn Mystery #5, Killer Classics was a finalist for the Fresh Fiction Awards for Best Cozy Mystery & Best Book! Check out her latest release, Sinfully Wicked, a romantic suspense novel that will heat up your night!