New series are always a delight to find. When it's written by a tried and true mystery author, it's like finding unexpected money in the laundry. Not a one-dollar bill or even a five, but a twenty—crisp and clean—the perfect, unexpected treasure that you want to tell everyone about, yet keep it for yourself. After all, you never know what kind of castle doors that treasure could open;) Even better when it's the gateway to Castle Dark:)
I was lucky enough to chat about those wonderous doorways and the new Dinner and a Murder Mystery series with ever-talented, Julia Buckley writing under the pseudonymVeronica Bond.
Kym: Hi Veronica, thank you for joining us at the Cozy Corner on Fresh Fiction!
Veronica: Thank you for inviting me! 
When I read the premise of your new series, Dinner and a Murder Mystery, I was hooked. I've only gone to one of our local murder mystery dinner theater, but thoroughly loved the experience. How were you inspired? Did you visit a local theater in Chicago, or go on a weekend trip to an enchanting Castle Dark?
I used to go to a wonderful dinner theater called the Candlelight Dinner theater (alas, now closed), but they did not do mystery theater. However, back in the 90s, those Murder Mysteries in a Box were very popular. They each had a different theme, and a person could plan a dinner around the mystery. My husband and I were young then and didn't yet have children, so we had some time on our hands to socialize with friends. So, we did a few of those Murder Mystery games. Very fun. 
When I conceived of the Castle Dark actors, though, I realized that I didn't want the guests to be the suspects—that would be something the actors would have to take on so that the guests could solve the mystery.
Love it! After being introduced to castle life, is there a real Castle Dark we'll be dying to visit?
Not exactly, but there are several castles that crept into my imagination in childhood and never left. First, of course, are all the castles that I entered through fiction. There are so many lovely books that contain castle settings, both in mystery and classic fiction. I just wrote a piece for Crime Reads about my favorite fictional castles, in fact. 
A second castle that inspired my imagination from way back, was Neuschwanstein, the castle of "Mad Ludwig," the King of Bavaria. My mother was German, and she would tell me about this castle and the legend of the man who built it. He built other castles as well; in fact, he used up all of his royal funds creating these beautiful architectural projects, but Neuschwanstein is perhaps the most famous. 
There is yet another castle that spoke to my childhood imagination. I grew up in Illinois, but very close to the border of Indiana. There was a local highway, Route 30, that led from one state to the other. Route 30 had an ever-changing landscape, and it was not particularly attractive, since it went through some mundane fast food restaurants, local hotels and motels, gas stations, and other businesses. Often when we children ran errands with our mother, we would take Route 30. But there was one thing that made the road magical: The Castle. 
At one point, when driving south on Route 30, one notices that the businesses peppering the landscape give way to tall trees and a shady, almost hidden drive, blocked by a majestic black metal gate. Above the trees, one could spot unexpected turrets and spires. Yes, it was an actual castle, hidden in the woods on a busy highway. It was known locally as Meyer's Castle since that was the name of the family who owned it. My sister and I loved to sigh as we drove by, peering into the trees and trying to get a better glimpse. Our mother told us that the Meyers had imported much of the castle material from Europe and then built it here where they lived.
Castle Dark has a similar story, including the idea of importing materials, but it also has a bit of The Great Gatsby thrown in, since Gatsby based the design of his house on something he had seen in Europe.
Believe it or not, I saw Meyer's Castle when I was a kid! I didn't know the history behind it, very magical indeed;-) What was your favorite part about developing the cast for the dinner playhouse? (I love that the playhouse has a "King Kong" of a dog named Hamlet!)
 The characters emerged organically as I started writing. I knew only my heroine, Nora Blake, and the man who hired her, Derek Corby. Then when Nora actually arrived at the castle, I decided to create someone who would become Nora's instant friend and possess a natural charisma that an actor might possess. That turned into Connie Lancaster. Hamlet is based on my own big black Lab, Digby. Like Hamlet, he tends to get in the way (we call him The Barge) and he drools every time he smells food.  🙂
The other characters emerged one at a time as I thought of the rooms in the castle and who I wanted to populate them. It's a discovery process, and it is quite fun. It's like that old game, Mystery Date (anyone else remember it?), which allowed you to actually open a door, but not before you wondered who was behind it. The writer gets to do that all the time—we open doors and find out who our characters will be. Sometimes we are surprised.
The imagery of opening castle doors to find new characters is breathtaking! I know you've taught high school, (for a lifetime!) do you have any experience with theater?
I am only a theater-goer as an adult, but I loved acting as a young person, and I actually starred in three high school musicals. A heady experience for a kid, and I never forgot that aspect of stage (and backstage) action.
That's awesome that you are taking the stage once more;) You have quite the cast of red herrings. What's your favorite part about separating the real killer from the rest?
It was pretty fun to structure it that way, but it didn't get too complicated because the real-life mystery soon supersedes the other.
I think a dream job for me would be a personal shopper for antiques, and you definitely filled my imagination with the props they acquire at the local antique store. Are you a junkie for heirlooms of an era gone by?
Yes! For me, the value is in their stories, either what you can find out about them, or what you can imagine. Every time we go on vacation, my sole aim is to find an amazing antique shop so that I can find a treasure to bring home. And I'm not talking expensive things, just fun ones. Once I brought home a cast iron cow.  🙂
LOL, I'd be fighting you over that find! Just like the props, the cast will change from time to time throughout the series, are there any favorites you see staying until the final curtain closes? (fingers crossed my favs are lifers!)
There are three characters who do not return in the next book, but if you read book one you already know who two of them are (one who dies and one who is a killer). But most of the cast and fun townspeople will be back, along with some new potential suspects.
This isn't your first go-round with cozy mysteries. You also have the Hungarian Teahouse Mysteries, the Writer's Apprentice Mysteries, and the Undercover Dish Mysteries under Julia Buckley. What is the hardest part about launching a new series?
Starting a new series is a joy because I tend to be full of ideas, totally in creation mode. What's hard about it is worrying over its debut, wondering if you're doing enough to reach readers, to promote the book, to help people find it. And then if they do find it, to hope that they like it! That's always a tough one, and writers have to develop a thick skin. There will always be people who don't like what you write, no matter how much you yourself enjoyed writing it.
It's a hit with me! Where can our readers find you online?
I have a website at Juliabuckley.com. Readers can sign up for my newsletter there. They can also find me on Facebook, Instagram, and Twitter.
Thank you for joining us at the Cozy Corner on Fresh Fiction!
Thanks to all of you!  These were fun questions to answer. Have a lovely last of summer and fall!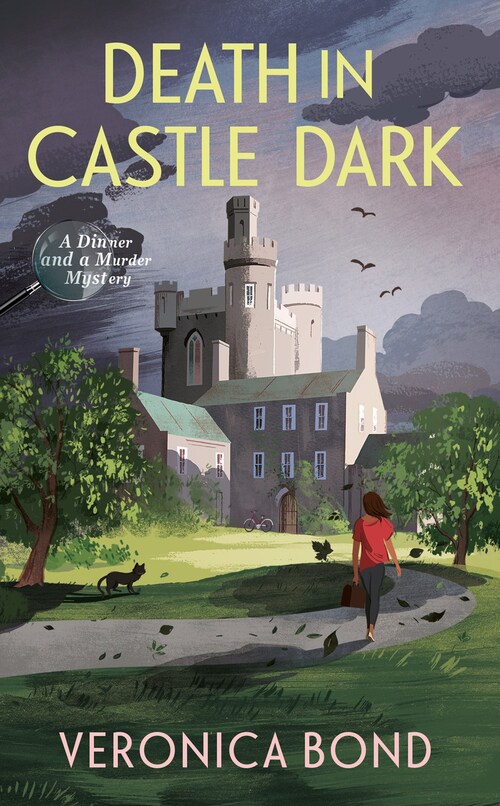 Actor Nora Blake finds her dream job when she is cast in a murder-mystery troupe that performs in an imposing but captivating old castle. When she stumbles upon a real murder, things take a nightmarish turn in this first book in an exciting new series.
Maybe it was too good to be true, but when Nora Blake accepted the job from Derek Corby, proprietor of Castle Dark, she could not see any downsides. She would sink her acting chops into the troupe's intricately staged murder-mystery shows, earn free room and board in the fairy tale–like castle, and make friends with her new roommates, which include some seriously adorable kittens.
But something sinister lurks behind the walls of Castle Dark. During Nora's second performance, one of her castmates plays the part of the victim a little too well. So well, in fact, that no one can revive him. He has been murdered. Not ready to give up her dream gig—or to be the next victim—Nora sets out to see which one of her fellow actors has taken the role of a murderous real-life villain.
Mystery [Berkley, On Sale: July 27, 2021, Mass Market Paperback / e-Book, ISBN: 9780593335871 / eISBN: 9780593335888]
A fun setting, a spellbinding mystery, and hidden wickedness!
About Veronica Bond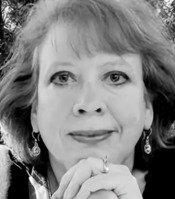 Veronica Bond is the pseudonym for Julia Buckley, a beloved author who has taught high school English for twenty-nine years. Her previous series include the Undercover Dish mysteries and the Writer's Apprentice mysteries. She currently resides in Chicago, Illinois.
***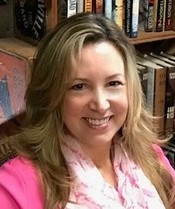 Kym Roberts writes by day and is a pro-surfer in her dreams by night. Her humor is often raunchy, her jokes are often bad, but her hunger for a story keeps the adventures coming fast. Experience the thrill & catch the wave of passion, mystery, and suspense with her at kymroberts.com, on Facebook @KymRobertsAuthor911, and on Twitter @kymroberts911.