Summer is here, and what better way to celebrate but with a new eye-catching series in a completely different format than what we in the cozy genre are used to. Is there romance? Of course. Is there mystery? Absolutely, and the combination in bestselling author Diane Kelly's new series is as fresh as sipping ice tea by the pool. Diane has taken the cozy genre and added a bold new twist that I adore. Check out her brilliant new angle to a feel-good genre.
***
Kym: Welcome to the Cozy Corner, Diane!
Diane: Thanks so much for inviting me! It's always fun to connect with other book people, and especially to talk about the mysteries we love.
I love the premise for your new Busted series featuring female motorcycle cops in various small towns across the country. What inspired the transamerican format instead of one small town? Will we see any female Canadian Mounties or a British Bobbies from across the pond?
When I wrote Busted, I envisioned it as a stand-alone. I considered it equal parts romance/women's fiction and mystery, and hadn't really thought about making it a series since most romances/women's fiction are stand-alone books. But after publishing it and getting great feedback from readers, I realized the concept of a female motorcycle cop had broad appeal, and I was excited by the idea of writing another "biker chick." Two possible characters came to mind and, when I couldn't decide between them, I figured why not give them each a story?
My husband's work has taken us around the U.S., which has been a great adventure and led us to discover so many interesting places. It's fun to set stories in different towns and cities, each with their own unique vibe, history, and features, both manmade and natural. I enjoy tying the action in with the specifics of the location, such as the country roads and grasslands of rural north Texas in Busted, and the thick woods and deer of central North Carolina in Another Big Bust. Setting the stories in different locales helps me keep things fresh. As for setting a story in another country, I hadn't thought of that before, but what a great idea!  
The series kinda reminds me of the television show, Love American Style, with a taste of crime-fighting. Is that what you were driving toward?
Ha ha! I loved that show! Yes, that's the idea. The stories will all have a similar tone – funny and romantic with a little edge – but the characters and crimes will vary. This combination assures readers that they're in for a certain type of story, but gives them interesting new characters to meet, as well as original settings and storylines. 
This series doesn't deal with murders but rather the other crimes that the average reader has probably had some exposure to. Why did you veer away from murder mysteries for this series?
Before becoming a writer, I worked in the tax industry and routinely came across white-collar crimes, such as tax fraud. I started out writing white-collar crime in my Death & Taxes series. I really enjoyed it because the crimes are creative and complex, and often require unique skills both to commit the crimes and to solve them. Murders can certainly be creative and complex, too. There are lots of ways to do someone in. But it's fun to shake things up and dally in different types of crime. It makes the stories feel fresh and original, both to me and my audience. I also find that writing a mystery without a murder is sort of a palate cleanser between my other books that involve murders.  
The series is unique in that you have a new heroine for each book. Is it easier or harder to develop a new heroine for each installment? 
So far, the heroines have ridden their motorcycles into my mind and made it easy for me. I hope they keep doing that! That said, it's always more time-consuming for me to get to know a new character than one I'm already intimately familiar with. In my Death & Taxes, Paw Enforcement, and House Flipper series, all of which feature the same heroine throughout the series, I can write fairly fast because I know the heroines well and can easily work through how they would act in the circumstances. With these new characters in the Busted series, I have to ask myself who is she? What would she say or do now, and why? It takes a little more time and analysis.
In your latest release, Another Big Bust, Shae Sharpe, the heroine belongs to a female motorcycle club. I know you just experienced paddleboarding for the first time, so I have to ask, do you ride?
I've never owned a motorcycle, but I've ridden on them many times, especially when I was younger. I dated two guys that had motorcycles, one in high school and one in college, and it was so much fun to ride around on them, especially on the winding, hilly roads around the lakes in Austin, Texas, where I lived at the time. I burned my calf on a hot pipe once when I was climbing off, though. Hurt like heck. I never knew a blister could be so big! These days, I consider myself a cautiously adventurous person. I'll try new things, but I try to do it in a safe way. I like to snow ski (though I'm not very good at it), and I love kayaking (mostly on flat water). But, nope, there's no motorcycle in my garage. Sigh. 
I can empathize with a pipe burn–ouch! Your next release,  Busting Out, is scheduled for December 15th. Can you tell us what it's about?
In Busting Out, motorcycle cop Chastity "Cha-Cha" Rinaldi fears that the bad guys she put behind bars years before will seek vengeance against her now that they've busted out of prison. Three against one would hardly be a fair fight, and she just might need help from the high school physics teacher she pulled over in a traffic stop. 
You also have another awesome series, the House-Flipper Mysteries, and released the second book Dead in the Doorway in March. I love the HGTV vibe, do you have a handy hammer in your pocket?
I enjoy home improvement projects, like painting and gardening, and I have plans in the works to install a stone pathway in front of our house. My son and I are looking into whether we can build a small deck ourselves near the fire pit in our backyard. I'm still reading up on how best to design it. I saw some really cool greenhouses made of reclaimed windows on Pinterest recently, and I'm dying to try building one in my backyard. They were funky and fun. Every time we have crews at our house doing any kind of construction job, I like to watch them work and see how things are done. The mechanics and processes fascinate me. That said, for anything major, we hire professionals. I tend to be risk averse, and I'd be afraid we'd spend a lot of money and time and end up disappointed if we attempted anything very complicated ourselves.
If you build a greenhouse out of old windows, I need the plans. I love those! I know why readers love the House-Flipper Mysteries, but what about it sparks your interest?
I love writing women doing nontraditional jobs, and showing that they are just as capable as men at them. I also enjoy being able to mentally redesign and decorate homes in my head. It's like getting to daydream about real estate all day!   
When will we see the next House-Flipper Mystery and can you tell us a little bit about it?
The next House Flipper book is Murder with a View, and it will release on February 2nd of next year. In this book, carpenter Whitney Whitaker and her cousin Buck are renovating an old motel near downtown Nashville, and turning the rooms into condominiums. I came up with the idea from two other motels I found intriguing. The first is the Loveless Café in Nashville. It's in an old motel that has been converted into retail and restaurant space, and it's famous for its delicious biscuits. The other was the TV show "Schitt's Creek" in which a wealthy family loses their fortune and ends up living in a seedy roadside motel. The place had an odd charm to it, and ended up feeling very homey. I figured it would be fun to see what my carpenter character could do with an old motel.
Kym: What else are you working on?
Diane: I recently sold a new series called the Moonshine Shack Mysteries, so I'm in the thinking phase for that one. It's set in Chattanooga, and stars Hattie Hayes, whose great-grandfather was a bootlegger during Prohibition. She's carrying on the family's moonshining tradition, though her focus is on lower-proof fruity flavors. 
Chattanooga is such an interesting place. With the surrounding Smoky Mountains, rock formations, and Tennessee River running through the city, it's an incredibly scenic place. There's a lot of Civil War history there, as well as its history as a critical railroad hub ("Here comes the Chattanooga Choo-choo!"). The Moon Pie company is based there too. Moonshining was a big part of the North Carolina and Tennessee mountain history. It will be fun to write about the area, especially since I've lived in both states now.  
Oh, I can't wait! Can you tell our readers where they can find you online?
My website is at www.DianeKelly.com. I also have an author page on Facebook and I'm on Twitter and Instagram at @DianeKellyBooks.
Thanks for sitting down with me at the Cozy Corner!
Thank you for hosting me! 
***
Until next month when I review The Last Mrs. Summers by Rhys Bowen, get cozy and read on!
—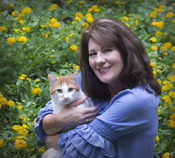 A former tax advisor, Diane Kelly inadvertently worked with white-collar criminals on multiple occasions. Not surprisingly, Diane decided self-employment would be a good idea. Her fingers hit the keyboard and thus began her Death and Taxes romantic mystery series. A graduate of her hometown's Citizen Police Academy, Diane Kelly also writes the hilarious K-9 cop Paw Enforcement series and the new House Flipper cozy mystery series.
Diane's books have been awarded the prestigious Romance Writers of America Golden Heart® Award and a Reviewers Choice Award.
***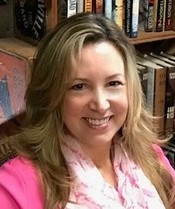 Passion. Mystery. Suspense. Catch the Wave! Because a little PMS can change your world!
Kym Roberts is a retired detective sergeant who looks for passion, mystery, and suspense in every book she reads and writes. She can be found on the web at kymroberts.com, on Facebook @KymRobertsAuthor911, and on Twitter @kymroberts911. You can also listen to her podcast Romance Book Chat with Kym and Misty on iTunes & Stitcher. Her Amazon bestselling Book Barn Mystery #5, Killer Classics was a finalist for the Fresh Fiction Awards for Best Cozy Mystery & Best Book! Check out her latest release, Sinfully Wicked, a romantic suspense novel that will heat up your night!