Hi, Julie! Thanks for stopping by Fresh Fiction. Please tell us about yourself and your new book, THE LAST FLIGHT.
Thanks for having me! THE LAST FLIGHT is the story of two women, both desperate to escape their lives. A chance encounter in an airport bar presents the two women with a crazy solution: switch plane tickets, then drop off the grid when they land. But one woman will never reach her destination.
On the surface, both Claire and Eva have led inspired lives. Claire is a socialite and married into a powerful pollical family, but there are painful secrets she's tired of hiding. Eva was raised in the foster system, and had a pretty good life going until she met the wrong guy. Even though their lives are different, they are quite similar in many aspects. . . How did you develop these two women while writing THE LAST FLIGHT?
It took a lot of brainstorming, drafting, and revising to fully flesh these two women out. I wanted to make sure they were fundamentally different, and yet I wanted the core of them to be the same–two women, each fighting to get the life she wants. It took me about two years to get the manuscript into solid shape, and in that time, both Claire and Eva evolved into three-dimensional people. Most of all, I wanted them to be more than the circumstances in which they find themselves in the opening of the book. It's easy to make characters feel real when you have a deep understanding of what their deepest desires are, and their biggest regrets.    
There are so many twists and turns throughout your novel! Do you find creating a compelling mystery difficult? What sort of research did you do for this novel?
Writing a book like THE LAST FLIGHT is incredibly hard! Not only do you have to keep track of the character arcs and the overall plot, but you need to make decisions about what you're going to reveal to the reader, and when. I also had to make sure I got every detail right. I researched how someone might get an alternate identity that would work in a new life. I have a good friend who was a former FBI agent. He helped me to figure out a realistic solution to Claire's identity problems, as well as helping me to make Eva's life and the world she moved around in more realistic. 
There's something quite seductive about being able to start over – though the characters in THE LAST FLIGHT have their own motivations as to why they'd want to do so! If you could drop everything and go away for a long weekend or so, what would you do? Where would you go?
I dream of doing a spa weekend away with some of my girlfriends. Good food, some outside exercise, cocktails, and lots of laughter! 
Summer is finally here! What do you love about the summertime?
I love the warmer weather, working in my garden with my boys, and definitely going to the beach!
THE LAST FLIGHT was recently named a must-read by People Magazine – congrats! What have you read recently that you recommend?
Thank you! Getting a spot in People was a thrill. Right now I'm currently reading PRETTY THINGS by Janelle Brown. I'm in love with her main character, Nina, a female con artist who is doing one last con in order to pay for the medical treatment her mother needs. I love characters who do bad things for the right reasons and Janelle Brown nails it.
What can readers expect from you next?
I'm working on a book about family secrets, and how far someone will go to protect them. I want to stay focused on writing strong female characters who take on the patriarchy!
Rapid Fire Random Questions
Dragons or unicorns: Unicorns. Fire scares me!
Five people you'd invite to your book club (dead, alive, fictional, etc.!): Jodi Picoult, Maya Angelou, Stephen King, Michelle Obama, and Beyonce.
Some of your auto-buy authors: Jodi Picoult, Anna Quindlen, and Barbara Kingsolver.
Favorite flower: Peony
Earliest celebrity crush: Shaun Cassidy
Random interesting fact you like to tell people: I worked in collegiate athletics for several years before I became a teacher. I almost made a career out of it!
Hobbies you have (aside from reading and writing): I love to draw!
Dream vacation: As I mentioned above, a spa weekend away with my girlfriends.
Sweet or salty snacks: Both please!
You have a totally free afternoon – no deadlines, no obligations, no Twitter notifications!  What do you do?: It's pretty predictable, but I'd read!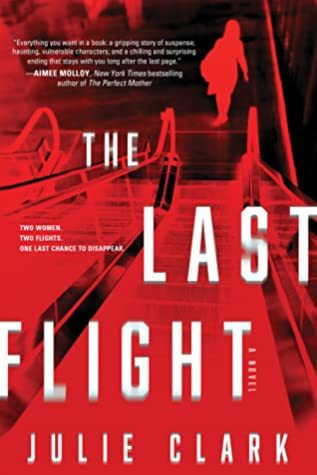 Two women. Two Flights. One last chance to disappear.
Claire Cook has a perfect life. Married to the scion of a political dynasty, with a Manhattan townhouse and a staff of ten, her surroundings are elegant, her days flawlessly choreographed, and her future auspicious. But behind closed doors, nothing is quite as it seems. That perfect husband has a temper that burns as bright as his promising political career, and he's not above using his staff to track Claire's every move, making sure she's living up to his impossible standards. But what he doesn't know is that Claire has worked for months on a plan to vanish.
A chance meeting in an airport bar brings her together with a woman whose circumstances seem equally dire. Together they make a last-minute decision to switch tickets–Claire taking Eva's flight to Oakland, and Eva traveling to Puerto Rico as Claire. They believe the swap will give each of them the head start they need to begin again somewhere far away. But when the flight to Puerto Rico goes down, Claire realizes it's no longer a head start but a new life. Cut off, out of options, with the news of her death about to explode in the media, Claire will assume Eva's identity, and along with it, the secrets Eva fought so hard to keep hidden.
The Last Flight is the story of two women–both alone, both scared–and one agonizing decision that will change the trajectory of both of their lives.
Thriller Psychological | Thriller Domestic [Sourcebooks Landmark, On Sale: June 23, 2020, Hardcover / e-Book, ISBN: 9781728215723 / ]
Born and raised in Santa Monica, California, Julie Clark grew up reading books on the beach while everyone else surfed. After attending college at University of the Pacific, and a brief stint working in the athletic department at University of California, Berkeley, she returned home to Santa Monica to teach. She now lives there with her two sons and a golden doodle with poor impulse control.
***
Fresh Fiction Editorial Manager Danielle Dresser is an avid reader, lackluster-yet-mighty crafter, and accomplished TV binge-watcher. Once upon a time, she was a publisher publicist and continues to cultivate her love of books and reading by chatting with the best authors in the business. She lives in Chicagoland with her very own romance hero husband, darling daughter, and two tempestuous cats. Follow her on Twitter and Instagram, @dj_dresser.