Ahhh, summer. Warmer temps—when? Sunny skies—where? And great reads—thank God, I got one right! It's the perfect time of year to read and relax, something all of us need right now. To start the holiday off right, I thought I'd recommend a few mysteries to freshen up your library and clear out all of those stress induced cobwebs—the real ones, and the imaginary ones in our brains—shouldn't we have cleaned all of those out by now? I hope you enjoy them all! (The books not the cobwebs—nasty buggers.)
Short and Delightful!
Botched Butterscotch
An Amish Candy Shop Mystery
4/28/2020
Amanda Flower
Mother's Day is a sweet and busy time at the candy shop Bailey King runs with her Amish grandmother. This year is extra special, because Bailey's parents are visiting Harvest, Ohio. Bailey's father has rarely returned since leaving the Amish faith over thirty years ago, but Bailey is confident that the right treats can help sugarcoat any awkwardness. For Mother's Day Tea at the local church, she's whipping up her mom's favorite: butterscotch pie. All's going well, until a sticky-fingered thief makes off with the money raised for a local women's support group.
While Bailey tries to discover who stuck their fingers in the cookie jar, she encounters an assortment of suspects. It doesn't help that Juliet, mother of Deputy Aiden Brody, is conspiring with Bailey's mom to plan Aiden and Bailey's wedding…though they're not even engaged! Can Bailey find the culprit before events—both criminal and personal—boil over into disaster?
Recipe Included!
***
A tasty morsel of mystery!
A Deadly Inside Scoop
An Ice Cream Parlor Mystery Book
May 12, 2020
by Abby Collette
Recent MBA grad Bronwyn Crewse has just taken over her family's ice cream shop in Chagrin Falls, Ohio, and she's going back to basics. Win is renovating Crewse Creamery to restore its former glory, and filling the menu with delicious, homemade ice cream flavors—many from her grandmother's original recipes. But unexpected construction delays mean she misses the summer season, and the shop has a literal cold opening: the day she opens her doors an early first snow descends on the village and keeps the customers away.
To make matters worse, that evening, Win finds a body in the snow, and it turns out the dead man was a grifter with an old feud with the Crewse family. Soon, Win's father is implicated in his death. It's not easy to juggle a new-to-her business while solving a crime, but Win is determined to do it. With the help of her quirky best friends and her tight-knit family, she'll catch the ice cold killer before she has a meltdown…
***
British Intrigue!
Recipe for Murder
Patricia Fisher Mystery Adventures Book 3
May 8, 2020
Steve Higgs
You might think murder would be rare in a quiet English village … 
When the local goddess of cake is found impaled with her own palette knife, the victim's husband is found holding the murder weapon. It's an open and shut case …
… until he calls Patricia Fisher that is.
With a surprising new assistant in tow, your favourite middle-aged sleuth has all the help she will need, but this case is a tough one for everyone she suspects instantly becomes the next victim.
With the village fete a week away, cooks are revving up to win the coveted best cake prize, especially now that the favourite is in the morgue. Can the killer really be one of the lovely old ladies?
With president of the church council, old rival Angelica Howard-Box, stirring up trouble, Patricia has more than enough on her plate, and she'll have to solve this fast because her own cook, Mrs Pam Ellis might be next!
***
Feline mischief!
The Girl With the Kitten Tattoo
A Cat Lady Mystery
5/26/2020
by Linda Reilly
The fur is going to fly . . .
Wedding bells will soon be ringing in Whisker Jog, New Hampshire. But instead of church bells, they may be tinkling above the door of Bowker's Coffee Stop. Lara Caphart's best friend Sherry and her fiancé David want to tie the knot where they met—in her family's coffee shop. Lara is overjoyed for her friend, but as she feeds and grooms the kitties at the High Cliff Shelter for Cats in her aunt Fran's Folk Victorian, she can't help but wonder when her own beau, lawyer Gideon Halley, will stop hinting and make their union legal.
It doesn't help that Gideon's old flame, Megan Haskell, just showed up with a tearful yarn about being fired that smells fishier than a can of tuna. But Blue, the Ragdoll cat who only Lara can see, appears to be on Megan's side. Should she ignore her green-eyed monster of jealousy in favor of her blue-eyed spirit cat? When Megan's ex-boss is found dead, Lara has to retract her claws long enough to follow Blue's uncanny clues and clear her rival of a murder charge . . .
***
Double the trouble!
Riddle Me This & Follow the Money
Detective Kate Rosetti Mystery Book 2 & 3
5/1/2020 & 6/5/2020
by Gina Lamanna 
Riddle Me This: Detective Kate Rosetti is not a big fan of February 14th. Even worse than gigantic bouquets of roses and buckets of chocolate, however, are the love notes she's been receiving from the murderer who very nearly stole her life.
Unfortunately, a peaceful Valentine's Day isn't in the cards for Kate Rosetti. When she gets the news that the infamous serial killer Ramone Wilkes has escaped from prison, she knows the chances are good that he's making his way north to the streets of St. Paul to finish the job he started two years ago.
Capturing Ramone "The Dentist" Wilkes during his first killing spree was no breeze, and this time, luck might not be on Kate's side…
Follow the Money: When a well-known mobster turns up dead—gunned down in the refrigerator at her favorite local restaurant—Detective Rosetti has no choice but to get involved. Unfortunately, it's not long before a familiar name emerges as a suspect, making the case her most personal one yet. The infamous Angelo Rosetti, Kate's father, is back.
Along with her new case, Kate is forced to balance a cozy weekend with her (almost) boyfriend as she dives deep into the Rosetti family history. However, when romantic dinners turn into stakeouts, her burgeoning relationship stumbles onto shaky ground. If Kate can't find a way to lock up the hitman who has turned his sights on her, it's not only her love life that's on the line…
***
Until next month when Diane Kelly sits down to talk about her latest novel, Another Big Bust, get cozy and read on!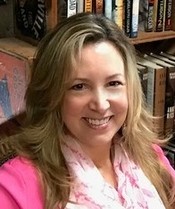 Passion. Mystery. Suspense. Catch the Wave! Because a little PMS can change your world!
Kym Roberts is a retired detective sergeant who looks for passion, mystery, and suspense in every book she reads and writes. She can be found on the web at kymroberts.com, on Facebook @KymRobertsAuthor911 and on Twitter @kymroberts911. You can also listen to her podcast Romance Book Chat with Kym and Misty on iTunes & Stitcher. Her Amazon bestselling Book Barn Mystery #5, Killer Classics was a finalist for the Fresh Fiction Awards for Best Cozy Mystery & Best Book! Check out her latest release, Sinfully Wicked, a romantic suspense novel that will heat up your night!