Jeff Resnick never asked for the gift he was given. Gift? More like a curse. And that curse was? Becoming a little bit psychic. But don't way the "P" word infront of him.
Maybe he's in denial. After all, experiencing weird stuff just wasn't a part of his life … until the mugging. That's when things changed. Broke and broken, he's forced to accept help from his estranged, older half-brother, thus losing his home and the new job he was about to begin. Forced to go back to a city he had no love for and a house that was never a home.
Visions of a slaughtered deer hung to bleed out take on a terrible new meaning when a local banker is found in just that condition. How could Jeff have known? Why did he feel compelled to find out more about the man, about the murder?
As an insurance investigator, with crime scenes his specialty, Jeff knows what it takes to look into these matters. Too bad his brother, physician Richard Alpert, isn't an enthusiastic collaborator. He's convinced that these so-called visions are the manifestation of an injured brain, and he's only willing to go so far to help his brother in his investigative pursuits.
But there are other things in play. There's something evil in Richard's house, something Jeff can't explain and can't seem to muster the courage to face. Afterall, who believes in evil? Not a skeptic like Richard, but Jeff seems to have found a kindred spirit in Richard's significant other, Brenda Stanley. Where Richard is more than skeptical of Jeff's apparent paranormal peculiarities, Brenda is fascinated and supportive. But that support can only go so far.
The frequent and crippling headaches from the head injury keep Jeff dependent on his brother—something he refused to accept as a teen when his mother died and Richard was forced to become his guardian, and a situation he is eager to escape once he has healed. And yet … as the brothers reconnect, a tenuous friendship seems possible.
But then Jeff meets Maggie Brennan, who worked for the murdered banker. Upon shaking her hand, he feels an instant connection with this woman—a connection that will lead him to the murderer or just more death?
MURDER ON THE MIND, the first book in the Jeff Resnick Mystery series, is free for all ebook
formats. Why not give Jeff, Richard, Brenda, and Maggie a try. What have you got to lose?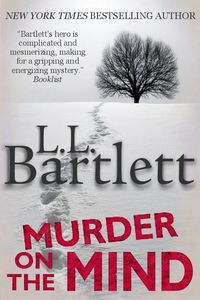 After a brutal mugging in Manhattan leaves him with a
broken arm and fractured skull, insurance investigator Jeff
Resnick reluctantly agrees to recover at the home of his estranged half brother, Richard. At first, Jeff believes his graphic nightmares of a slaughtered buck are just the workings of his traumatized mind. But when a local banker is found in the same condition, Jeff believes the attack has left him with a sixth sense–an ability to witness murder before it happens.
Piecing together clues he saw in his visions, Jeff attempts to solve the crime. His brother Richard is skeptical, but unsettling developments begin to forge a tentative bond. Soon, things that couldn't be explained by premonition come to light, and Jeff finds himself probing into dangerous secrets that touch his own traumatic past
in wintry Buffalo–and the killer is ready to eliminate Jeff's visions permanently.
Mystery Paranormal |
Mystery [Polaris
Press, On Sale: October 5, 2010, Paperback /
e-Book (reprint), ISBN: 9781456555450 / eISBN: 1230000002070]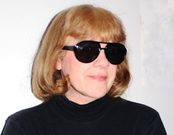 Lorraine Bartlett writes the Victoria Square Mysteries. Under the name L.L.
Bartlett, she writes the Jeff Resnick suspense series. She also writes the
Agatha-nominated, New York Times bestselling Booktown Mystery series under the name Lorna Barrett.
Lorraine says: "My mind has always been filled with what my father called "tommyrot." I called them stories. But it wasn't until I was a teenager that I started writing them down–and much later until I sold my first short stories. (Romance!) But in my heart I wanted to write mysteries."