One of the great thing about cozy mysteries are the recipes! Everyone loves to delve into the scrumptious foods authors describe in their books, and Rebecca Adler has some of the best Tex-Mex recipes out there. After reading her latest book <CINCO DE MURDER, I had to ask her for a taste of Texas. To my delight, and soon to be yours too, Rebecca didn't just give me one recipe, she covered us for a whole meal!
Check out her recipes for salsa, chicken quesadillas and pecan pralines-yum! Don't forget to pick up a copy of CINCO DE MURDER, A Taste of Texas Mystery by Rebecca Adler on Tuesday 4/3/2018!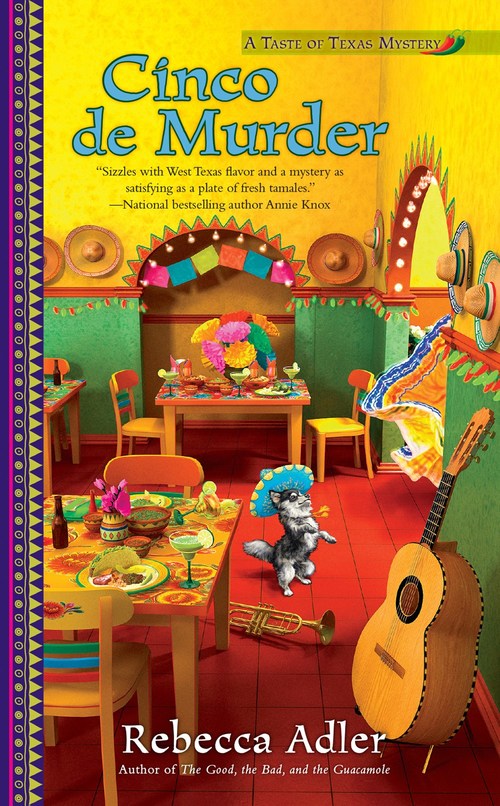 Tex-Mex waitress and part-time reporter Josie Callahan serves up more Lone Star justice in this spicy mystery from the author of The Good, the Bad, and the Guacamole.
It's fiesta time in Broken Boot, Texas, and tourists are pouring into town faster than free beer at a bull roping for the mouthwatering Cinco de Mayo festivities. Tex-Mex waitress Josie Callahan, her feisty abuela, and even her spunky Chihuahua Lenny are polishing their folklórico dances for Saturday's big parade, while Uncle Eddie is adding his own spicy event to the fiesta menu: Broken Boot's First Annual Charity Chili Cook-off.
But Uncle Eddie's hopes of impressing the town council go up in smoke when cantankerous chili cook Lucky Straw is found dead in his tent. And when Josie's beloved uncle is accused of fatal negligence, she, Lenny, and the steadfast Detective Lightfoot must uncover who ended the ambitious chilihead's life–before another cook kicks the bucket.
Mystery Cozy [Berkley, On Sale: April 3, 2018, Mass Market Paperback / e-Book, ISBN: 9780425275955 / eISBN: 9780698166738]
From THE GOOD, THE BAD, AND THE GUACAMOLE
Be careful handling jalapeños. Wash your hands thoroughly after handling and do not touch your eyes or the area near your eyes with your hands for several hours.
Simple Guacamole Recipe
2 ripe avocados
1 tablespoon of fresh lime juice or lemon juice
½ teaspoon salt (optional)
¼ cup of diced red onion
2 teaspoons jalapeño peppers, minced
2 tablespoons cilantro, finely chopped
a dash of black pepper
½ ripe tomato, seeds and pulp removed, diced (optional)
tortilla chips
Cut the avocados in half. Remove seeds. Carefully score the inside of the avocado with a blunt knife and scoop out the flesh. Place in a bowl.
Mash the avocado with a fork. (Guacamole should be chunky.)
Sprinkle with lime (or lemon) juice and salt.
Add the diced onion, jalapeños, cilantro, and black pepper.
Peppers vary individually in their hotness. Start with a half of one pepper and add to your desired degree of hotness.
Cover with plastic wrap and chill. Refrigerate until ready to serve. Refrigerating tomatoes can hurt their flavor. If you want to add chopped tomato to your guacamole, add it immediately before serving.
Serve with tortilla chips
Variation
For a quick guacamole take a ¼ cup of salsa and mix it in with your mashed avocados
Senora Mari's Chicken Quesadillas
Serves 8–10
Prep time: 10 minutes. Cook time: 25 minutes
2 chicken breasts
½ teaspoon oregano
½ teaspoon garlic powder
¼ teaspoon cumin
salt and pepper to taste
vegetable oil or your favorite cooking oil
½ cup onion, chopped
butter for sautéing
1 cup shredded Manchego or asadero cheese
1 cup shredded pepper jack cheese
1 dozen flour tortillas
Season chicken breast with oregano, garlic, cumin, and salt and pepper to taste. Fry in small amount of oil over medium heat. Cook until browned and cooked throughout. Shred the chicken, using 2 forks.
Brown and caramelize onions in butter.
Spoon 2 tablespoons of each cheese on one side of tortilla. Add some chicken and caramelized onions. Fold tortilla in half. Fry in butter over medium-low heat until cheese is melted and tortilla is golden brown.
Pecan Pralines
Makes 20 pralines
Prep time: 5 minutes. Inactive: 10 minutes. Cook time: 15 minutes
2 cups white sugar
4 cups pecans
2 cups light-brown sugar
1 heaping tablespoon unsalted butter
2 teaspoons vanilla extract
⅔ cup whole milk
6 tablespoons light corn syrup
Stir together all ingredients in a large saucepan. Be sure to stir well. Bring mixture to a boil over medium-high heat. Cook, stirring often, until mixture reaches 234 degrees F on a candy thermometer. (Candy may resemble a softball at this stage.)
Remove mixture from heat and stir 2 minutes, or until the mixture loses some of its shininess. Quickly spoon candy onto trays lined with wax or parchment paper. Let candy cool for about 20 minutes.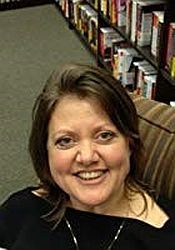 Gina grew up on the sugar beaches of the Florida Gulf Coast. Drawn to the Big Apple by the sweet smell of wishful thinking, she studied acting on Broadway until a dark-eyed cowboy flung her over his saddle and high-tailed it to the Southwest.
Prior to writing women's fiction, Gina always found a way to add a touch of the dramatic to her life: dinner theatre in Mississippi, can-can club in Florida, flower shop in Germany, acting school on Broadway, sweatshirt boutique on Madison Avenue, all night dive on the Lower East Side, video series in Jersey, and a giant Furskin at the New York Toy Fair, plus the occasional play and musical.
She's currently content to pour her melodramatic tendencies into writing cozy mysteries with a hint of romance and a sweet, Southern-fried flavor.
Until Next time, get cozy and read on!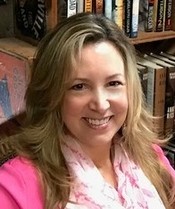 Kym Roberts is a retired detective sergeant who looks for passion, mystery and suspense in every book she reads and writes. She can be found on the web at
kymroberts.com
, on Facebook at
@KymRoberts911author
and on Twitter
@kymroberts911
. You can also listen to her new podcast
Romance Book Chat
with Kym and Misty on iTunes, Stitcher & more. Kym's fourth
Book Barn Mystery
,
LETHAL LITERATURE
, is available for pre-sale now!