When I was a teenager, back in the Jurassic period (okay, the late 1970s), Gothic novels were hugely popular. I read them voraciously, entranced by atmospheric castles on the moors (or someplace equally remote), sinister servants, and heroines standing up to brooding heroes (or were they really the villains?). I read Phyllis Whitney, Victoria Holt, Joan Aiken and her sister Jane Aiken Hodge, Daphne duMaurier, Susan Howatch, Dorothy Eden, Philippa Carr, Mary Stewart, and many others. I hope those names ring a bell for some of you. They swept me up and entertained me, gave me something to look forward to after doing my Algebra homework, and comforted me when the objects of my crushes ignored my existence.
I'm not sure what attracted me to that variety of romantic suspense, but I think it had something to do with a young heroine, sometimes protecting a child (if she was a governess or new wife as many of the protagonists were), striking out on her own and emerging triumphant. (The fact that "triumph" in these books meant, at least in part, snaring the moody man of the moment was a non-feminist story chestnut that didn't bother my teen self as much as it perhaps should have.) By the time I was in my twenties, though, these books had fallen out of popularity, and I was forced to find new reading material.
Amy-Faye Johnson and her Readaholics friends are taking part in a Celebration of Gothic Novels in my August release, THE READAHOLICS AND THE GOTHIC GALA. In honor of their new adventure and classic gothic novels, I'm giving you a tongue-in-cheek list of the top five reasons Gothic novels went the way of the dodo.
No one can afford servants anymore. Butlers and housekeepers are thin on the ground these days. Without a Mrs. Danvers or two to persecute the heroine, or at least un-nerve her, the story doesn't have the same tension.
The gloomy castles/mansions have been spruced up and turned into tourist attractions. With property values and taxes what they are, savvy castle owners have capitalized on their properties by inviting tourists in. Think of "Downton Abbey" (Highclere Castle). It would have made a lovely setting for a gothic novel, but the hordes of visitors asking "Where's the loo?"really put a crimp in a budding romance.
Feminism. Fewer young women these days want to be governesses or private secretaries. They set their sights on jobs with better paychecks, more thrills, and bigger opportunities. They might be up for a one night stand with a dark-browed and inscrutable hero type, but unless he can mentor them into a CEO-ship or similar job, they're unlikely to sign on for the long term.
Cell phones. Heroines trapped in burning houses by first wives we thought were dead, or pushed into oubliettes by mad uncles escaped from attics, can just dial 9-1-1. No heroics necessary.
The Internet. Today's savvy heroine can Google her new employer before accepting that job on the isolated estate or tropical island and find out that his first four wives died under suspicious circumstances, get a look at just how remote the old manor house is via Google Earth, and see a floor plan including that secret room in the attic with a quick trip to Zillow.
Luckily, even if there aren't many new gothic novels being published these days, we still have the classics to revisit.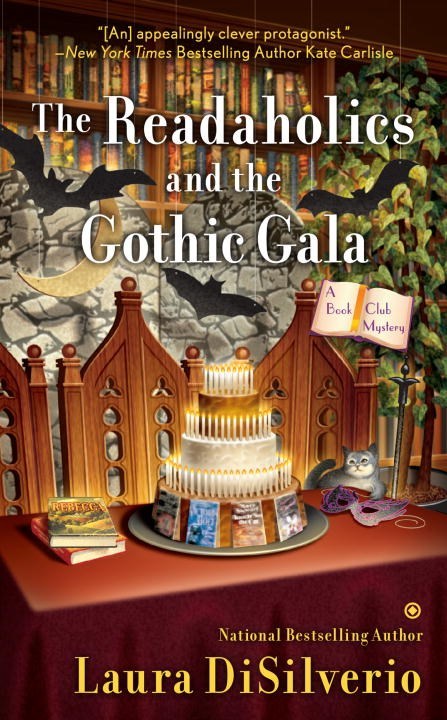 One sleuthing book club finds themselves in the midst of a gothic-esque mystery as they read Du Maurier's Rebecca in the latest from the author of The Readaholics and the Poirot Puzzle.
Reading the gothic classic Rebecca already has the Readaholics spooked, and the chills only get worse when someone in town actually gives up the ghost….
Amy-Faye Johnson has her hands full coordinating the Celebration of Gothic Novels in Heaven, Colorado. The festivities start off smoothly, but the weekend is soon cursed with large egos, old resentments, and uninvited guests. Matters become truly grave when a dead body is found at the gothic-themed costume party.
The out-of-town authors claim not to know the victim, but Amy-Faye has doubts. With skeletons turning up in all of the suspects' closets, Amy-Faye and the Readaholics must tap into their knowledge of gothic literature to find a killer who lurks in the shadows…
Mystery Cozy [NAL, On Sale: August 2, 2016, Mass Market Paperback / e-Book, ISBN: 9780451470850 / eISBN: 9780698165816]