I'm always fascinated by the American fascination with royalty. Why did the colonies fight so hard to get rid of a king, only to spend the next two hundred years wishing they had one? Well, maybe the fantasy aura of royalty is better than the reality.
This series came into being because my editor had been urging me to write a big, dark standalone. I kept toying with serial killers, child molesters and terrorists and finally asked myself whether I wanted to spend six months in such company. The answer was a resounding NO. So a silly idea crept into my head. What if my sleuth was a sheltered, upper class British girl in the 1930s—what if she was a member of the royal family, not allowed to work, to go out unchaperoned, and destined to marry to some chinless, spineless, buck-toothed and utter awful European royal. Trying to solve a murder would indeed be a challenge, and fun. I would have a chance to poke fun at the British class system and chuckle to myself as I wrote. And I did have the necessary background to make this authentic: I had had tea with the current queen. I had married into an upper class family who had owned stately homes and had cousins with silly nicknames.
And so HER ROYAL SPYNESS was born. However, the moment I visualized Lady Victoria Georgiana Charlotte Eugenie, I found that this was royal family life turned upside down. She may be cousin to the king of England. She may be destined to make a good marriage, thus cementing ties with a potential enemy, but she is penniless. She is too far from the line of succession to get any public money. Her father gambled away the last of his fortune. Her brother is saddled with horrendous death duties and can barely keep the Scottish estate running. He certainly can't afford to go on keeping Georgie after she has come out into society.
So in the first book, she bolts to London and tries living on her own. Not an easy task for one who has never done a thing for herself. How does one light a fire and where does milk come from? So she does the only logical thing—she starts a house cleaning service. Little do the owners of the London mansions know that their furniture is being dusted by the 34th in line to the throne, and that their loo is being cleaned with the bath brush!
Then the queen asks her to act as her spy. It seems the Prince of Wales has met a most unsuitable American woman. Georgie takes all this in her stride, until she finds a body in her bathtub and someone is trying to kill her.
I have now written ten books in the series, and in CROWNED AND DANGEROUS, out on August 2nd, Georgie again has a problem with her royal background. She wants to marry the dark and dashing Darcy O'Mara. However Darcy is a Catholic and Georgie is a member of the line of succession—albeit a distant thirty fifth from the throne. So she is forbidden, under British law, to marry a Catholic. Georgie, of course, is willing to renounce her claim to the throne. After all, it would take a particularly virulent plague to wipe out all of those ahead of her and make her queen. But that has to be approved by the king and parliament. Will Georgie and Darcy circumvent this decision by eloping, or will events stand in their way? You'll just have to read the book to find out!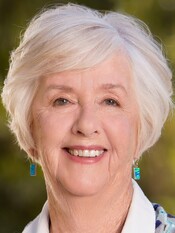 Rhys Bowen is the New York Times bestselling author of 2 mystery series and winner of many awards including both Agatha and Anthony. Born and raised in Britain she now divides her time between California and Arizona.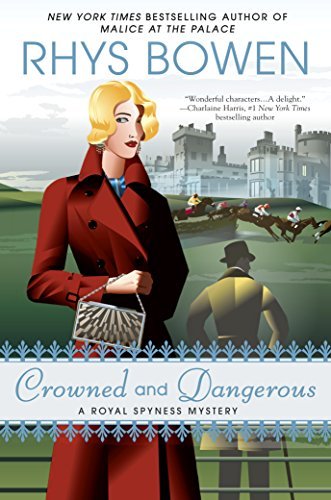 Nothing is simple when you're thirty-fifth in line for the British crown, least of all marriage. But with love on their side, and plans to elope, Lady Georgiana Rannoch and her beau Darcy O'Mara hope to bypass a few royal rules…
With Darcy driving me out of London in a borrowed motor car, I soon discover that he isn't planning to introduce me to the pleasures of sinning in secret—as I had hoped—but to make me his wife!
Of course, there are some quibbles to be dealt with, such as my needing special permission from the King to marry a Roman Catholic and the question of where we might live after the honeymoon. Though he will inherit a title, Darcy is as broke as I am. Even his family's Irish castle has been sold to a rich American who now employes Darcy's father as a hired hand.
Throwing these cares to the wind, nothing could deter us from our mission—except perhaps the news that my future father-in-law has just been arrested. It seems the rich American was murdered and Darcy's father had more than enough motive to do the deed. With the elopement postponed, we head for Ireland where he insists he's innocent, and it's up to us to prove it—for better or worse.
Mystery Woman Sleuth [Berkley, On Sale: August 2, 2016, Hardcover / e-Book, ISBN: 9780425283486 / eISBN: 9780698410244]