Instead of trying to find your perfect match in a dating app, we bring you the "Author-ReaderMatch" where we introduce you to authors as a reader you may fall in love with. It's our great pleasure to present Lee Tobin McClain!
Writes:
Cottage at the Beach is a place where wounded police officers and their K9 companions come to heal–and find love–in a fictional small town on the Chesapeake Bay.
About:
Idealistic author seeks readers who want to escape their problems, laugh, cry, and get lost in a sweet, small-town romance.
What I'm looking for in my ideal reader match:
Loves dogs, including noble police dogs and goofy, misbehaving puppies
Enjoys spending time in small waterfront towns during the off season
Swoons over wounded heroes
Identifies with courageous, independent heroines
Believes milkshakes should be consumed as often as possible
What to expect if we're compatible:
Emotional stories that will make you reach for the tissues along the way to a happy ending
Kids and dogs to shake things up
Small towns full of charming, interfering characters who believe love isn't just for the young
Weather disasters
Books you can comfortably share with your teenage daughter, your pastor, or your grandma
Fun and freebies for newsletter subscribers
The Off Season #1
Escape to the Chesapeake Bay, where beach life is full of love, surprises and second chances…
When an injury forces K-9 officer Trey Harrison onto the sidelines, his only thought is getting back to the police force where he belongs. And he'll do anything to make that happen—even volunteer in a small waterfront community, just to please his boss. But no one ever said Trey had to enjoy it…
Since the surgery that destroyed her dreams of having children, schoolteacher Erica Rowe has grown even more dedicated to her work with at-risk teens. So she doesn't need some cop with a chip on his shoulder putting the program's future in jeopardy. But when Trey finally connects with the students, Erica's heart melts. And when, in a tender moment, he admits he longs to have children, her heart breaks. She's convinced he'd be better off with someone who can give him everything, but she can't seem to shake the hope that maybe love is enough…
Romance Contemporary [HQN, On Sale: February 25, 2020, Mass Market Paperback / e-Book, ISBN: 9781335080554 / eISBN: 9781488068881]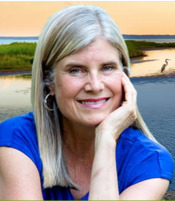 USA Today bestselling author Lee Tobin McClain read Gone with the Wind in the third grade and has been an incurable romantic ever since. When she's not writing small-town, heartwarming love stories with happy endings, she's probably snapchatting with her college-student daughter, mediating battles between her goofy goldendoodle and her rescue cat, or teaching aspiring writers in Seton Hill University's MFA program. She is probably not cleaning her house.