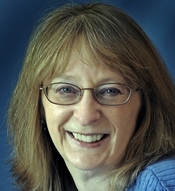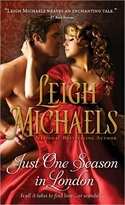 I'm delighted to be here at Fresh Fiction today – thank you for inviting me!
If you could trade places with any of your characters in JUST ONE SEASON IN LONDON, which would it be – and why?
What a fun question to think about! I've had quite a tough time answering it, because all of my characters are like me in one way or another – they all have pieces of me in their makeup. But telling you the ways that my characters resemble me isn't really answering the question, is it?
So if I had to pick one character from JUST ONE SEASON IN LONDON that I'd like to swap dancing slippers with, it would be Sophie Ryecroft – and not just because she dances divinely and I don't.
Sophie is very young, a bit naïve, and gorgeous. But the part of her I like best is her pragmatism. She's extraordinarily practical and clear-sighted. Even though nobody's told her just how badly off the Ryecroft family really is, she knows that the situation is desperate – and she's determined to do everything she can to make things better for her brother and their mother.
She's not vain about her looks; while she doesn't diminish the value of being pretty, she doesn't get excited about it either. Her beauty is just another tool she can use to ease the financial burden, if she can only figure out how to make the connections she needs.
She's self-sacrificing – up to a point – but Sophie's not a martyr. Even when she's plotting schemes to get herself to London, or staking out men she might marry, underneath that selfless goal her own desires are always stirring. As she's telling herself that her motives are completely objective and unselfish, she displays a touch of the self-focused energy that can make teenage girls unbearable. "Why is there never a horse saddled and waiting when I need one?" she thinks as she dashes off across the estate, on foot, trying to chase down a man she wants to question. But she never loses her sense of humor about it – her question is a wry comment, not a complaint. And she doesn't take out her frustration on others.
Sophie is honest – even though sometimes that's inconvenient for herself and for her family. "Sophronia should learn not to gossip," her mother says after a tactless comment presents Miranda with a dilemma.
What Sophie thinks, she generally says – even if the timing could be better or if it might be more tactful to control her tongue instead. And when she does manage to stop herself to think, and then not speak, she's almost childishly proud of herself for the accomplishment.
Sophie is enough of a child to enjoy small things like picnics, and adult enough to laugh at herself. I'd be proud to be more like her – and I had great fun in creating her. I hope you'll enjoy meeting her, and her family, too!
JUST ONE SEASON IN LONDON BY LEIGH MICHAELS–IN STORES JULY 2011
A family that courts together…
Viscount Ryecroft has a beautiful sister he needs to marry off… if only he had the money for her Season in London.
His family is in financial ruins, and his mother is willing to do anything to help her children, including sell herself to the highest bidder…
Finds passion on their own…
Sophie Ryecroft will sacrifice love to marry for the good of her family… but instead finds passion and solace in an attractive alternative.
With so much riding on their one and only Season in London, Rye, Sophie, and Miranda can't help but get hopelessly entangled with all the wrong people…
Celebrated author Leigh Michaels effortlessly weaves three tales of unexpected romance with surprising twists you won't soon forget.
ABOUT THE AUTHOR
Leigh Michaels is the author of nearly 100 books, including 80 contemporary novels and more than a dozen non-fiction books. More than 35 million copies of her romance novels have been published by Harlequin. A 6 time RITA finalist, she has also received two Reviewer's Choice awards from RT Book Reviews, and was the 2003 recipient of the Johnson Brigham Award. She is the author of On Writing Romance, published in January 2007 by Writers Digest Books. Leigh also teaches romance writing on the Internet at Gotham Writers' Workshop.  She lives in Des Moines, Iowa, where she is working on her third book from Sourcebooks, THE WEDDING AFFAIR, which will be in stores in September. For more information, please visit www.leighmichaels.com.
To comment on Leigh Michaels's blog please click here.