I confess that I'm not much for audio books myself. I'm partially deaf, and though my hearing aids are a masterpiece of technology, I still get more out of reading stories than hearing them. Still, I'm very pleased that two of my books—A SKELETON IN THE FAMILY and THE SKELETON TAKES A BOW—are being released on CD today. I just wish it could have happened a whole lot sooner.
When my first mysteries came out—the Laura Fleming series, which I wrote as Toni L.P. Kelner—my grandmother was one of my most enthusiastic supporters. My first book was dedicated to her and my other five grandparents. (Yes, I had six grandparents. Southern families can be complicated.) Grandmama was so excited, but unfortunately, her vision was pretty much gone at that point. There were no audio editions, so my great-aunt read the book out loud, and recorded it on a cassette to send to Grandmama. It was so sweet, though I admit it was also a little inhibiting to me. Had I ever wanted to include blue language or sex scenes, there was nothing like knowing Great-Aunt Virginia was going to be saying those words to change my artistic vision.
Eventually one of the Laura Fleming series came out on cassette, but Grandmama had passed away by then.
Years later, as I was working on a different series of mysteries, my mother lost her sight, too, and again there were no audio editions available. I recorded myself reading a couple of short stories for Mama, but for one, I'm not very good at it and for another, I never had the time to record a whole book.
Some of the anthologies I've co-edited have been released as audiobooks, and other books became available as audio downloads at Audible. But it didn't help Mama much. She wanted novels as well as short stories, and she never did quite figure out how to download a file. (Or how to use the internet, or what an MP3 is, or…) But now, at last two books are going to be on CD, a technology she mastered quite nicely. I know Mama would have loved having a set. She would have, that is, had she not died three years ago this month.
So it's a bittersweet release for me. The bitter is that neither Grandmama nor Mama are around to listen to the CDs. But the sweet far outweighs that. Because now other grandmothers and mothers who don't understand the internet will have the opportunity to hear the first two Family Skeleton mysteries.
When English professor Georgia Thackery moves her teenaged daughter back to her family's home, she has to confront the family skeleton. Which is a skeleton. Named Sid. He walks, he talks, he makes bad bone jokes. Together, Sid and Georgia solve murders.
In A SKELETON IN THE FAMILY, it's Sid's own murderer they're hunting, and in THE SKELETON TAKES A BOW, Sid overhears a murder but when there's no body, only he and Georgia can follow the trail.
Giveaway
To celebrate the release on Brilliance CD, Leigh is giving away a copy of A SKELETON IN THE FAMILY, the first in the Family Skeleton series. The winner can have either a signed paperback or a Brilliance CD of the audio edition—winner's choice.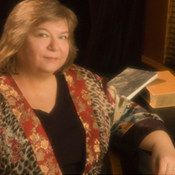 Leigh Perry is a pseudonym for Toni L.P. Kelner, who is an award-winning mystery author, and the co-editor, with Charlaine Harris, of a series of New York Times bestselling fantasy-mystery anthologies, including Many Bloody Returns; Wolfsbane & Mistletoe; Death's Excellent Vacation; An Apple for the Creature, and Home Improvement: Undead Edition.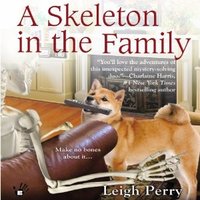 Most families have skeletons in their closets
Moving back into her parents' house with her teenage daughter had not been Georgia Thackery's Plan A. But when she got a job at the local college, it seemed the sensible thing to do. So she settled in and began reconnecting with old friends.
Including Sid. Sid is the Thackery family's skeleton. He's lived in the house as long as Georgia can remember, although no one, including Sid, knows exactly where he came from and how he came to be a skeleton.
Sid walks, he talks, he makes bad jokes, he tries to keep Georgia's dog from considering him a snack. And he manages to persuade Georgia to let him leave the house. But when she takes him to an anime convention disguised as a skeleton, of course he sees a woman who triggers memories of his past.
Now he is determined to find out how he died with Georgia's help. But their investigation may uncover a killer who's still alive and well and bad to the bone.
Family Skeleton Mystery #1
Brillance Audio
On Sale: December 15, 2015
MP3 / e-Book / Paperback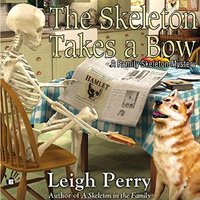 And the best performance as a skull goes to…
After years of hiding in the Thackery family house, Sid the skeleton is delighted to finally have his moment in the spotlight. He's starring in a high school production of Hamlet. Well, not so much starring in as being a prop. At least part of him has a part – he's using his head to play Yorick of "Alas, poor Yorick" fame. Every day, Georgia Thackery's daughter, Madison, who's also in the play, brings in his skull, and every night, she takes him home….
Until one night when he's accidentally left at school – and hears the sounds of someone being murdered. But the next day, there's no body and no one seems to be missing.
Sid is not a numbskull – he knows what he heard. Georgia thinks he imagined it – until a week later when a body is found. Now Georgia and Sid will both need to keep their heads as they stick their necks out and play sleuth to catch the conscience of a killer….
Family Skeleton Mystery #2
Brillance Audio
On Sale: December 15, 2015
MP3 / e-Book / paperback