I fell in love with Seattle's famed Pike Place Market as a college freshman, not long after the city's voters saved it from "urban removal." I made it my mission to eat my way from one end to the other, and since the Market is constantly changing, that mission will keep me happy, and well-fed, for a long time!
The Food. The Market is the heart and soul–and stomach–of the city. You can eat just about anything here. Start with a slice of pizza at DeLaurenti's Italian grocery. Sample spice tea at Market Spice. Italian, French, Greek, Thai, Middle Eastern, Chinese, Persian, Vietnamese. Clam chowder, oysters, barbecue, dim sum, piroshky. Bagels, crumpets, crepes, and cheesecake. Stop at the original Starbucks. Sip wine, beer, ginger beer. Okay, I'm hungry now.
History. Founded in 1907, the Market is considered the oldest continuously operating farmers' market in the country. It was the first mixed-use commercial and residential project named to the National Historic Register.
The Architecture. A historic commission oversees the Market's physical operations, with a mandate to keep the look and feel accurate. Pike Place, the street running through the Market, is still cobbled. Buildings maintain their original designs, colors, and materials. The Garden Center, where I've placed my fictional Spice Shop, features salmon pink stucco with forest green Art Deco awnings and trim, just as it did when it first opened in the 1930s.
Street Performers. Musicians, magicians, balloon benders–mind-boggling fun.
Things Too Strange to Find Anywhere Else. The Gum Wall outside the Market Theater, a bit of psycho-grunge regularly ranked one of the germiest places in the world. Ghosts who preen and pirouette in the windows of the old ballroom, and other ghosts who reorganize beads in jewelry displays and drink the good whiskey. Bridges to nowhere and windows overlooking nothing. Grown men throwing fish.
These days, armchair travel is the thing for most of us. Happily, that's easy to do. Take a trip to Seattle with me and Pepper Reece, owner of the Spice Shop in Seattle's Pike Place Market. Just a pinch of murder. . . When her life fell apart at age 40, Pepper Reece never expected to find solace in bay leaves. But her impulsive purchase of the Spice Shop in Seattle's famed Pike Place Market turned out to be one of the best decisions she ever made. Between selling spice and juggling her personal life, she also discovers another unexpected talent–for solving murder.
A Spice Shop Mystery #5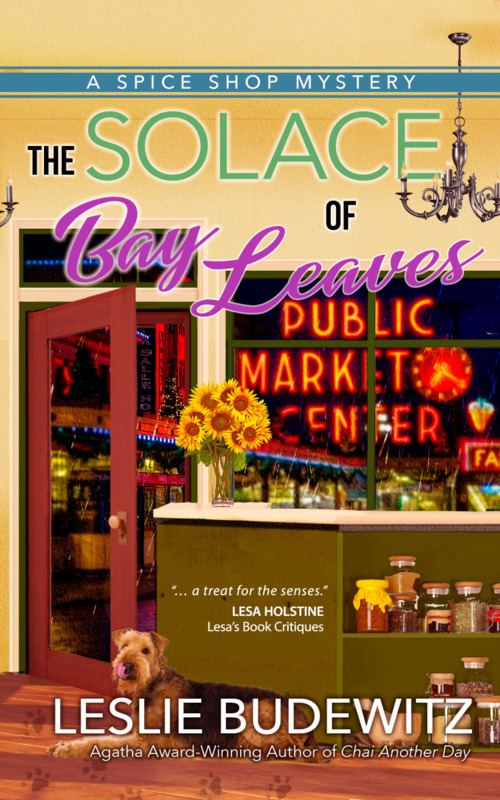 Pepper Reece never expected to find solace in bay leaves.
But when her life fell apart at forty and she bought the venerable-but-rundown Spice Shop in Seattle's Pike Place Market, her days took a tasty turn. Now she's savoring the prospect of a flavorful fall and a busy holiday cooking season, until danger bubbles to the surface . . .
Between managing her shop, worrying about her staff, and navigating a delicious new relationship, Pepper's firing on all burners. But when her childhood friend Maddie is shot and gravely wounded, the incident is quickly tied to an unsolved murder that left another close friend a widow.
Convinced that the secret to both crimes lies in the history of a once-beloved building, Pepper uses her local-girl contacts and her talent for asking questions to unearth startling links between the past and present—links that suggest her childhood friend may not have been the Golden Girl she appeared to be. Pepper is forced to face her own regrets and unsavory emotions, if she wants to save Maddie's life—and her own.
Mystery Cozy [Seventh Street Books, On Sale: October 20, 2020, Paperback / e-Book, ISBN: 9781645060178 / eISBN: 9781645060185]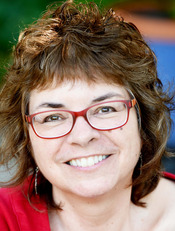 National bestselling author Leslie Budewitz writes the Food Lovers' Village Mysteries, set in NW Montana, and the Spice Shop Mysteries, set in Seattle's famed Pike Place Market. She fell in love with the Market as a college student, and still misses prowling its streets and alleys, sniffing out tasty treats and sensory delights. Leslie is a three-time Agatha Award winner: 2018 Best Short Story for "All God's Sparrows" (Alfred Hitchcock Mystery Magazine); 2013 Best First Novel for Death al Dente, first in the Food Lovers' Village Mysteries; and 2011 Best Nonfiction for Books, Crooks & Counselors: How to Write Accurately About Criminal Law and Courtroom Procedure. She loves to cook, eat, hike, travel, garden, and paint–not necessarily in that order. A past president of Sisters in Crime and current board member of Mystery Writers of America, Leslie lives in northwest Montana with her husband, Don Beans, a musician and doctor of natural medicine, and their gray tuxedo cat, an avid bird-watcher.