Hi Regina! Thank you for joining us on Fresh Fiction today. Please introduce yourself and tell us about your new book, NOTHING SHORT OF WONDROUS.  
Delighted to be here! I'm the author of more than 50 warm and witty historical romances, set from the Regency to the Old West, England to the shores of the Pacific Ocean. I'm excited to have the second book in my American Wonders Collection coming out. NOTHING SHORT OF WONDROUS tells the story of when the U.S. Cavalry rode to the rescue to protect Yellowstone National Park from poachers and vandals. Turns out the Army needed a little help learning how to get around the vast lands, which is where my widowed innkeeper comes in. Kate Tremaine knows Yellowstone like the back of her hand, and she has a personal stake in protecting its wonders. But spending time with Lieutenant Will Prescott makes her question her decision never to marry again.
What was something interesting or surprising that you learned while researching this time period in history? 
Just the fact that the Army was given control of Yellowstone surprised me. But Yellowstone was our very first national park, and there was no park service. The previous superintendents had struggled to know how to manage the place, and things had gotten quite out of hand. I'm very thankful that the first Captain in charge, Moses Harris, had an eye toward what we now know are good conservation practices. He had to stand up to those who were advising him to do silly things, like round up all the animals and put them in an enclosure so every guest would be sure to see them!
NOTHING SHORT OF WONDROUS is set against the backdrop of Yellowstone National Park and the first book in this series, A DISTANCE TOO GRAND took place at the Grand Canyon. What inspired you to set your American Wonders Collection series at these formidable and awesome locales?  
My father instilled in me a love for the wonders of our state and national parks. Discovering the history behind them has only made me love them more!
Kate and Will are two hardworking people that happen to need each other for different reasons. What will readers love about these characters and their journey to love?  
I hope they will appreciate Kate's sass. She's not afraid to say what she thinks. But she is haunted by her husband's death and her fear that she should have done more to prevent it. Will's understanding helps free her of that fear. I hope readers will appreciate Will's determination to become a better person after he made a choice as a young man that resulted in devastating consequences. Kate's acceptance of him is balm to his heart, though he cannot completely trust it until he tells her all.  
I often find that authors give the best book recommendations! What have you recently read that you've adored?  
I love Karen Witemeyer and Jen Turano's work. Karen's new Hanger's Horsemen series (At Love's Command, June 2020) has the most swoon-worthy heroes! And I'm looking forward to reading Jen's new series, which starts with To Steal a Heart in November.
What can readers expect from you next?  
Book 3 in the American Wonders Collection is set in my own backyard: Mt. Rainier National Park. Can't wait to share this amazing place with my readers! Between now and then, I'll be working on my Grace-by-the-Sea series set in Regency England.
Rapid Fire Random Questions
Favorite candy: Vanilla English toffee or maple sugar candy. No chocolate. Yes, I'm an oddity.
Favorite way to be kind to yourself: Walking in the woods or reading a good book
Best compliment you recently gave to someone: I wouldn't be where I am today if it wasn't for you (to my husband).
Favorite flower: Tall, bearded iris, because my family has grown them for years and had more than 100 varieties at one point
Random interesting fact you like to tell people:  I once fought a silver medalist in fencing to a draw.
Best vacation you've ever taken: To the Grand Canyon with my family.
Earliest celebrity crush: Roddy McDowell, when I was very young!
Cake or pie: Pie, preferably fruit, but not apple unless it's my mother's. She's spoiled me for any other apple pie. 🙂
You have a totally free afternoon – no deadlines, no obligations, no Twitter notifications!  What do you do?: Drive to Grays Harbor and jump aboard the Lady Washington, our state's tall ship, for a cruise. And if they let me help set the sails, awesome!
American Wonders Collection #2
It is 1886, and the government has given the US Cavalry control of Yellowstone. For widowed hotelier Kate Tremaine, the change is a welcome one. She knows every inch of her wilderness home like the back of her hand and wants to see it protected from poachers and vandals.
Refused a guide by Congress, Lieutenant William Prescott must enlist Kate's aid to help him navigate the sprawling park and track down the troublemakers. But a secret from his past makes him wary of the tender feelings the capable and comely widow raises in him. When her 6-year-old son is kidnapped by a poacher who wants the boy to guide him to the place where the last of the Yellowstone bison congregate, Will and Kate must work together to rescue him, save the bison, and protect the park. In doing so, they may just find that two wounded hearts can share one powerful love when God is in control.
Romance Historical | Christian [Revell, On Sale: October 20, 2020, Paperback / e-Book, ISBN: 9780800736408 / eISBN: 9780800739218]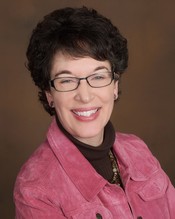 Regina Scott is the author of more than forty-five published works of warm, witty romance. She credits her late father for instilling in her a love for the wilderness and our national parks. She currently lives forty-five minutes from the gates of Mt. Rainier with her husband of thirty years. She has dressed as a Regency dandy, driven four-in-hand, learned to fence, and sailed on a tall ship, all in the name of research, of course.