When I started telling people that my second Spice Shop mystery was on the way, a surprising number asked how I could write about Seattle when I live in Montana. (Oddly, I don't remember hearing that question when the first book came out.) Newer friends, obviously, and a reporter or two, who didn't know I went to college in Seattle, moved back after law school, and practiced there for eight years. Or that Mr. Right and I make regular pilgrimages for research. By which I mean "eat."
So I started ticking off my favorite things in the Emerald City. Tomorrow's list might be entirely different—cities are always in flux, and so is what we love about them.
The gum wall. Okay, I'm joking. I hate the gum wall. It's gross. For those who don't know this disgusting feature—a travel company dubbed it the second germiest tourist attraction in the world, after Ireland's Blarney Stone—a decade or two ago, people waiting outside the Market Theater starting sticking their gum on the wall when they went inside for a show. Really? They meant to come back for it? I saw many a movie in that theater and it never would have occurred to me to smash my gum on those lovely rose-red bricks. The city recently had the wall steam-cleaned; I'm not placing bets on how long that lasts. But what I do love is how the wall symbolizes the vibrance and vitality of the Market. Historic, yes; static, no.
Pop-up craziness: Loved this mandala in Pioneer Square Last year, Mr. Right and I were walking through Westlake Park downtown when a wave of bicyclists dressed in white and wearing red sashes flooded in. Hundreds of them. We never did figure out what was up. A foodie popus: A baker takes over a fancy restaurant on Saturday mornings, when the place is normally closed. The city even has a program for artists to rent empty storefronts for a dollar a month, until the place is leased, for gallery or studio space.
Lakeview Cemetery. Bruce and Brandon Lee are buried there. My heart always drops when I see this monument, of a woman in a chair and a young girl. It's at least fifteen feet high, and I have no idea what the story is.
Outdoor art that makes me tilt my head, like the giant troll under the Fremont Bridge. And is there any other city in the world with forty-foot high talking metal flowers?
The sidewalks: On Broadway, bronze footsteps teach the foxtrot and the rumba. In Pioneer Square, the oldest section of the city, a few stretches of sidewalk are so steep they were built with cleats. In others, glass prisms are remnants of old skylights for basements—they've turned purple with age. And on Eastlake, street corner markers honor water bugs.
Coffee coffee coffee. It's said that Seattleites drink so much that there are measurable levels of caffeine in the aquifer!
The Mountain. On sunny days, people walk around saying "the mountain is out!" like they've never seen Mount Rainier before. (And yes, every child calls it Mount Reindeer.)
The result of all that gray. My favorite park is probably Seward Park, an elbow that juts into Lake Washington. A walking trail, a swimming beach, and an old-growth forest. But how can you not love a park that covers the freeway, or the skate park underneath it, a pocket park perfect for weddings, or the hilltop park where people gather to watch the full moon?
Seattle Mystery Bookshop, of course. Elliott Bay Books, now in my old neighborhood, near Seattle University. Third Place Books, which makes a habit of opening bookstores and community centers in old co-op groceries. I love finding bookmarks from long-gone refuges in old books on my shelves—Bailey Coy, Broadway Books, Second Story—and remembering happy hours browsing and reading.
Walking around eating. Best done in the Market, though other neighborhoods give good mobile chow, too: Pizza and crumpets and tea. Turkish delight, Nanaimo bars, ginger beer. Crepes, Vietnamese coffee, gyros, and falafel. Oysters and fish and chips. Am I making you hungry? Good!
Do you have a favorite image or memory of Seattle? What's your favorite city to visit?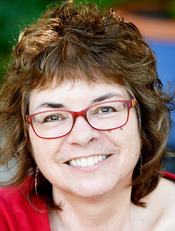 Leslie Budewitz is the author of the Food Lovers' Village Mysteries and the Spice Shop Mysteries—and the first author to win Agatha Awards for both fiction and nonfiction. She fell in love with the Pike Place Market as a college student in Seattle, and still makes regular pilgrimages. The president of Sisters in Crime, she lives in northwest Montana with her husband, a musician and doctor of natural medicine, and their cat Ruff, a cover model and avid bird-watcher.
GUILTY AS CINNAMON (Spice Shop Mystery #2, out December 1, from Berkley Prime Crime)
Pepper Reece knows that fiery flavors are the spice of life. But when a customer dies of a chili overdose, she finds herself in hot pursuit of a murderer…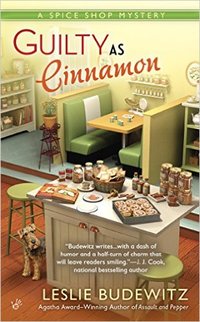 Murder heats up Seattle's Pike Place Market in the next Spice Shop mystery from the national bestselling author of ASSAULT AND PEPPER.
Springtime in Seattle's Pike Place Market means tasty foods and wide-eyed tourists, and Pepper's Spice Shop is ready for the crowds. With flavorful combinations and a fresh approach, she's sure to win over the public. Even better, she's working with several local restaurants as their chief herb and spice supplier. Business is cooking, until one of Pepper's potential clients, a young chef named Tamara Langston, is found dead, her life extinguished by the dangerously hot ghost chili—a spice Pepper carries in her shop.
Now stuck in the middle of a heated police investigation, Pepper must use all her senses to find out who wanted to keep Tamara's new café from opening—before someone else gets burned…
INCLUDES DELICIOUS RECIPES!