I'm so happy to be here, sharing my new release TO CATCH A TEXAS STAR! This brings the Texas Heroes series to an exciting conclusion and it's been a long time coming. After I wrote the first two – KNIGHT ON THE TEXAS PLAINS and THE COWBOY WHO CAME CALLING – the publisher folded and I never got to complete the series … until now. This is the book of my heart that I always wanted to write.
We met Marley Rose McClain as a baby in KNIGHT ON THE TEXAS PLAINS and now she's all grown up and looking for love. But there are secrets. Why does she look so different from her parents? What is the secret they're keeping? Why does a mysterious stranger seem to know her?
She discovers Roan Penny lying severely injured at the side of the road one frosty morning and takes him to her family ranch. As he recovers, their attraction grows stronger and stronger and Marley knows he's the one for her. He calls her his Texas Star and she sees undeniable love in his eyes even as danger surrounds them at every turn.
Much of Marley's time is spent helping to care for the twelve children her parents have taken in. It's a struggle but one they gladly bear.
People ask why I write orphans into almost every story and here's why.
The 1800s was overrun with orphans. New York City alone had 30,000 in 1850. Immigrants arrived and a good many died of disease and starvation, leaving their children with no place to go. The orphanages bulged at the seams and there were still so many living on the streets.
In an effort to curb the situation, they began shipping children out on orphan trains and offering them to any one willing to give them a home. From 1854 to 1929, a quarter of a million orphans rode on those trains. Yet, with no oversight, a good many faced horrible abuse.
Things weren't much better in out west. People were dying in cholera epidemics, yellow fever, small pox, etc. Then you add in the numbers of the women dying in childbirth and it's staggering. The Civil War left even more children without parents and on the American frontier, there were Indian uprisings in addition to everything else. It was a horrible time of upheaval and children bore the brunt.
Characters like Marley's mother and father can't turn a blind eye so do whatever they can to help.
I think adding children to stories makes them richer. Children bring a greater level of emotion that isn't there otherwise.
For an excerpt of the story, click on the link: here
I hope you'll try TO CATCH A TEXAS STAR and see what I'm talking about. I have a brand new series beginning in January called Outlaw Mail Order Brides. Maybe you'll look for it.
Texas Heroes #3


When Marley Rose McClain finds a man lying near death by the side of the road, she has no choice but to take him home and nurse him back to health. The son of a notorious outlaw, Roan Penny yearns to make his life count. He longs to be with the captivating beauty who saved him—but he knows he'd bring her nothing but trouble.
When a strange man begins to stalk Marley, a life-long secret is revealed that threatens to destroy everything she knows–and everything she could hope to be for Roan. Yet when Marley needs him the most, Roan rides like a bat out of hell to save his Texas Star…swearing he'll prove once and for all that their love is worth fighting for.
Romance Western | Romance Historical [Sourcebooks Casablanca, On Sale: July 3, 2018, Mass Market Paperback / e-Book, ISBN: 9781492651017 / eISBN: 9781492651024]

A great end to a captivating Western series!

It wasn't called the Wild West for nothing!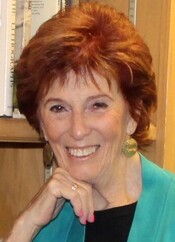 Romancing the West One Story at a Time
Linda Broday is a New York Times and USA Today bestselling author and makes her home in the Texas Panhandle on land the American Indian and Comancheros once roamed. She is a multi-published western historical romance author who lives and breathes cowboys and the American West way of life. Here in the panhandle it's very common to see cowboys, they've provided lots of inspiration. There's just something about a man in tight jeans, a Stetson and boots that gets her hot and bothered!
Linda grew up watching TV westerns back in their heyday and fell in love with the desperados, lawmen and strong men and women who portrayed the people who settled this wild land that offered so much opportunity for those who wanted to seek it. They taught her the values, the strength it took to survive and the tremendous will to keep going when things got tough. She loves writing stories about similar people who could've lived back then.
When Linda is not writing, She's scouring the internet looking for little tidbits to add depth to my stories. She has also been accused, quite unfairly she might add, of haunting museums and libraries. Linda's desire to keep history alive is what drives her and she can't imagine writing anything else.