Do you ever hear a tune or the words to a song and it stays with you for days? Weeks? Or, maybe months? What is it that gets you in? Is it the tune? Or the words?
The tune makes me pause to sit and listen, but the words and sentiments linger longer.
That happened to me a couple of months ago when I stumbled upon the song 'Beneath Your Beautiful' sung by Labrinth and Emeli Sande. I'd discovered them on YouTube, bought the CD and play it every day – that song speaks to me.
The words are beautiful and I love the sentiments expressed.
It started me thinking about relationships. We all have them and love to read about them. Whenever I pick up a book to read or start to plot a story, there is an element of excitement and curiosity. You begin to wonder how things will pan out for your hero and heroine. The same applies to every day relationships and particularly when you meet someone your gut tells you might be significant.
When you're a teenager romance can be so easy and carefree. You don't have anything to hide. The trouble is, we all get a little older and the layers of life begin to thicken and harden – sometimes you're totally unaware of this happening. They call it a protective shell and it works for a very good reason.
To discover someone's 'beneath your beautiful', or to break through that protective shell, is not easy. Understanding, kindness, and gentleness go so far, but there are a few things that are worth thinking about.
Writers are often taught to show, don't tell. I would hedge a bet that 50/50 works in real life for show, don't tell. You get used to someone showing their love and take it as a given, but if 'the words you long to hear' (words from 'Do you want to know a secret' written by John Lennon and Paul McCartney) are never spoken – how do you feel? And they're not always spoken.
When my neighbour's father died, his mother told him that his father only said he loved her twice in his life. The day he married her and the day he died – I think that is very common. We tend to shy away from anything that gets too personal – I bet my neighbour's mother knew he loved her all her life, so much can be said with a touch, or, a glance.
Writing forces me to think about these things, about the significant moment a hero or heroine actually falls in love. Here are a few things I like to think about:
Stop with the comparisons. Comparisons are awful and it's not a good look for a character to speak or think about past relationships in a negative light.
Start to compromise. This is especially difficult in this busy world where there is such a focus on careers and getting ahead early in life. There is a lot to fill in your twenties with – fun, building a career, finding a partner, saving money, travelling – the list is endless and it's easy to focus on me, me, me, me.
The next 3 are built over time, I think of them like a brick wall. They should be impenetrable to outsiders and such a strong reliable bond between the couple.
Trust – it takes time to build, but you can't have anything without it.
Honesty – that's a hard one to fake, but once it's broken it's hard to repair.
Loyalty – it's nice to know someone is there for you, no matter what, apart from your parents and the family dog.
In my latest story, No Looking Back, I kept these thoughts in mind because it takes a while to break through a person's many protective layers, and they sometimes stem from little things that happen in the past.
What songs stay with you? Or, what songs speak to you? Please let me know.
Bindarra Creek A Town Reborn # 3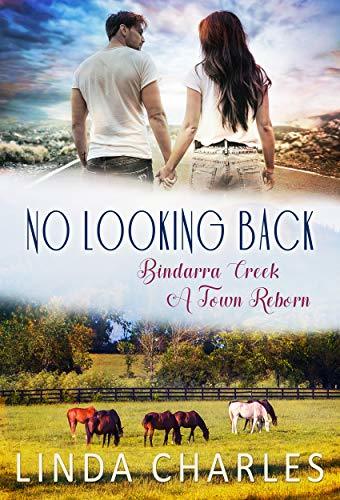 Sometimes it's good to take a risk. . .
Hannah McKenna loves working with horses and is trying hard to keep it all together after her first horse syndication deal turns sour. Since then she's been careful and played life straight, and has had enough. She runs into trouble when she meets Blake Hudson – the man who put together the failed deal – who rescues her when she takes a nasty tumble from a horse.
Blake Hudson is known as Mr. Nice Guy, but there are dark shadows in his past. He's the dealmaker, the perfect go-between who puts together horse syndications and once the deal is done he moves on. Problem is, Hannah is the exception and he can't keep away, but fears she will walk if she knew the truth about his past.
He hadn't bargained on dealing with a mischievous third party called attraction.
When she discovers the truth, both realise they could lose everything, including each other.
Romance Contemporary [Self-Published, On Sale: September 21, 2019, e-Book, / ]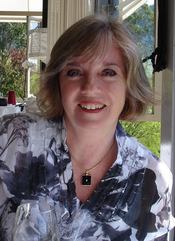 Linda Charles has been reading romance since high school. Her reading life started very early, but changed direction after she read Gone with the Wind. She was born in Sydney and spent her teenage years in drama classes, and then taught Speech & Drama for many years.  She still loves to go to the theatre, but her plan was always to write. Linda lives in Newcastle and when she's not writing, she can be found walking, browsing the bookshops or planning her next holiday.