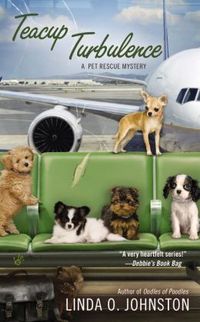 … which is a good thing since it keeps me busy!
Thanks for inviting me to blog here again, Fresh Fiction. Last year when I guest posted here in January I had two books about to be published, both in February: OODLES OF POODLES, a Pet Rescue Mystery, and UNDERCOVER WOLF, a Harlequin Nocturne that was part of my Alpha Force miniseries about a covert military force of shapeshifters.
Now, here we are in January 2014. This month saw the publication of TEACUP TURBULENCE, my fifth Pet Rescue Mystery.
In TEACUP TURBULENCE the series protagonist Lauren Vancouver hears about a puppy mill rescue of teacup-size dogs in the midwest. Because there is a demand for little pups in L.A. thanks to a special ad campaign featuring them, Lauren finds a way to get the rescues moved to the West Coast by some very special people who pick up homeless animals from areas where their sort isn't being adopted quickly, and move them to locations where people welcome them with open arms… and homes. I fortunately did not make this up. A bunch of real organizations actually do this, using both private planes and cars. Private planes are the vehicles of choice in TEACUP TURBULENCE. And of course, since it's a cozy mystery, there's a murder involved that Lauren Vancouver has to solve.
Last month, December 2013, was when my latest Harlequin Romantic Suspense novel COVERT ATTRACTION was published. COVERT ATTRACTION features a fictional non-witness protection program in which the beautiful and brave heroine hasn't enough evidence to present in court to convict people guilty of murder in the pharmaceuticals industry but her speaking up to stop them endangers her life. She's given a new identity–and winds up having to work closely with the sexy guy sent in by that program to gather the evidence that she was unable to collect.
And 2014 will continue to be busy! I'll have two more Alpha Force Harlequin Nocturnes published: UNTAMED WOLF in June, and LOYAL WOLF in August. And then, in October, my first Superstition Mystery for Midnight Ink will be available: LOST UNDER A LADDER.
I mentioned how pleased I was about my genre-juggling during my last Fresh Fiction post. I'm so happy about it that I've put together a panel for the Romance Writers of America National Conference of 2014, to take place in July in San Antonio, Texas.
Am I writing now? Of course! I'm plotting and planning and blog posting and working on proposals… and about to buckle down and write another book.
Which all works well for me since… yes, I love to write!
Linda will be giving away a copy of COVERT ATTRACTION as well as a copy of TEACUP TURBULENCE, each to one commenter whose name will be selected in a random drawing.
Linda O. Johnston's first published fiction appeared in Ellery Queen's Mystery Magazine and won the Robert L. Fish Memorial Award for Best First Mystery Short Story of the year. Since then, Linda has published more short stories, plus 35 romance and mystery novels, including Harlequin Romantic Suspense as well as the Alpha Force paranormal romance miniseries for Harlequin Nocturne.
Linda's Pet Rescue Mysteries, a spinoff from her Kendra Ballantyne, Pet-Sitter mysteries for Berkley Prime Crime, feature Lauren Vancouver, a determined pet rescuer and mystery solver who runs a no-kill shelter. And watch for Linda's new Superstition Mystery Series from Midnight Ink.
Visit Linda at her website: www.LindaOJohnston.com, and friend her on Facebook.
To comment on Linda O. Johnston's blog please click here.