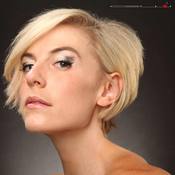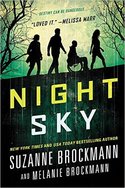 For me, the main difference between writing YA (young adult) and adult romance is the narrative voice. When I write romantic suspense, I use what I call "deep point of view" — every scene is written from the perspective of one of the main characters in the story. So in each scene, it is as if the reader is inside one character's mind, sharing his or her thoughts as he or she describes what's going on in. And of course, since the main characters in my adult romances are, well, adults, that means every scene is told through a filter of adult priorities, adult vocabulary, and adult experience.
But when I co-wrote NIGHT SKY— my first YA novel — with my daughter, Melanie, we wrote in an entirely different narrative voice. First of all, unlike any of my adult romances, we decided to create NIGHT SKY in the first person. The entire story is told by our main character — sixteen-year-old Skylar Reid. And there's another huge difference: NIGHT SKY takes place in a paranormal futuristic world, where certain young women — including Sky herself — have been targeted for abduction because they possess super-human powers. Most of my adult romances feature US Navy SEALs, and even though I sometimes think of those guys as super-human, none of them have powers like telekinesis or telepathy! 🙂
But despite the differences between NIGHT SKY and my adult romances, the similarities are what I believe to be the foundation of good fiction — strong, sympathetic characters facing life-changing challenges. Whether you're writing a story about a thirty-year-old African-American chief petty officer parachuting into a war zone to save a trapped journalist captured by terrorists, or a skinny sixteen-year-old with freckles trying to rescue a little girl who was kidnapped by black market drug lords, you've got to grab your readers and hold them, from the first word to the last.
That's what Mel and I tried our best to do with NIGHT SKY.
P.S. For readers interested in other authors who've crossed over from adult romance to YA, the amazing Alyssa Day who writes the adult Atlantis Rising series has recently released a YA romantic suspense, THE LONESOME YOUNG, written as Lucy Connors. (Imagine Romeo & Juliet meets Breaking Bad.  Awesome!) I'm also a huge fan of Melissa Marr, who writes both YA and adult novels. Her most recent YA, MADE FOR YOU, crossed over even further from paranormal to romantic suspense. I loved it. MADE FOR YOU is my personal favorite book of 2014!
About NIGHT SKY
Sixteen-year-old Skylar Reid is thrown into a strange world when she discovers that she has unique telekinetic and telepathic powers. After Sasha, the child she babysits, is kidnapped and believed to be murdered, Sky and her best friend Calvin are approached by Dana, a mysterious girl who has super-abilities similar to Sky's. With the help of Dana and her sidekick Milo, the four teens embark on a quest to discover who killed Sasha, and to bring the killers to justice.
With Dana as Skylar's surly and life-toughened mentor, Sky attempts to harness her powers to aid them in their quest. Complicating an already complex relationship with the older girl, Skystarts to fall for the dangerously handsome and enigmatic Milo – and begins to suspect that the attraction is mutual. But then Sky realizes that Sasha might still be alive, and the unlikely foursome's mission becomes one of search and rescue, pitting the heroic teens against a very deadly enemy.
About Suzanne Brockmann
Suzanne Brockman, a New York Times and USA Today bestselling romance author, has won 2 RITA awards, numerous RT Reviewers' Choice, and RWA's #1 Favorite Book of the Year three years running. She has written over 50 books, and is widely recognized as a "superstar of romantic suspense" (USA Today). Suzanne and her daughter, Melanie Brockmann, have been creative partners, on and off, for many years. Their first project was an impromptu musical duet, when then-six-month-old Melanie surprised and delighted Suz by matching her pitch and singing back to her. Suzanne splits her time between Florida and Massachusetts while Mel lives in Sarasota, Florida. NIGHT SKY is Mel's debut and Suzanne's 55th book. Visit Suzanne at her website.