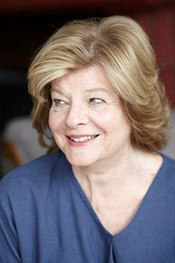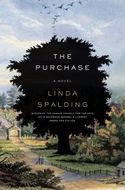 My latest book, THE PURCHASE, is being called historical fiction. And I suppose it is.
But writing historical fiction is a mug's game. Are we recreating the past, or creating it? While writing, I am imagining things that never happened, trying to make it seem like they did, like they were part of the actual pageant of history, like they make as much sense as the history we all learned in school, some of which was also a fiction. While writing, I am leaning backward from my 21st century chair and hoping to smell things that no longer even exist, to create medicines and foods and conversations I have never heard or seen or tasted.
So, I am turning myself into the past! I am becoming a way in which it can exist in the present. And if all events are with us forever, as causes and effects, then I am translating something from a language I've never heard. As I would translate the work of a stranger who speaks a language I don't understand – a stranger who provides me with a dictionary.
How can I enter the mind of a slave, male, black, his mother an African captured and raped? How dare I decide to tell his story, or that of a slave girl who has learned to heal, although her methods are foreign to the people around her. My morals, ethics and beliefs were unimaginable in 1800, which is the time I write about in The Purchase. But I begin to understand the values of that time by reading its literature, its diaries, its official reports. Of course, my words will cast shadows of modernity on the story. I will reflect the past with all the distortions lent to me by a contemporary temperament, but I will resist that temperament at every turn and do my best to turn myself inside out, like a sock.
And in the telling, there is so much learning! I learn everything I can about how it feels to have been alive in 1800 in southwestern Virginia, where a human being could be purchased for two hundred dollars. Even when I'm working on fiction, there is research to be done; Locale. Weather. Trees and wildlife. History! And of course, clothes and habits. Writing The Purchase was a special treat in this regard. The story is based on a few facts I knew about my grandfather's grandfather, a Quaker abolitionist who became a slave owner in 1798. In order to research his time and place, I found myself collecting all kinds of second-hand books. One of the best came from my mother's library and involved life on a farm in southern Missouri before the Civil War. I figured southern Missouri wasn't a lot different from south-western Virginia, so I read up on corn husking and winter amusements and what kinds of work children did on farms. It was in that book that I learned that nobody wore coats in the winter! This really surprised me. It was actually shocking to realize how impoverished those ante bellum lives were by our standards.
There was one big, blank page in all my research. Here is what I needed to learn: What was the effect on a person of conscience who bought a human being? It was the question that most haunted me. I believe our society is still reeling from that toxic effect because we all grow out of the soil scraped thin by our grandfathers. That's another strange, thought-provoking fact and it kept me working on The Purchase until I had fully absorbed it and described it page by page.The lives I was reading about can never be relived but they can be assumed, entered, translated and shared. What a privilege to participate in such a transformation and rebirth.
Literature is not reality, but it reflects reality as seen and felt by the creator and then the beholder. It is the commitment of entering another point of view that I celebrate. On the part of both writer and reader.
Winner of Canada's 2012 Governor General's Award for Fiction
In this provocative and starkly beautiful historical novel, a Quaker family moves from Pennsylvania to the Virginia frontier, where slaves are the only available workers and where the family's values and beliefs are sorely tested.
In 1798, Daniel Dickinson, recently widowed and shunned by his fellow Quakers when he marries his young servant girl to help with his five small children, moves his shaken family down the Wilderness Road to the Virginia/Kentucky border. Although determined to hold on to his Quaker ways, and despite his most dearly held belief that slavery is a sin, Daniel becomes the owner of a young boy named Onesimus, setting in motion a twisted chain of events that will lead to tragedy and murder, forever changing his children's lives and driving the book to an unexpected conclusion.
A powerful novel of sacrifice and redemption set in a tiny community on the edge of the frontier, this spellbinding narrative unfolds around Daniel's struggle to maintain his faith; his young wife, Ruth, who must find her own way; and Mary, the eldest child, who is bound to a runaway slave by a terrible secret. Darkly evocative, The Purchase is as hard-edged as the realities of pioneer life. Its memorable characters, drawn with compassion and depth, are compellingly human, with lives that bring light to matters of loyalty and conscience.
About Linda Spalding
Linda Spalding was born in Kansas and lived in Mexico and Hawaii before immigrating to Canada in 1982. She is the author of three critically acclaimed novels, DAUGHTERS OF CAPTAIN COOK, THE PAPER WIFE, and (with her daughter Esta) MERE. Her nonfiction includes THE FOLLOW (Canadian title, short-listed for the Trillium Book Award and the Pearson Writers' Trust Prize, and published in the US as A Dark Place in the Jungle), RISKA: Memories of a Dayak Girlhood (shortlisted for the Kiriyama Prize), and WHO NAMED THE KNIFE. She has been awarded the Harbourfront Festival Prize for her contribution to the Canadian literary community. The Purchase received Canada's Governor General's Literary Award and its Rogers Writers' Trust Fiction Prize. Spalding lives in Toronto, where she is the editor of Brick magazine.
Visit Linda's website at www.lindaspalding.com.
To comment on Linda Spalding's blog please click here.