"All I Need" by Mat Kearney

A gorgeous song, one which Kearney reportedly wrote after hearing the story of friends' escaping Hurricane Katrina. The lyrics portray a couple holding on to one another for survival and fighting against overwhelming odds. An incredible song about an incredible love, which Emmett and Savannah find in ALL I NEED.
"Whatever It Takes" by Lifehouse

Although the lyrics seem to be more about an existing couple trying to stay together, the idea of doing "Whatever It Takes" could be Emmett's theme song in ALL I NEED. He's in the relationship way before Savannah is, and he's pretty determined to do whatever he needs to in order to win her heart.
"Over My Head" by The Fray

This one belongs to Emmett as well. What starts as a friends-with-benefits arrangement with Savannah soon has him in deeper than he's even been with any woman – and he's a little overwhelmed and unsure once he realizes that:

He groaned and scrubbed a hand over his face. She was never going to have anything to do with him again and he didn't know how to—

This was not the way a guy acted over a woman who was simply a friend.

When had he gotten this far in over his head? And he'd totally screwed everything up.
"Demons" by Imagine Dragons

Both Savannah and Emmett struggle with experiences in their pasts – for Savannah, the loss of the man she loved deeply, for Emmett, his parents' dysfunctional marriage and a non-existent relationship with his father. Savannah has to overcome the demon of grief, and Emmett fights to be enough for Savannah when he doesn't have a model to follow. The dark tone of this song meshed well with the battles both characters faced.
"Never Say Never" by The Fray

The chorus of this song perfectly captured the back-and-forth nature of Savannah and Emmett's early relationship. They are locked in a constant push-pull of wanting one another, but not wanting more than friendship and physical contact. And they simply can't stay away from one another.

Here's an exclusive excerpt from ALL I NEED:
When it was over, the remaining audience drifted out quietly in pairs and small groups. Savannah remained in her seat after her sister and brother-in-law hugged her goodbye and made their way out with the others. Emmett perched on his stool, one foot on the floor, and packed away his violin, sometimes slanting a smile or a comment at Clark or Troy Lee. She watched him, her heart aching for some reason she didn't quite understand.

Gates had been easy, the best, the love of her life.

She didn't know how to define Emmett, but oh, she wanted to.

He eased down from the low stage, when she imagined in another life, he'd have leaped. An adrenaline junkie, an incredible musician, a man with depths she didn't begin to comprehend.

She wanted to peel all those layers away, until he was laid bare with her.

And what exactly did that mean?

Case in hand, he approached, a slight smile curving his mouth. He took her breath.

That should scare her to death, send her running, and all she wanted tonight was to live, to breathe him in. She wanted him inside her, running through her veins.

His smile widened to a grin. "Haley's spending the night with Landra, so I can have a later curfew."

He held out a hand, and she rose to take it, using the leverage to pull him into her, chest to chest, abdomen to abdomen, thigh to thigh. She held his startled gaze and leaned in to whisper at his ear. "I want you."

A sharp inhale, and he stepped away, his eyes impossibly dark and intense, like the lime pit in the night. "You've got me."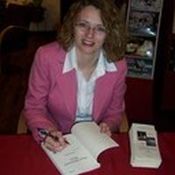 How does a high school English teacher end up plotting murders? She uses her experiences as a cop's wife to become a writer of romantic suspense! Linda Winfree lives in a quintessential small Georgia town with her husband and two children. By day, she teaches American Literature, advises the student government and coaches the drama team; by night she pens sultry books full of murder and mayhem.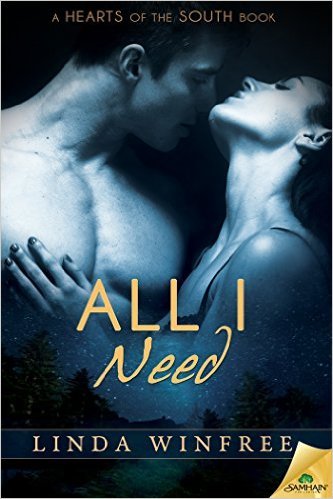 He's nothing she wants…but everything she needs.
Two years after she buried the love of her life, ER physician Savannah Mills remains buried in her work and keeps her heart under lock and key. But if anyone could tempt her banked desires to come out and play, it's her neighbor. A couple of casual interactions with the former police officer has her considering a friends-with-benefits arrangement.
Emmett Beck is forging a new career after an on-duty shooting nearly cost him everything. His love life has been in cold storage during his recuperation, but when Savannah proposes a no-strings relationship, his body warms to the idea. After all, it's just sex. What could possibly go wrong?
Plenty—once Emmett realizes that hot kisses and steamy nights aren't enough. And that he's fallen in love with a woman who intends to never love anyone again.
Warning: Contains a younger man determined to be everything his woman needs, in bed and out, and an older woman unafraid to explore her wild side. Also features cops who talk like cops.
Romance Suspense [Samhain Publishing, On Sale: July 19, 2016, e-Book, ISBN: 9781619235427 / eISBN: 9781619235427]