Cozy and traditional mysteries usually take place in small towns with quirky characters and bakeries, and kittens and puppies. The Museum Mysteries aren't quite like that. Well, there are quirky characters and some good food, but the books are set in Philadelphia, which is definitely a city—in fact, in 2014 it was the fifth largest city in population in the country.
Cozies usually include a death, which is a shock to the small community. Philadelphia sees a lot of deaths each year, and too many go unnoticed.
Is DEAD END STREET a cozy? Yes and no. You see, Nell Pratt is president of the Pennsylvania Antiquarian Society, which is part of the city's cultural community, where everybody knows everybody else, especially if they're looking for contributions of collections or money. The staff members at places like the Society know how much money a donor has, what his or her family history is (public and private), and often a few of their secrets. (But most of those people use that information carefully!) I've worked in more than one museum in Philadelphia, and I know what's in those files!
Museums offer their visitors a mix of entertainment and education. But Nell believes that institutions owe more to their city: they are keepers of the city's and the nation's history, which in an old city is still very present, especially in Philadelphia.
Nell gets sucked into a community redevelopment project in the worst part of Philadelphia because the Society still owns a building there. There's a drive-by shooting while she's visiting the site, and someone dies. For Nell it's a wake-up call: parts of the city are dangerous and ugly, but there must be something to be done about it, rather than ignoring it and pointing the tourists to Independence Hall. So using the Society's deep collections and resources, she comes up with a way to remind the public what those decaying neighborhoods were once like, and what they should be again. Can it work? She doesn't know, but she wants to try.
Not exactly cozy, but Nell believes in what she's doing, and she rallies her friends and colleagues to help her save at least a small part of the city. And that death at the beginning? It's not what it first appears to be, but she helps figure that out too.
The New York Times bestselling author of Privy to the Dead returns to Philadelphia for more history—and a chilling mystery . . .
When the Pennsylvania Antiquarian Society discovers it owns some unique real estate, a deadly plot unfolds . . .
Society president Nell Pratt believes life is finally going her way. Everything's running smoothly at work, and her love life is thriving. Then some unexpected news rocks her foundation. Two members of a local neighborhood rescue program, Tyrone Blakeney and Cherisse Chapman, inform Nell that her society owns an abandoned row house in a rundown area of Philadelphia and they insist on taking her to see the property before its date with the wrecking ball.
But soon after they arrive at the house, Cherisse is fatally shot and Tyrone is badly injured. The police believe it's just random violence in a bad neighborhood, but Nell thinks there's more to it and is determined to find answers before someone else becomes history . . .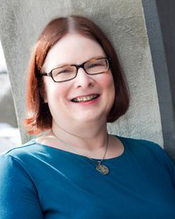 Sheila Connolly, Anthony and Agatha Award–nominated author, writes three bestselling cozy mystery series for Berkley Prime Crime. Her Museum Mysteries are based in Philadelphia, her Orchard Mysteries take place in rural Massachusetts, and her County Cork Mysteries are set in Ireland, and include BURIED IN A BOG and SCANDAL IN SKIBBEREEN, both New York Times bestsellers. In addition, she writes an paranormal romance series, which began with RELATIVELY DEAD in 2013. She has also published ONCE SHE KNEW, a romantic suspense, and REUNION WITH DEATH, a traditional mystery set in Tuscany, as well as a number of short stories. She lives in Massachusetts with her husband and three cats, and visits Ireland as often as she can.