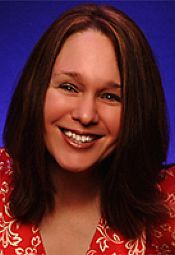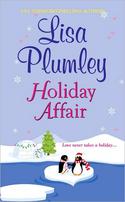 When I was a younger and much harder on myself, I wanted my Christmases to be perfect. I wanted professionally wrapped gifts (I made my own intricately looped handmade bows!). I wanted caterer-caliber iced sugar cookies (I applied silver dragées with tweezers!). I wanted a picture-perfect family to go with everything else (I frog-marched everyone to a photographer to take a stiff-looking holiday-card photo, sporting "dress up" clothes we only wore twice a year, at most!). You know what I mean: I wanted a Martha Stewart holiday…but I had a typical working mother's time, energy level, and expertise to accomplish it with. And the bad news is: I'm not Martha.
But the good news is: I'm not Martha. I learned pretty quickly that gingerbread men always taste delicious, even if their little legs are snapped off during marathon decorating sessions with six year olds. I learned that Christmas trees actually look better if you pile on lots of (mismatched, shiny, and potentially tacky) decorations…including the ones your children make and hang by themselves on all the lower branches, giving your tree the kind of "pear shaped" effect I usually only associate with "skinny" jeans. I learned that, in proper gift-opening etiquette, the wrapping paper and bows are ripped off with utmost enthusiasm, rendering giftwrap hospital corners and calligraphed cards beside the point.
That's why, these days, my holidays are a lot more relaxed. It turns out I like them best that way! But that doesn't mean I don't sympathize with the urge to create a flawless Christmas—especially when it comes to making sure my loved ones have a wonderful, memorable, poignant, hilarious, jolly, gift-packed, sentimental, fun, and exceptional holiday season full of good cheer, delicious goodies, and Hallmark-worthy family togetherness. So I could really relate to Karina Barrett, who, in my newest book, HOLIDAY AFFAIR, is facing her first Christmas after her divorce and wants nothing more than to give her three children an extra-special holiday.
To that end, Karina accepts an all-expenses-paid vacation to snowy Kismet, Michigan, site of The Christmas House—a B&B that specializes in all-inclusive holiday packages, complete with tinsel, evergreens, eggnog, sleigh rides, and a few surprises. There's a catch (of course!), but Karina doesn't mind—especially not when she meets hunky stand-in innkeeper Reid Sullivan and his two daughters. As a globe-trotting adventurer, Reid is a little out of his depth when it comes to Christmastime traditions, but he's promised to do his best at running the family B&B this year—and that includes making sure his guests (including Karina!) have the best holiday of their lives. Naturally, nothing goes smoothly for anyone, but good cheer abounds—and isn't that what the holiday season is about, after all?
So how about you? Are you a Christmas wizard, able to stuff stockings, sing Christmas carols, and decorate your front yard with an aplomb befitting Mrs. Claus herself? (If so, please share your secrets!) Or are you more like me—still in your flannel PJs at noon on Christmas Day, challenging the kids to another round of Mario Kart Wii and wondering if candy canes could be considered a "balanced breakfast" as long as they're crumbled atop oatmeal (delicious!)? I know I can't be alone in my newfound easier-is-better Christmastime approach. Or am I? Let's dish!
~ ~ ~ ~ ~ ~ ~ ~ ~
Lisa Plumley is the USA Today bestselling author of more than two dozen contemporary, historical, and paranormal romances. Her newest book, HOLIDAY AFFAIR, is a featured selection of the Doubleday, Rhapsody, and BOMC2 book clubs and was awarded 4 stars from Romantic Times magazine, 5 hearts from The Romance Reader, and 5 blue ribbons from Romance Junkies.
Her next book, MAIL-ORDER GROOM, is the latest in her popular "Morrow Creek" series for Harlequin Historicals and will be on sale in December 2010.
You can find her on Facebook or Twitter, or visit her Website to read first-chapter excerpts from any of her books, sign up for new-book reminder e-mails, and more!
*****
Leave a comment for the chance to win a book autographed by Lisa! Three winners will receive their choice of either HOME FOR THE HOLIDAYS or MY FAVORITE WITCH.
Good luck!
To comment for a chance to win on Lisa's blog please click here.