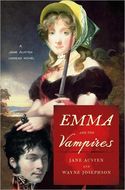 August 2010
On Sale: August 3, 2010
Featuring:
Mr. Knightley; Emma
304 pages
ISBN: 1402241348
EAN: 9781402241345
Paperback
$14.99
Paranormal Romance, Jane Austen
Buy at Amazon.com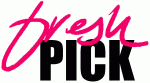 Emma and the Vampires
by Wayne Josephson
When all the men are undead, what's a matchmaker to do?
What better place than pale England to hide a secret society of gentlemen vampires?
In this hilarious retelling of Jane Austen's Emma, screenwriter Wayne Josephson casts Mr. Knightley as one of the most handsome and noble of the gentlemen village vampires. Blithely unaware of their presence, Emma, who imagines she has a special gift for matchmaking, attempts to arrange the affairs of her social circle with delightfully disastrous results. But when her dear friend Harriet Smith declares her love for Mr. Knightley, Emma realizes she's the one who wants to stay up all night with him. Fortunately, Mr. Knightley has been hiding a secret deep within his unbeating heart-his (literal) undying love for her… A brilliant mash-up of Jane Austen and the undead.

Every Well-Dressed Maiden Should Wear a Stake on Her Thigh
Excerpt
Chapter 1
Emma Woodhouse, handsome, clever and rich, with a comfortable home and happy disposition, had lived nearly twenty-one years in the world with very little to distress her. Until she fell in love with a vampire.
She was the younger of the two daughters of a most affectionate, indulgent father at their estate, Hartfield. Ever since her sister Isabella's marriage seven years ago to Mr. John Knightley, a stunningly handsome vampire with pale skin and golden coloured eyes, Emma had been mistress of the house. Her mother had died too long ago for Emma to have had more than a vague remembrance of her caresses; in her mother's place, an excellent woman named Miss Taylor had served as governess.
Miss Taylor had been less a governess than a friend, very fond of both daughters, but particularly of Emma. Between them it was more the Read More…